Titanic was "war", said director James Cameron, "a great battle between business and aesthetics." Hospitalised crew members unwittingly high on PCP, others quitting after an outbreak of flu, the leading lady swearing never to work with the director ever again, spiralling production costs, and a director never far away from the sack, Titanic was anything but uneventful. And this was all before it smashed box office records…
As we arrive at the 20-year anniversary of Titanic, let's take a look back at how it touched the world, broke box office records and won a plethora of Oscars. We'll also take a look at how the troubled production caused Cameron to become almost unbearable to work with late in the shoot.
Titanic is a film that changed cinema, cemented a legacy, tied for the most Oscar wins and launched the career of one of the most successful actors in film history. Titanic appealed to all different ages, races, backgrounds and men and women. It's a film that brought my grandmother out to the movies for the first time since she had lived in Canada. It was and is a film that gets inside of you and it doesn't let up. It's a true story with real characters, but also tossed in are fictional ones blending into a fictional story about Jack and Rose. It's a film, that for me personally, hits all the right notes, makes you feel the loss, the sorrow, the pain, the love and the tragedy. James Cameron has made better films, but only because he is James Cameron.
I have always been a James Cameron fan. He is really one of the only directors I can say that has never made a bad film. Even his Piranha 2 was humorous and a fine effort coming from such a young director with a small budget. He has made, from what I can recall, two masterpieces (Aliens and Terminator 2), a genre pioneer (The Terminator), as well as one of the best action movies to come out in the 1990s (True Lies) and an ambitious, touching film (The Abyss). These were all before Titanic. But he has outdone himself with Titanic. I don't think there has ever been a film that has taken me through such a wide array of emotions as this one. And that is all attributed to Cameron. He wrote, produced and directed this film. And it is one of the best films ever made.
We all know the story of Titanic. A great ship sets sail for the U.S. from the U.K. and along the way it sinks and many people lose their lives in the Atlantic somewhere near Newfoundland. So there is no need to retell those events documentary style. A Night To Remember is there for that purpose. So what Cameron's Titanic does is tell the tale of fictitious characters blended in with real ones amidst the true events of the sinking. And it not only makes the film entertaining, it shows the sheer horror of what happened that night and makes you more sympathetic to the characters because you spend three hours with them. This is a brilliant, brilliant film. To start with, the actors are perfect. Not just DiCaprio and Winslet, but everyone from Zane and Bates right down to Paxton (RIP) as the present day treasure hunter. But it is Kate Winslet and Leonardo DiCaprio that are the true stars here as it the two of them that have to carry the load and make us care about them. And we do. We can feel them falling in love. We can feel the helpless emotions that Jack feels when he is trying to tell Rose that he loves her the day of the sinking. It is their relationship that is a great strength of the film.
Next, what has to be mentioned is the score by James Horner. Very few times has a motion picture had a score that symbolised the sheer hopelessness and tragedy that is on screen. But here Horner has a perfect and sombre piece of music that will bring tears to your eyes, especially when lives and love are lost. Also, the whole scope of the film is one of tragedy. It is a tragic love story, a tragic story of refugees trying to make a better life for themselves and have it all end abruptly with a giant piece of ice. It is a sad look at bureaucracy and wealth and how it can manipulate and control many things. But most importantly, this is a love story and an inspirational tearjerker. Rose and Jack fall fast and hard and it doesn't matter that they are from different worlds. Love sees no boundaries. If it is there, nothing can stop it. Not even death.
Cameron has manipulated us to perfection here and even if you find the romance to be embellished (which I don't), to watch this film and know that this happened, is a sad and disturbing reality. Few films have ever done this to me…made me cry unapologetically. It's not just the Jack and Rose story, which is powerful enough. But when you see the ship sink and you see frozen toddlers in their mother's arms or the old couple on the bed as the water rushes in, it's enough to break any person down. Few films have ever made me feel such a connection to the characters. Titanic does, and by the end of the film, you feel like you know the people of Titanic like they were your long lost relatives.
You can't make an omelette without breaking eggs: the challenge to realise James Cameron's vision for Titanic…
Titanic is an epic romance-disaster film. Cameron's inspiration for it came from his fascination with shipwrecks; he felt a love story interspersed with the human loss would be essential to convey the emotional impact of the disaster. Production began in 1995, when Cameron shot footage of the actual Titanic wreck. The modern scenes on the research vessel were shot on board the Akademik Mstislav Keldysh, which Cameron had used as a base when filming the wreck. Scale models, computer-generated imagery, and a reconstruction of the Titanic built at Playas de Rosarito in Baja California were used to re-create the sinking. The film was partially funded by Paramount Pictures and 20th Century Fox. It was the most expensive film ever made at the time, with a production budget of $200 million.
Upon its release on December 19, 1997, Titanic achieved critical and commercial success. Nominated for 14 Academy Awards, it tied All About Eve (1950) for the most Oscar nominations, and won 11, including the awards for Best Picture and Best Director, tying Ben Hur (1959) for the most Oscars won by a single film. With an initial worldwide gross of over $1.84 billion, Titanic was the first film to reach the billion-dollar mark. It remained the highest-grossing film of all time until Cameron's Avatar surpassed it in 2010. A 3D version of Titanic, released on April 4, 2012 to commemorate the centennial of the sinking, earned it an additional $343.6 million worldwide, pushing the film's worldwide total to $2.18 billion.
Before Cameron knocked it out of the park with Titanic, he was a successful filmmaker and a bit of a pioneer when it came to special-effects. Terminator 2 created all kinds of new effects for the liquid metal sequences. So Cameron had clout. But he was not the GOD that he is now….that came after Titanic and Avatar both did massive business. But when Cameron was making the film, Fox became nervous because the budget was escalating and the release date had to be pushed back from a prime summer release to the not so desirable Christmas slot. Fox was hoping this would be their summer tentpole but special effects and editing took a lot more time and money than they had hoped so they had no choice to push it back six months.
Paramount was initially pushing for a late summer release, even for August 1. The problem with this is that Harrison Ford told them that if they released Titanic that close to Air Force One (it came out July 25), he would sever ties with them. Ford wanted AFO to have no chance of failure because he was coming off a financial disaster with The Devil's Own.
So the studio acquiesced and then pushed for a November release. Fox balked at this because they had two big films coming out around Thanksgiving. Anastasia was their first foray into animation and Alien Resurrection was the Thanksgiving tentpole. So Paramount was in a bind. Finally the two studios reluctantly agreed to release it at Christmas but even that was met with hesitance because they didn't like going up against a Bond film. But Titanic had to come out in 1997 some time, so the December 19 slot was all they had. The delay increased the cost of the film, partly because of bank interest payments. Executives at Fox insisted that the delay would add at most $10 million to the movie's budget. Variety estimated that the postponement would add closer to $20 million to the film's cost. So there were a lot of nervous executives at both Fox and Paramount.
Cameron was at odds with executives from both studios, but the one who stayed by his side the whole time, was Sherry Lansing. She was unsure of the film but felt that what she read in the script was something special. But the film just kept haemorrhaging money even in post. What finally convinced Lansing that they had a hit was when James asked her to come out to his home to view "just one or two scenes."
"Jim said, 'Come out, and I'll show you a few scenes cut together, just a couple of scenes,'" Lansing recalled in her book. "It was a Sunday, and I'd made plans to have dinner with my husband [director William Friedkin] later on. John Goldwyn and I drove out to Jim's home early in the afternoon, and we had a little lunch, and then Jim made the room dark and showed us the first scene, and I was speechless." Cameron asked if she would like to see some more. "Of course," she replied. "And he showed me another scene, completely different, and that was incredible. Then he said, 'Another scene?' And I said, 'Yes!' I lost all track of time."
After an hour — or what she believed was an hour — she said she should call Friedkin to tell him she'd be late for dinner. "I told Jim I was meeting Billy at six," she said. "And Jim said: 'What are you talking about? It's already 8 p.m.' "
That screening "was a big turning point for me," said Cameron, "because we were in a very bleak place emotionally, trying to finish the movie. Everyone was against us. And all of a sudden, we had a studio head saying that somehow, at some level, it had all been worth it."
Lansing only had one reservation: about the song My Heart Will Go On. "I said, 'Jim, isn't this a little corny?" she recalled. "He said, 'Oh my God, Sherry! The song is fantastic.'"
Titanic premieres…
Titanic premiered November 1, 1997, at the Tokyo International Film Festival and opened domestically December 19 on 2,674 screens.
Contrary to industry expectations, it came in No. 1 at the box office, earning $28.6 million its first weekend on its way to a worldwide total of $2.19 billion. That made it the most successful movie ever, a record broken only by Cameron's Avatar in 2009.
"The picture went 'clean' [into the black] on theatrical alone," said Bernstein, the business affairs executive. "I never saw that happen before."
When it was finally released, Fox and Paramount were happy with the initial numbers but were still resigned to take a loss.
How did Titanic become the most financially successful film ever?
Why did Titanic not just succeed, but obliterate the box office record book? I'm sure we all have out theories, and here is mine.
The story took precedent over the effects. People loved Jack and Rose. They identified with the star-crossed lovers and they wanted to spend time with them. I was 25 when Titanic came out and I saw it in theaters seven times. Three of those times were by myself. I think I cried every time. You spend three hours with these two beloved characters and then you watch one of them die. It doesn't sound like something that has a lot of repeat value, but it did. Cameron wrote two characters that we could all love. And then there was the rest of the characters.
Kathy Bates as the unsinkable Molly Brown. A rich woman who married into money so we could relate a little more to her. She was kind of a bridge between Jack and Rose. She had money so she could hang with the snooty rich folk but she didn't come from money so she could understand where Jack was coming from. Billy Zane as the asshole, aristocratic, snooty, silver spooner was perfect in the role.
Then you had small bit performances. Eric Braeden of The Young and The Restless played JJ Astor. On the soap, he was the richest man in Genoa City, Victor Newman, so he was a perfect choice to play the richest man on the ship. Bill Paxton was the modern day treasure hunter who segued the story from the present day to the past. And of course Gloria Stuart in her Oscar nominated performance as Old Rose. Then you had Jeannette Goldstein, Victor Garber and Frances Fisher chewing up scenery when they had the chance.
Transcending the screen…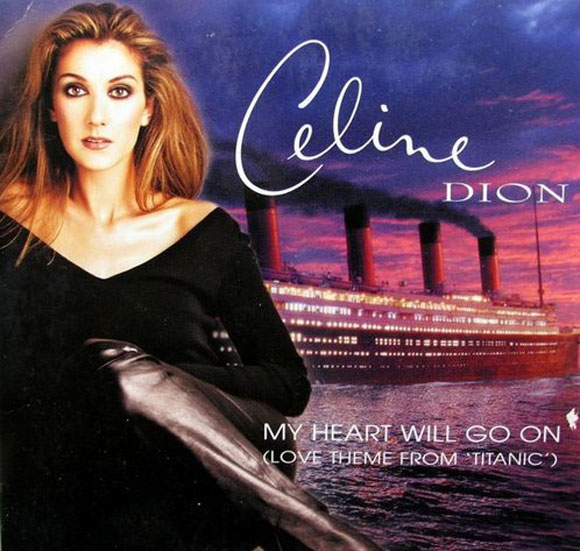 Adding even more to the enjoyment of it was the soundtrack by James Horner, who of course won an Oscar for it. The sure way to have a huge-selling album in 1998 was to put Celine Dion's "My Heart Will Go On" on it. Buoyed by Canadian diva Dion's smash single, the Titanic soundtrack sold more than 9.2 million units in 1998, according to SoundScan, a company that tracks album sales. That made Titanic, which otherwise consists of classical music, the year's best-selling album. It doubled the sales figures of the 1997 champ, Spice, by British pop stars the Spice Girls.
Dion sailed into second place on the 1998 sales list with her own album, Let's Talk About Love, which also featured "My Heart Will Go On". Dion's album moved 7.9 million copies. A second album called Back to Titanic was made. This had some original music composed by Horner as well as some music from the film. It sold over 1 million copies.
Cameron was under enormous pressure to finish the film. As news of the film's production issues and escalating budget spread, the press excoriated him and almost seemed glad that he was looking at a financial disaster. I guess success breeds contempt. In the middle of filming, Fox Chairman, Bill Mechanic came to the set and at 4am after an 18-hour shooting day, proceeded to rip into Cameron and threatened him with dismissal if the film wasn't ready soon. Cameron was so incensed, he stormed off the film set and told Mechanic that if he thought it was so easy, that, "maybe you should direct the f****** film." After this blow up, Cameron became unbearable on set. Kate Winslet admitted to being afraid of him.
James Cameron has the last laugh…
So when the film broke records and was rewarded with 11 Oscars, is it really any wonder that Cameron got on stage and basically said "f*** you" to all of those of doubted him? His, "I'm the king of the world" comment rubbed a lot of people the wrong way but I don't think he cared. He put his career and reputation on the line and believed in himself and in the end, all those who doubted him had to admit that they were wrong. Cameron proved to everyone never to doubt him (and to think he did it a second time with Avatar, is simply mind-blowing).
When Titanic came out, it grossed $28.6 million in its first week. The week after, it took in $35 million and after ten days it was at $88 million. At this point, Fox and Paramount could chalk this up to the holidays. But of course, the film just kept going. It crossed $200 million on day 12, a record at the time. And it wouldn't stop. On day 58, it had it's highest grossing day, Valentine's Day, with $13 million. This is a film that had a level of word of mouth attraction perhaps never seen before. It spent 15 consecutive weeks at number one and it crossed $300 million in its 7th week. $400 was eclipsed after week ten, where it was still earning more than $20 million per weekend. Week 15 saw it cross $500 million. On week 37, at the end of August, it crossed the $600 million mark…a number unheard of in box office terms.
Titanic is not my number one film of all time (that would be Jaws) and it's not even my favourite Cameron film (that would be Aliens) but no film before or since has affected me the way Titanic does. It's a film about tragic loss. It's also a film that illustrates that life is precious and it is short and it is fleeting. You can never take anything for granted. Here today, gone tomorrow. Titanic had some of the most powerful people in the world aboard that ship, and many of their lives were lost, just like the third class passengers were. They went down with the ship. It's a film that made me want to be a better man and it touched me in ways I didn't even know a movie could. Titanic did that to a lot of people.