As pointed out in a couple of other lists on this website, there are at least 14 filmmakers who have made notable first movies*. These appraisals of formidable opening acts, however, were understandably far from complete. Mark Fraser looks at 10 other instances when debutant directors – some of whom have gone on to win Academy Awards – hit the ground running.
Please note: This top 10 complements other lists on Top 10 Films which have previously celebrated such great directorial debuts as 12 Angry Men, Citizen Kane, Alien 3, Evil Dead, Reservoir Dogs, Night of the Living Dead, Eraserhead, Ex Machina and Sex, Lies and Videotape.
10. Shallow Grave (Danny Boyle, 1994)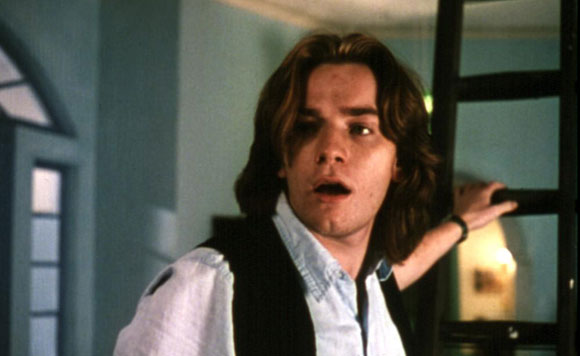 Admittedly this is not as good as Danny Boyle's following feature which came out a couple of years later (the most excellent Trainspotting). Nevertheless Shallow Grave has held its ground as a lively and energetic, albeit ruthless, thriller about greed and how it totally warps loyalties while decimating friendships. Boyle was awarded the Best Director Oscar for Slumdog Millionaire in 2008.
9. Obsession AKA Ossessione (Luchino Visconti, 1943)
Although many of Luchino Visconti's later films, like The Leopard (1963), The Damned (1969) and Death in Venice (1971), were handsome-looking costume pieces, this black and white opus shows where it all started for this often controversial film maker – somewhere near the frontline of Italian neo-realism. Having said this, it is important to note that while it came out before Roberto Rossellini's Rome Open City in 1945 and Vittorio De Sica's The Bicycle Thief in 1947, Obsession doesn't have their verite grit. Instead, the lighting is conventionally dramatic (with many of its interior compositions using strong key lights), while its vision is undeniably melodramatic. Given it is based on James M Cain's novel The Postman Always Rings Twice, it's possible the director could have, if he had really wanted to, churned out a few more Continental variations of the pot boiler.
8. Knife In The Water AKA Noz w Wodzie (Roman Polanski, 1962)
No matter what one might think of the man, Roman Polanski has a pretty interesting list of films attached to his name. This modest black and white piece – about an approaching middle aged couple who take a young male student hitchhiker on their fraught-filled weekend boating trip – was the first (and, at the time, the last) feature he made in his home country of Poland before embarking on an international movie-making career. One interesting moment in the movie is the point when the realisation kicks in that lead actress Jolanta Umecka, wearing only her early 1960s Eastern European bikini, is much more attractive than she first appears to be. Polanski eventually won the Best Director Oscar 40 years later for The Piano in 2002, part of which was shot in Warsaw.
7. The Maltese Falcon (John Huston, 1941)
As both a screenwriter and director John Huston was one of Hollywood's most prolific film makers between World War II and his death in 1987. Furthermore, he adapted the works of quite a few famous writers. They included Dashiel Hammett (this entry), CS Forester (The African Queen – 1951), Herman Melville (Moby Dick – 1956), Arthur Miller (The Misfits – 1961), Rudyard Kipling (The Man Who Would Be King – 1975) and James Joyce (The Dead – 1987). According to Huston, he took the advice of producer Henry Blanke while making this movie: "Shoot each scene as if it is the most important one in the picture. Make every shot count. Nothing can be overlooked, no detail overlooked." The first time director also elicited a number of fine performances from his cast – including Humphrey Bogart, Mary Astor, Peter Lorre and Sydney Greenstreet. Huston collected the Best Director Oscar (as well as the one for Best Adapted Screenplay) in 1948 for The Treasure of Sierra Madre.
6. The 400 Blows AKA Les Quarte Cents Coups (Francois Truffaut, 1959)

The movie that effectively launched the French New Wave. While it might may not be as powerful for 2017 audiences as it would have been for 1959 filmgoers, this reportedly autobiographical and remarkably unsentimental film is still compelling viewing, even if it does end with a freeze frame. Francis Coppola drew heavily from it when he made Rumble Fish in 1983. Francois Truffaut won a Best Director Oscar of sorts when his 1973 movie Day for Night (La Nuit americaine) received the Academy Award for Best Foreign Language Film.
5. Blood Simple (Joel Coen, 1984)
There's nothing shabby about this neo noir murder thriller about a mean spirited bullying bar owner (Dan Hedaya), his cuckolding wife (Frances McDormand), her unwitting boyfriend (John Getz) and a sleazy private detective (M Emmet Walsh). Indeed, because of its tightness and relatively narrow focus, this remains one of the Coen Brothers' grittier movies. Joel, along with sibling Ethan, went on to share the Best Director Oscar in 2007 for their crime opus No Country for Old Men.
4. The Golden Age AKA L'Age d'Or (Luis Bunuel, 1930)
Having scandalised audiences with the 21 minute Un Chien Andalou (An Andalusian Dog) the year before, Spanish surrealist Luis Bunuel and co-writer Salvador Dali further corrupted respectable bourgeois and religious sensibilities of the day with this longer (63 minutes) collection of three vignettes, which were primarily about repressed sexual desire, the inherent brutality of nature and the murderous intent of man. This was so outrageous for contemporary authorities that it was quickly banned before being withdrawn from general public screenings for almost 50 years. Back in the early 1980s influential English cinema critic/writer David Robinson had this to say about the movie: "L'Age d'Or is like no other film before or since. With its extraordinary images revealing the bizarre and horrific in the everyday, its anti-clericalism, anti-authoritarianism, anti-bourgeoisism, sadism, blasphemy, celebration of I'amour fou, above all its humour and irony, it is the definitive declaration of Bunuel's credo (or anti-credo) and was to provide a continuous source of reference for his subsequent films."
3. Breathless AKA A Bout de soufflé (Jean-Luc Godard, 1960)
Arguably as influential in the history of cinema as Orson Welles' landmark Citizen Kane. In one swoop Jean-Luc Godard – hot on the heels of co-writer Truffaut with The 400 Blows (see above) – cemented the credentials of the French New Wave while redefining many cinematic conventions in the process. During late 1962 he told Cahiers du Cinema: "What I wanted was to take a conventional story and remake, but differently, everything the cinema had done. I also wanted to give the feeling that the techniques of film making had just been discovered for the first time." Godard was awarded an honourary Oscar for his lifelong contribution to cinema in 2011, which was just as well given it's unlikely the Academy will ever give him a gold statuette for anything else.
2. Signs Of Life AKA Lebenszeichen (Werner Herzog, 1968)
A poetic movie about cabin fever. Three German soldiers – one of whom is injured (Peter Brogle) – are relocated to a peaceful Greek island for some rest and recreation during World War II, where the solitude and boredom soon take their toll. In the end Stroszek (Brogle) goes completely loony and takes over an old tower where some fireworks are stored and starts setting them off into the harbour village below. A truly beautiful low key, black and white debut by one of modern cinema's undisputed masters.
1. Ivan's Childhood AKA Ivanovo Detsvo (Andrei Tarkovsky, 1962)
An emotionally devastating story concerning the German invasion of the Soviet Union during World War II and how it sometimes brought strangers together before tragically tearing them apart. The film's final 20 minutes, when the orphan Ivan (Nikolay Burlyaev) embarks on his last reconnaissance mission – and the young lieutenant who sees him off (Yevgeni Zharikov) discovers the boy's fate during the Russian liberation of Berlin – is absolutely heartbreaking; while the final haunting shot is a knockout. One of the great war films.
*They were (in almost alphabetical order): David Fincher (Alien III – 1992), Alex Garland (Ex Machina – 2015), Dan Gilroy (Nightcrawler – 2014), Daniel Kwan and Daniel Scheinert (Swiss Army Man – 2016), Charles Laughton (The Night of the Hunter – 1955), Sidney Lumet (12 Angry Men – 1957), David Lynch (Eraserhead – 1978), Sam Raimi (The Evil Dead – 1983), George A Romero (Night of the Living Dead – 1968) Steven Soderbergh (Sex, Lies and Videotape – 1989), Quentin Tarantino (Reservoir Dogs – 1992), Dan Trachtenberg (Cloverfield Lane – 2016), and Orson Welles (Citizen Kane – 1941).
Written and compiled by Mark Fraser
Over to you: can you name some of your fave directorial debuts? What are your thoughts on the films listed above?
Hang on? Where's Citizen Kane, 12 Angry Men, Evil Dead, Reservoir Dogs or Night of the Living Dead?
Please note: This top 10 complements other lists on Top 10 Films which have previously celebrated such great directorial debuts as 12 Angry Men, Citizen Kane, Alien 3, Evil Dead, Reservoir Dogs, Night of the Living Dead, Eraserhead, Ex Machina and Sex, Lies and Videotape. These films have therefore not been considered for this top 10.
Discover more writing on film by Mark Fraser
"Salvador" Is More Revolt Than Revolution | "The Deer Hunter" Remains An Adult Fairy Tale | "The Train" Still One Hell Of A Ride | "Barry McKenzie Holds His Own" Maintains Its Irreverent Grip | Umberto Lenzi's "Eaten Alive" Is A Hard Act To Swallow | William Friedkin's "Sorcerer" Is A Curiously Mistreated Masterpiece | "To Catch A Thief" Shows Hitchcock Dabbling In Blandness