Neal Damiano takes a look at the best comedy movies of all time to pick 10 "must sees" including classics like Some Like It Hot, spoofs like Airplane, teen comedy like Weird Science, and character-driven comic-dramas like Swingers and Clerks…
10. Swingers (Liman, 1996)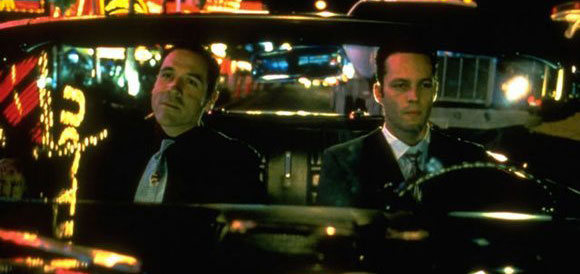 Starting the careers of John Favreau and Vince Vaughn, who have said the script was partly based on their real-life friendship, this indie comedy was made for $200,000 after studios gasped at director Liman's plan to recast the unknowns in the lead roles. I'm glad they stayed with the original plan, the interaction between Favreau and Vaughn is undeniable. You can't manufacture that kind of chemistry. Vaughn is completely off the wall with childish charm that bounces off of Favreau's insistent pessimism. When Favreau reconnects with his friends in Los Angeles they kick off a series of bar crawls, dating disasters, and witty heart to hearts that feel so genuine and recognizable.
9. Clerks (Smith, 1994)
When Kevin Smith went to a screening of the indie classic film Slacker by Richard Linklater, a virtually unknown director at the time, Smith had a revelation of sorts: "Hey I could actually make a movie about anything". So he wrote about what he knew, using his job at Quick Stop as a location and his silly conversations on pop culture with his friends. Smith utilized what he had, with help from family and friends he went on to make an hilarious film that reinvented comedy in the early 1990s.
8. Zoolander (Stiller, 2001)
The movie is more satire than comedy but that's what makes it funny. The jab at the fashion industry is so spot on, it makes you wonder if there really are characters out there like this. Ben Stiller deliberately made it over the top and exaggerated because anything serious would be giving in to the celebrity style pretentiousness the very film pokes fun at. Zoolander turns superficiality into a fine art; someone like this may just save the world. And the Blue Steel pose is brilliantly hilarious.
7. Airplane (Zucker/Zucker/Abrahams, 1980)
Airplane is the mother of all spoof movies. The film pokes fun at the flooding of disaster and panic stricken films of the 1970s. What makes Airplane so damn funny is the actors come off serious as if they don't know they're in a comedy. The over-exaggerated incidences going on through the entire film seem to have no affect on the actors. And there's some funny stuff happening. Leslie Nielson is perfect casting with deadpan one-liners and biting jest. It's one of those films you laugh the whole way through.
6. Some Like It Hot (Wilder, 1959)
Risky for its time, Some Like It Hot bases most of its humor on cross dressing. Director Billy Wilder's film boasts an all-star cast with Jack Lemmon, Tony Curtis and Marilyn Monroe enjoying an onscreen chemistry that has rarely been matched. Lemmon and Curtis play musicians disguised in drag to hide from the mob; the shenanigans that conspire will leave you in fits of laughter. Furthermore, this is Monroe's greatest and funniest film, she almost steals the show with her charming demeanor. Some Like It Hot is one of the greatest American comedies and timeless.
More top 10s you might like:
Top 10 Comedy Films That Stand The Test Of Time | Top 10 1980s Films About The Eighties | Risky & Risque: Top 10 Comedies That Take A Chance & Win | Top 10 Comedy Double Acts of the 1980s
5. The Big Lebowski (Coen/Coen, 1998)
The Big Lebowski was a commercial flop for the Coen Brothers but went on to become a cult comedy classic. The movie defines zany humor with over-exaggerated characters who get themselves in screwball situations. But what really makes the movie funny is the outlandish dialogue. It's filled with quotable one-liners in just about every scene. Jeff Bridges as The Dude delivers one of his funniest performances and the film features one of the most memorable turns from Steve Buscemi. The Big Lebowski remains the Coens' most amusing comedies, the kind that gets better with every viewing.
4. Weird Science (Hughes, 1986)
John Hughes' nod to the classic Frankenstein sees two geeks, Gary and Wyatt, create the ultimate woman using their computer. In the form of the beautiful Lisa, played by Kelly Lebrock, the two fight against the popular jocks including a young Robert Downey Jr. Lisa is every young boy's dream physically but she also helps Gary and Wyatt gain confidence within themselves to win over their high school crushes. The film is loaded with one-liners by Lebrock and the late, great Bill Paxton, who plays Wyatt's antagonizing older brother Chet. The party scene is hilarious. The movie's concept is completely off the wall but so darn entertaining. Hughes went over the top creating a comedy classic.
3. Trading Places (Landis, 1983)
John Landis delivered one of the most endearing comedies of the 1980s. Eddie Murphy, a con man, and Dan Aykroyd, a stockbroker, see their lives swap as two slimy millionaires bet $1 on the age old argument of nature vs nurture. Filled with comedy disguises and strange payoffs (the randy gorilla), Murphy really displays his comedy chops here with successfully quotable lines. Then best known as THE "Scream Queen", Jamie Lee Curtis takes a break from horror and turns in a hilarious performance as a sassy prostitute. When people ask what my favorite Christmas movie is, I always say Trading Places.
2. Stripes (Reitman, 1981)
This movie is just good old fashioned humor. Stripes is comic havoc starring a young Bill Murray as slacker John Winger, who decides joining the army might straighten him up. Throw in Harold Ramis as his joining partner and we got ourself a party. The film is a typical fish out of water story but Murray takes his deft comic arrogance to new heights setting an all out war with authority. There is plenty of slapstick humor, we get an exaggerated violent mini war with Russian soldiers including explosions, flame flowers, armored trucks, and the usual mishaps. We even get well endowed mud-wrestling girls that are totally irrelevant to the story but somehow make it all the more funny. The film intended to be a satire on military life, however, Murray managed to shift it towards comedy with his hilarious adolescent pranks. Perhaps the comedic beauty of the film is just how self aware Murray is with his over the top juvenile humor. He makes no apologies about it. Murray has an arsenal of witty liners that he fires off like a shotgun.
1. Animal House (Landis, 1978)
Director John Landis really captured college life and the time of the 1960s in the fraternity romp Animal House. The film is often duplicated and imitated but none have managed to present the debauchery, parties, and mischief quite like Animal House. The breakout star of course is John Belushi, who plays Bluto Blutarsky with a zany madness as he spies on sorority girls pillow fighting and chugs down massive amounts of alcohol. What makes Animal House one of the funniest films of all time is the characters. The story is simple, it's the offbeat characters that drive the film to complete hilarity. The food fight is one of the most iconic scenes in cinema history and when the guys have given up to the Dean, here comes Bluto with a triumphant speech that's both uproarious and inspiring. So many humorous scenes throughout the film such as the parade, the guitar smashing at the party, the date at the blues club, sleeping with the Dean's wife. If you don't laugh watching Animal House you don't have a sense of humor.
Your turn: what are your "must see" comedy movies?