Independent Blu-ray distributor Powerhouse Films has released another terrific presentation of a cult classic as its Housekeeping Blu-ray lands in UK stores boasting an array of original, informative and entertaining additional features.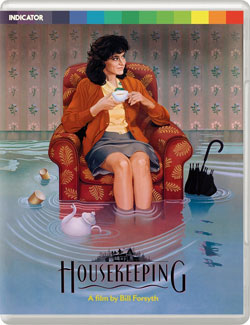 They've done it again! We've recently been wowed by independent Blu-ray distributor Powerhouse Films' Indicator series of Blu-ray releases with classics like The Big Heat and The Wild One and they've delivered again. This time it's the turn of cult favourite Housekeeping.
We've had the pleasure of reliving masterpieces like The Last Detail, cult delights like 10 Rillington Place, genre favourites like Christine and forgotten gems like Happy Birthday To Me. Now's the time for Housekeeping, a film Top 10 Films' Martin Carr said is a film with "universal relevance" that is "both poignant and pertinent" and which "speaks to the tolerant part in each of us."
Complementing the presentation is a selection of newly produced special features including a fascinating interview with Bill Forsyth in which the director speaks candidly about the production, the challenges and the happy memories, and talks about how Housekeeping differs from his Scottish-made films previously having made the move to America to make it.
In addition to a discussion with Housekeeping's author Marilynne Robinson. Other brand new featurettes include separate interviews with director of photography Michael Coulter and editor Michael Ellis.
Fans of the film will be thrilled with the limited edition exclusive 32-page booklet featuring a new essay by David Archibald, a production report and contemporary reviews. In what is the world premiere of the film on Blu-ray, Powerhouse Films' release also includes the 1994 BFI interview with Bill Forsyth who spoke with Nick James at the National Film Theatre in London for the "Storytelling on a Shoestring" film season. There's repetition from the newly recorded interview but a few pleasing snippets about the production of the director's 1994 film Being Human.
We were incredibly impressed once again with the Blu-ray presentation, not least because the Indicator series once again brings a deserving film to a modern audience. Now fans will get a chance to witness Housekeeping like never before while a new audience will undoubtedly discover it for the first time. It should be noted the film looks great in its original aspect ratio of 1.85:1 having been remastered by Sony Pictures in HD.
Read our full review of Housekeeping and check out Powerhouse Films' full Indicator series here.