Nominated for the Best Animated Feature Film at the 89th Academy Awards and selected as the Swiss entry for the Best Foreign Language Film in 2016, Martin Carr discovers the delights of Claude Barras' My Life As A Courgette.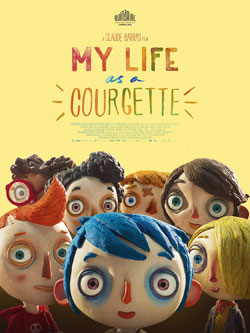 With My Life As A Courgette Claude Barras has created something heart wrenchingly honest, yet ultimately uplifting that goes some way to fooling you with simplicity. Thematically adult in nature yet voiced by child actors, there is an inherent naivety which comes through in the exacting dialogue and precise construction.
Aided greatly by clever sound design Barras brings these clay models to life with careful narrative progression, subtle hints at darker transgressions and profound voice performance. Subtitled yet emotionally eloquent, Gaspard Schlatter brings a tenderness and innocence to My Life As A Courgette that is at once purity personified and resignation written large. Voice work in any language could not be more compelling as Paulin Jaccoud demonstrates with his portrayal of Simon, at once complex yet simple enough to instil empathy in the audience. A long term resident in an institution for those with childhood issues, his is the biggest arc and ultimately most satisfying resolution.
Michel Vuillermoz's Raymond brings compassion, understanding and a voice of reason when necessary. Drawing from My Life As A Courgette a trust and emotional response which the film builds on quietly and without fuss. Childlike moments of pure escapism come in the form of kite flying, beer can pyramids and superhero dress up. However many of these are tinged with melancholy which pull you back down with a bump, as issues of abandonment, mistreatment and brutal honesty take away any sugar coating.
Reminiscent in part to sequences from The World According To Garp, My Life As A Courgette treats its subject matter with respect never going for cheap emotional payoffs. Sophie Hunter who created the original music also deserves a mention, as her contribution towards providing that all immersive experience is essential. Used sparingly but effectively throughout Hunter plays with our expectations, helping mould childlike animation into a real life human drama without resorting to cheap tricks.
Compact and bijou at just over an hour in length, My Life As A Courgette contains a sarcastically light touch as well as moments of intellectual navel gazing. Something which ultimately provides us with a social comment piece masquerading as cartoon entertainment. Where the film differs most however is in the execution which uses this approach to emphasise an issue, show compassion through storytelling and finally provide redemption and closure.
Simple stories are often the most difficult to tell convincingly, yet here amongst its carefree bobsled rides down mountain sides and redemptive moments things come alive. For those willing to watch, this might be the most important animated hour of your cinematic life, which Pixar only managed once with Wall-E and a host of people in floaty chairs.
Directed by: Claude Barras
Written by: Céline Sciamma, Claude Barras, Germano Zullo, Morgan Navarro
Starring: Gaspard Schlatter, Sixtine Murat, Paulin Jaccound
Released: 2016 / Genre: Animated Comedy-Drama
Country: USA / IMDB
More reviews: Latest | Archive
My Life As A Courgette is in UK cinemas now.