Film is the great entertainer. Movies thrill, enthral, make us laugh, make us cry. Film can be the friend we turn to for happiness and escape. Here are ten movie experiences that can turn a frown upside down. This is our top 10 happy films.
Inside Out (Docter, 2015)
You watch a new Pixar film and think – they can't ever top that. It happened with Finding Nemo, then Ratatouille, then Toy Story 3. Then came Inside Out. Finally, we can say without any doubt, Pixar has produced its finest work. The film, about a little girl's personified emotions as they deal with the family's move from Minnesota to San Francisco is another stroke of genius from Pixar. A lovable, adventurous, re-watchable slice of cinema; film at its most delightful and feel-good.
Saving Mr. Banks (Hancock, 2013)
When I wrote my review of John Lee Hancock's wonderfully inspiring Saving Mr. Banks I titled the piece "Film Gives Us The Happy Endings Life Sometimes Cannot". It's fitting here and the reason why I include this relatively recent effort in my top 10 happy films. Hancock's comedy-drama follows the exploits of Mary Poppins creator P.L. Travers as she comes to Hollywood to work with Walt Disney in adapting her magical character for the silver screen. It's a funny, heartwarming film with two delightful performances from Tom Hanks and Emma Thompson.
The Shawshank Redemption (Darabont, 1994)
The happy film that tops so many people's "best of all time" lists, Frank Darabont's sentimental prison drama has many moments of warmth, friendship and courage that underline its ability to lift the viewer's spirits. It isn't surprising, given its popularity, to see The Shawshank Redemption feature in so many lists on Top 10 Films including Best Picture Nominations That Didn't Win, Morgan Freeman "Twosomes", Weepies, Inspirational Movies and Stephen King Character Adaptations.
It's A Wonderful Life (Capra, 1946)
A happy film that beautifully illustrates the value of life and the importance of making the most of it. It's A Wonderful Life is Hollywood's antidote to low serotonin levels. James Stewart is wonderful, exhibiting that everyman charm and tender voice in a moving, life-affirming film.
Some Like It Hot (Wilder, 1959)
Not all happy films have to be funny. But it does help. Undoubtedly, Billy Wilder's comedy Some Like It Hot is one of the funniest, its charming allure made even more satisfying given the film's ageless qualities. While Jack Lemmon and Tony Curtis win your heart, Marilyn Monroe steals it with that radiant screen presence. If ever a film lets you escape into its world for an hour or two, Some Like It Hot is that film. It's also blessed with the funniest movie ending ever – a scene that will not fail to put a smile on your face.
See Also: Top 10 Comedy Films That Stand The Test Of Time
Let It Ride (Pytka, 1989)
I'm biased towards this film because it's a personal favourite but there's hardly a moment when a couple of hours with Richard Dreyfuss isn't an attractive proposition. As happy, feel-good films go, Let It Ride ticks all the boxes as a down-on-his-luck nice guy wins one bet after another during a day at the races, each time putting all his winnings on the next bet. He goes from a penniless cab driver to a millionaire in one day whilst also winning back his wife.
Little Miss Sunshine (Dayton/Faris, 2006)
Road movies seem to be a great starting point for happy films. It's the journey – both metaphorically and physically – that the audience and the characters take, discovering humanity and their own humanness along the way that is so appealing. Little Miss Sunshine is a vibrant, hopeful, and funny film.
Pretty Woman (Marshall, 1990)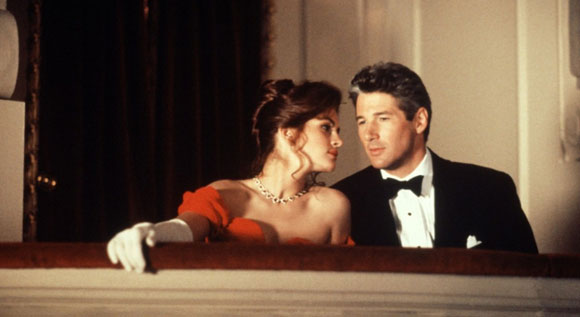 A good Hollywood romance is sure to put a smile on people's faces, especially when it features Richard Gere scaling an apartment block with flowers gripped between teeth in order to confirm his undying love for Julia Roberts.
Planes, Trains And Automobiles (Hughes, 1987)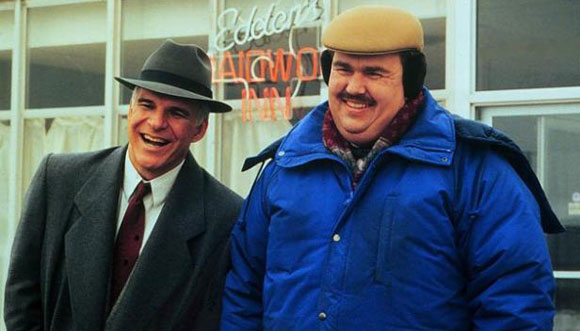 Bumbling, chaotic and bittersweet, John Hughes' "happy" film is Planes, Trains and Automobiles. You'll find it makes our top 10 1980s happy films list as well because of its wonderful ability to tickle the funny bone and pull at the heartstrings. The film also features John Candy at his all-time best.
Over to you: what are your happy films?
See Also: 25 Films To Make You Happy