Top 10 Films writer Lyndon Wells has teamed up with the Down the Hall podcast to bring you a new top 10. After the success of their Top 10 Oscar Best Picture Snubs they have now tackled the tough category of War Films.
On the podcast we discuss what makes a good war film, you can discover our combined Top 10 and listen to our war film quiz, 'enLISTed' to decide what our next Top 10 podcast will be.
Down the Hall is a great movie podcast that aims to save you the 115 hours a year we spend trying to decide on a film to watch by making recommendations. Recent episodes covered some of my top films of 2016 including Hunt For The Wilderpeople, Captain Fantastic and The Nice Guys. You can listen to the podcast via Soundcloud or iTunes.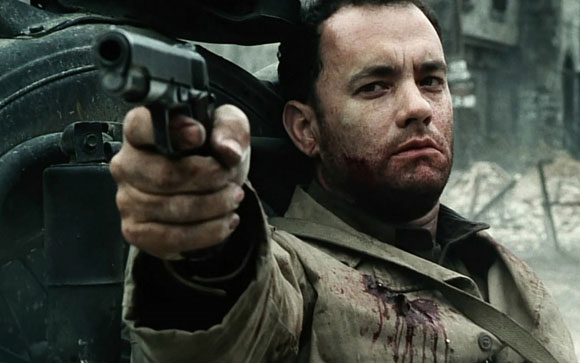 So what makes a war film?
It's a tough genre to define as they are plenty of historical films set during the war but not necessarily about war. To qualify as a war film does it need to be set around the actual conflict or combat? When considering our inclusion criteria the most popular description of war films was suggested by Top 10 Films's editor Dan Stephens: "Films based on or inspired by real wars that depict, or are largely focused on, actual combat?"
A good starting point, but listen to the podcast for more discussion on what makes a war film. We did decide that we would only include films based on real wars so not including possible contenders such as Starship Troopers or Star Wars: Rogue One.
You can discover our Top 10 list on the podcast or check it out below. It's a combined list between the three of us so there are some possible contentious inclusions that we didn't all necessarily agreed on. Please let us know what you think of our list and the podcast by leaving a comment below.
10. 13 Hours: The Battle Of Benghazi (Michael Bay, 2016)
This is the first time I have included a Michael Bay film on a list. His career will forever be defined by his uncomfortable, leering Transformers. Let's not forget he did also direct the fun action film The Rock but his last war movie was Pearl Harbour! His depiction of this true life attack on a US compound in Libya protected by a private security team begins with a one-dimensional one-sided clichéd portrayal of the alpha military male with some laughable on-the-nose scripting but turns into impressive "Call of Duty" cinema. Once it gets started the tension is executed well as the impending attack builds to multiple faceless foreigners taken down in the crosshairs. The film doesn't totally redeem Bay, but there is only one other effort on this list that captures the tense visual combat experience. It also features an unexpected but effective tough guy turn from American Office star John Krasinski who you do expect to wryly smile at the camera at any point.
Discover More: A Gung-Ho Michael Bay Celebrates Male Heroes In "13 Hours: The Battle Of Benghazi"
9. Enemy At The Gates (Jean-Jacques Annaud, 2001)
This historical epic follows the exploits of a Russian sniper (played by Jude Law) elevated by a propaganda campaign by the Commissar (Joseph Fiennes) and his game of cat and mouse during the Battle of Stalingrad. An often-forgotten film that stands the test of time and rewards repeat viewing, Enemy At The Gates tackles a massive battle not covered in many popular films and from a unique perspective (snipers trying to prove themselves and the propaganda machine). This naturally leads to some incredibly tense encounters. This is the high-water mark of French director Jean-Jacques Annaud's career and further highlights the diversity of the war film genre.
8. Black Hawk Down (Ridley Scott, 2001)
Based on a true story from the book by Mark Bowden, Black Hawk Down recounts the near disastrous 1993 raid in Somalia by the U.S. military aimed at capturing a warlord. This led to what became known as the Battle of Mogadishu. This is the ultimate "Call of Duty" cinema experience. The film depicts the large and drawn out gun fight triggered by the destruction of two US Black Hawk helicopters and the efforts to reach them. The film features an impressive ensemble cast including Josh Harnett, Eric Bana, Tom Sizemore, Jason Isaacs and Tom Hardy. My favourite was the coffee-obsessed character played by Ewan McGregor getting his first taste of real combat. The film has similar problems to 13 Hours with its one-sided view and when released is did receive some criticism regarding its depiction of the Somalis, how they looked and their absence of character or motivation. However, the pyrotechnics and editing on display show the great Ridley Scott at his entertaining best and this is a worthy exploration into the war genre.
Discover More: Top 10 Films Of Ridley Scott
7. Fury (David Ayer, 2014)
Fury focuses on a tank crew led by Brad Pitt's grizzled commander as they fight their way across Germany during the tailend the Second World War closes. A film championed by Down The Hall's Chet as a must-have on the list. It does have a visually stunning, if unrealistic, tank fight that creates that tension and discomfort associated with great war films. As with many war films it does have a remarkable ensemble cast including a notable performance from Shia LaBeouf. Despite third act issues meaning it fails to meet the early promise of the film, it shows director Ayer at his best.
6. Braveheart (Mel Gibson, 1995)
This sprawling epic, after much debate, made its way onto our war film list. This Oscar-winning film is the pinnacle of Mel Gibson's career both behind and in front of the camera. This is a great film I still enjoy despite its historical inaccuracies and the portrayal of the nasty English villains. Braveheart follows Gibson's William Wallace as he is forced into leading a revolution after his secret bride is killed by an English soldier. The film culminates in a gruesomely iconic finale leading to one of the most quoted words in movie history. The violence is gory while the brotherhood of an ultimately doomed rebellion and the fight for retribution of the hero's lost love makes for compelling viewing.
5. The Great Escape (John Sturges, 1963)
This is the most popular war film from a great era of Second World War films. Set in a German POW camp, allied prisoners plan an audacious escape attempt for hundreds of men. War films are often tough and uncomfortable to watch due to their very nature and despite some shocking conclusions for many of the allied prisoners this is a film to enjoy. The Great Escape also features perhaps the most recognisable film theme ever; you are left whistling it days after watching the film. A staple of Christmas TV that families will sit to watch together, the film has also produced some iconic imagery as the King of Cool Steve McQueen goes on a daring motorbike escape. Another great ensemble cast including Hollywood royalty Richard Attenborough, James Garner and Charles Bronson. It might not strictly be a war film as it doesn't focus on combat, but it's a classic we couldn't leave off the list.
4. Platoon (Oliver Stone, 1986)
This is my personal favourite as it represents everything that I think of when describing a war film. Written and directed by Oliver Stone, Platoon follows Charlie Sheen's new recruit Chris as he is confronted with the reality of the Vietnam War and a moral crisis wrapped within the horrors of conflict and the duality of man. The film holds nothing back as the first thing he sees when he arrives is a collection of dead bodies. This is all about the war – no family at home scenes, no old man looking at a grave and no melodrama of the normal life. The whole film is set within Vietnam, which is a bold and clever move as everything we know about the characters is from their actions in the south-east Asian country. All the usual war movie tropes, that I usually struggle with, like the use of voice over and melancholic music are here, but when done right like this it elevates the film. The cinematography sees Stone give us a grainy dirty frame that represents the conflict and that helps it stand out, its iconic imagery, such as Willem Defoe with his arms raised on his knees as he is dying, being instantly recognisable.
3. Inglourious Basterds (Quentin Tarantino, 2009)
This is Quentin Tarantino's unique take on the war film genre and as Brad Pitt says in its closing segment "This just might be my masterpiece". Set in Nazi occupied France during the Second World War, a plan forms to assassinate the Nazi leaders including Hitler by a group of US soldiers coinciding with a theatre owner's similar plans. The use of tension is a key element to any war film and this film does it in a unique way. You can't discuss Inglourious Basterds without discussing one of the tensest opening scenes on film ever. Christoph Waltz in a part deemed unplayable by Leonardo Dicaprio is the devious and cruel colonel Hans Lander whose passion is to simply hunt Jews. His use of the word "milk" haunts the film; he deservedly won an Oscar for his uncomfortable performance. Then there is the Fassbender scene in the bar as his cover is threatened in a riveting and tense sequence. There are so many great scenes in this film; perhaps it is not focused on conflict, but the director himself describes it as his war film and it deserves to be high on any war film list.
2. Saving Private Ryan (Steven Spielberg, 1998)
This top 10 war films lists has a reoccurring theme: talented directors feeling the need to make their own great war film. This entry features audience favourite Steven Spielberg. This film follows a group of US soldiers led by the superb Tom Hanks after the Normandy landings that must go behind enemy lines to retrieve a paratrooper whose brothers have been killed in action. The film became renowned for the shockingly realistic opening scene as many were slaughtered on the beaches of Normandy. This scene is simultaneously terrifying but awe-inspiring due to the craftsmanship on display. Many people just saw the opening scene before watching the whole film. It has moments of lightness and humour associated with comradeship and handles humanity with a deft subtlety as horrific acts of war like shooting surrendering enemies are just shown and not dwelt on. It's another great ensemble cast led by the humanity of Hanks' performance. The film bookends are perhaps a touch melodramatic but the depiction of conflict and loss makes this one of the best war films ever made.
1. Apocalypse Now (Francis Ford Coppola, 1979)
Finding a collective top spot was easy, the only film we all readily featured in our top three. This film transcends to a higher level – it's an experience not to be forgotten. This masterpiece set during the Vietnam War follows special ops soldier captain Willard (Martin Sheen), tasked with tracking down the rogue colonel Kurtz (Marlon Brando), who is waging his own war with a private army in Cambodia almost like a demi-god. Two thirds of the film follows Willard making his way through Vietnam on a riverboat climaxing in a showdown at Kurtz's compound. This is more than a film, it is a work of art that despite being made in 1979 still looks impressive today. The cinematography is outstanding and the use of colour including a deep red filter in some battle scenes is breathtaking. The history and making-of the film itself is just as interesting and I'd recommend watching the documentary Hearts of Darkness that mentions Sheen's alcoholism and shows Coppola on the edge of insanity as a planned 16-week shoot goes on for 283 days and sees the director plotting his own Kurtz-like journey.
Do you agree with our list? What war films would make your list? Let us know below.
This top 10 was a collaborative effort between Down The Hall podcast hosts Rodney and Chet with Lyndon. Check out the podcast for their individual arguments for and against including the films above.