Jason Reitman's nuanced drama is an insightful commentary on modern teenager life, relationships, sex, and pregnancy, and features a terrific performance from Ellen Page as Juno.
It's obvious why Juno has been lavished with praise from critics and filmgoers alike. There's a brilliant central performance from Ellen Page (who, while looking the sixteen years of her character, is a relative veteran of film and television having being in the business for more than ten years when Juno started shooting), and a terrifically idiosyncratic and perceptive screenplay from debut writer Diablo Cody. Cody's script is defiantly gendered but that's part of its charm: an intelligent, witty film of high school pregnancy that seeks to draw light on an under-nourished and important issue from the female perspective. And it works particularly well because Page is so beautifully immersed in the character of Juno – the girl who gets pregnant and decides instead of abortion she will allow a couple who can't have children adopt her baby.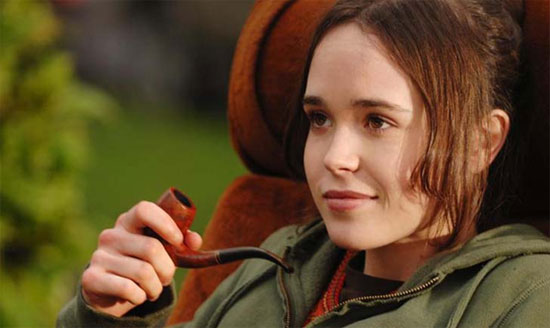 [ad#Google text Ad – square no border]
And that's the central conceit of the story. Juno is an atypical sixteen year old teenager with her own oddball characteristics. She's trying to find her identity (but Cody's script never resorts to the sort cliche that gives the character all the answers by the closing credits) and her best friend Bleeker (Michael Cera) is trying to find his own too. One evening they decide to have sex and Juno gets pregnant. At first believing abortion is the only option, she gives up on the idea when she realises she can help a couple who cannot have children get their wish. That brings her to the attention of Vanessa (Jennifer Garner) and Mark (Jason Bateman), a successful suburban couple who desperately want children but can't get pregnant. During the pregnancy Juno gets closer to the couple on an individual basis. She sees in Vanessa a love of children and of life, something she herself could not comprehend when contemplating abortion; while Mark is the sort of man Juno can relate to on a personal level, each having a love of music, horror movies, and pop-culture. And inevitably, Juno begins to come round to the idea pregnancy isn't the life-destroying burden she thought it was.
It's apparent in the film that no matter how you govern teenage sex, relationships – whether they be between a pair of sixteen year olds losing their virginity or a thirty-something married couple – don't always work the way you'd like them to. That, in itself, isn't very profound, but Cody stylishly places it in the same bracket as the vilification of abortion and teenager sex and the inherent hypocrisy in conservative ideology on the subject. The film treats young people with a lot of respect, as it does the single parent, in that because an adult couple may have financial security, they may not have security in their relationship. Juno breaks down those sugar-coated ideals of the perfect American family and lays them bare for a young audience to interpret them as they see fit.
There's a great dynamic between Juno and Mark in that they appear more compatible as a couple than he and Vanessa. They share the same taste in music and films, and Juno is fascinated by Mark's job as a songwriter. It's obvious that Mark sees in Juno the youthful exuberance he once had. He feels the baby may stifle his own creative desires, and the thought of impending responsibility frightens him. Indeed, it's interesting how Cody sees the man as the most perturbed over the whole adoption, even more so than expectant mother Juno. Director Jason Reitman brilliantly displays Juno and Mark's relationship, hinting at physical attraction, but above all showing the fragile nature of so-called love and marriage. In a way, it's the insecurity of security.
But the film works so well because of the performance of Ellen Page. She's irresistibly good – it's the sort of standout performance akin to Jon Heder in Napoleon Dynamite that places a young actor on the proverbial map. Aside from both films being named after their teenager title characters, Juno shares a lot in common with Jared Hess' high school nerd Napoleon. These characters are ostracized by their peers, and have become disillusioned with the monotony of their lives. And, both films celebrate the idea of the individual over socially acceptable clique. No less importantly, they both also feature fantastic alternative rock soundtracks. Page embodies Juno's idiosyncrasies as if she had lived the character in a previous life – she's tenacious, cool, smart and quick-thinking, but she's also troubled, mindful of her own responsibility but proactive in her mistakes. Page has the look of a young actress but the quality and command of an experienced one.
Juno is a measured, thoughtful, and insightful commentary on modern teenager life, relationships, sex, and pregnancy. Diablo Cody's brilliant script is funny and tragic, drawing on a very authentic representation of its characters with the sumptuous Juno at its centre. With Ellen Page's commanding yet beautifully mannered performance, Juno is destined to become one of the most talked about teen comedy-dramas of the decade.
Directed by: Jason Reitman
Written by: Diablo Cody
Starring: Ellen Page, Michael Cera, Jennifer Garner, Jason Bateman, Allison Janney, J.K. Simmons, Olivia Thirlby, Eileen Pedde, Rainn[sic] Wilson, Emily Perkins
Released: 2007 / Genre: Comedy-Drama / Country: USA/Canada / IMDB
Buy on DVD:
Amazon.co.uk: DVD | Blu-ray
More reviews: Latest | Archive