Top 10 Films celebrates the work of fledgling directors, highlighting ten movies that remain defining pieces of work by filmmakers beginning their careers…
Everyone starts somewhere. Be it a low-budget realistic drama, or an imaginative science fiction film, all directors must make a debut before they can launch their career. It is the cinematic equivalent of a first impression. I have always enjoyed looking back at the roots of renowned directors to see how they have grown, or recognizing emerging directors whose first films promise an exciting road ahead. A directorial debut marks an important step in any director's life and this list is here to celebrate such films. To be clear, I am only considering feature-length theatrical releases, so films such as Spielberg's Duel will not show up.
10 Cloverfield Lane (Dan Trachtenberg, 2016)
Unlike other up-and-coming directors on this list, Dan Trachtenberg does not have a long track record in the film industry. He has made several short films and some audiences – myself included – know him chiefly as the host of a now-finished YouTube movie podcast, so there was much he needed to prove when making 10 Cloverfield Lane. The film revolves around a woman who, after a car accident, awakes to the "protection" of a man claiming that the world is under a chemical attack. The result is a paranoid experience which, thankfully, knows that manipulating the mind is the essence of a brilliant thriller. Although John Goodman and Mary Elizabeth Winstead's performances are one of the highlights, the unsettling atmosphere Trachtenberg crafted through pacing and characterization (yes, franchises can have complex characters too) is what makes the film remarkable, announcing Trachtenberg as a director everyone should look out for.
12 Angry Men (Sidney Lumet, 1957)
The fact that 12 Angry Men is hailed as one of Sidney Lumet's best works and a monumental courtroom drama speaks volumes about his talent. The plot is simple: 12 jurors have to unanimously decide on whether a boy is guilty of murder. Built upon this single idea, Lumet scrutinizes the concept of justice with a sharp eye, forcing the audience to rethink concepts inseparable from both our legal system and sense of morality. Lumet surely benefited from Reginald Rose's marvelous screenplay, yet he still had to overcome the obstacle of being confined within the jury room, having nothing but dialogue to maintain the tension. Lumet's handling of setting and camerawork was like that of a seasoned director, effectively crafting what he calls "palpable claustrophobia". With such a captivating debut, it's no surprise that Lumet went on to become one of the most acclaimed directors ever.
Citizen Kane (Orson Welles, 1941)
Many directors work for years before creating their magnum opus. Orson Welles did it with his first film. There really isn't much that I can say about Citizen Kane that has not been said already, but for those who are unaware, the film recounts the life of the eponymous publishing tycoon Charles Foster Kane. Although I by no means claim to be an expert on Welles, I know that filmmakers after him are forever indebted to the nonlinear narrative structure and cinematography (credit must be given to Gregg Toland as well) he presented here. In particular, the film's use of deep focus has cemented its status as one of the best – some would say THE best – works ever created. Consider such a legacy alongside the fact that Welles was only in his 20s when directing the film, one cannot help but wonder how such an achievement was even possible.
Eraserhead (David Lynch, 1977)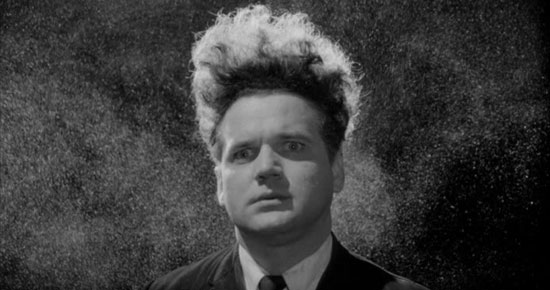 When it comes to surrealist filmmaking, David Lynch easily shines as one of the leading individuals. In fact, his style is so distinctive that it has its own name – Lynchian. While some directors struggle to find their voice in their debut films, Lynch established his voice clearly in Eraserhead. The film follows a man who accidentally impregnates his girlfriend, causing her to give birth to a mutant child. From the haunting sound design to the surreal visual imagery, Lynch creates a confounding experience for admirers and critics alike. The polarization in opinion is understandable, but I hesitate to make straightforward judgments of "good" or "bad", because the film is so bizarre that such judgments seem unfitting. All I will say is that whenever I look back at Eraserhead or any film Lynch has made since then, I always discover something more.
Ex Machina (Alex Garland, 2015)
As mentioned in the introduction, I think recognizing emerging directors is a meaningful and necessary task, and Alex Garland is one of such director. Having worked as a screenwriter for some time, most notably for 28 Days Later and Sunshine, Garland shows with Ex Machina that he is a talented director as well. The film revolves around a programmer who helps his boss conduct the Turing test on a humanoid AI. Garland's experience as a science fiction writer is evident in how he handles the debate of human vs robot maturely, while his restrained but tight direction adds to the tense atmosphere. Admittedly, the film occasionally relies on idea more than plot, such that the second act feels like an overly long build-up. Yet for viewers like myself who find the topic fascinating, Ex Machina will surely deliver and I hope Garland can continue to do so as well.
Nightcrawler (Dan Gilroy, 2014)
Similar to Alex Garland, Dan Gilroy started off as a screenwriter but with less success, having co-written mediocre films such as Real Steel and The Bourne Legacy. Thus, it came as a pleasant surprise when his directorial debut Nightcrawler was such an intriguing study of freelance photojournalism. The main character Lou, played by a physically and psychologically menacing Jake Gyllenhaal, is an amateur cameraman trying to make his way through the TV news industry. Gilroy makes nighttime LA simultaneously mesmerizing and eerie, as if behind all the vibrant lights, something horrible is lurking around the corner. Perhaps this is his way of addressing the increasingly questionable work ethic in not just photojournalism, but all industries alike: as companies attempt to please consumers at all costs, the world transforms into a place where glamour lies purely on the surface.
Pushing Hands (Ang Lee, 1992)
It's hard to imagine that Ang Lee's directorial roots are in realistic stories about family and culture, given that his recent projects Life of Pi and Billy Lynn's Long Halftime Walk are primarily experiments in technology. Personally, I prefer his earlier works for they paint a complex portrait of people struggling to fit in, which his debut film Pushing Hands exemplifies. The film centers on an elderly Chinese man who moves to America to live with his son. Cultural tension and misunderstandings are at the core of the film, which Lee explores with heart and depth, refusing to settle on a clichéd ending of joyful reconciliation. That is not to say that the resolution contains no such sentiment, but Lee expresses it in a way that feels earned and realistic. One can only hope that he returns to his roots in his coming films.
Sex, Lies, And Videotape (Steven Soderbergh, 1989)
How does one win the Palme d'Or at the age of 26 with one's debut feature? Steven Soderbergh probably cannot answer that question himself, but he did so with Sex, Lies, and Videotape. The story involves a married couple, a former friend, and an affair. I hesitate to say more for the film's appeal arises from its spontaneity, having us feel just as lost as its characters. That doesn't mean Soderbergh loses his focus, but that he understands humans are all in search of how to create and sustain relationships. Soderbergh has criticized the film in retrospect, suggesting that the praise "was only indicative of the fact that there was so little else for people to latch onto out there." The film may be flawed (frankly, whose debut isn't?), yet his comment does more to affirm the film's legacy than to undermine it. He summarizes the themes that continue to resonate with many, outlining the beginning of a shaky but endlessly fascinating career.
Swiss Army Man (Daniel Kwan and Daniel Scheinert, 2016)
It is never easy making an unconventional film, let alone doing so for one's directorial debut. Yet that is exactly what Daniel Kwan and Daniel Scheinert, mostly known for their music videos under the name Daniels, did. Swiss Army Man focuses on a man stranded on an island who uses a farting, talking, multi-functioning corpse to return home, and that's just a glimpse at the strange journey the film has in store. What surprised me the most was not how odd everything was, but how emotional the film turned out to be. It is a bittersweet but ultimately uplifting story about ambitions and identity, disguised as a comical and creative tale. The Daniels do an excellent job intertwining the disguise and its central themes, creating a film that is truly like no other. Where else can you find farts that make you reflect on life?
The Night Of The Hunter (Charles Laughton, 1955)
It is rather revealing of Charles Laughton's directing capabilities that his reputation as an actor in over 60 films is just as strong as his reputation for directing a single film. The Night of the Hunter lives on as a suspenseful and stylish film, telling the story of a "preacher" in search of a dead man's stolen cash. Perhaps Laughton's most enduring achievement with this film is how he assembles numerous components into a dreamlike journey: the cinematography and low-key lighting by Stanley Cortez, the evocative music by Walter Schumann, and the intimidating performance by Robert Mitchum are among the many things that Laughton handles meticulously. The resulting film balances itself precisely between the fantasies of German Expressionism and the grasp of the real world, leaving viewers in admiration and slight sadness that this is all Laughton gave us as a director.
Written & Compiled by Ron Ma
Over to you: tell us about your favourite directorial debuts. What other directorial debuts would make your top 10 list?
Discover More from Ron Ma on Top 10 Films:
Top 10 Underrated Films From Famous Directors | Top 10 Films Based On A True Story | Top 10 Underrated Hong Kong Films