Top 10 Films joins the McConaissance to run down the versatile actor's best films. Dan Grant lists his favourite performances including Dallas Buyers Club, Mud, A Time To Kill & Interstellar…
Matthew McConaughey has been acting in films since 1993. He's one of the most versatile actors but someone once better known for his looks than his acting. That is no longer the case as he boasts an eclectic body of work ranging from romantic comedies to courtroom dramas and globetrotting adventures. Here's his ten best performances.
10. The Wolf Of Wall Street (Scorsese, 2013)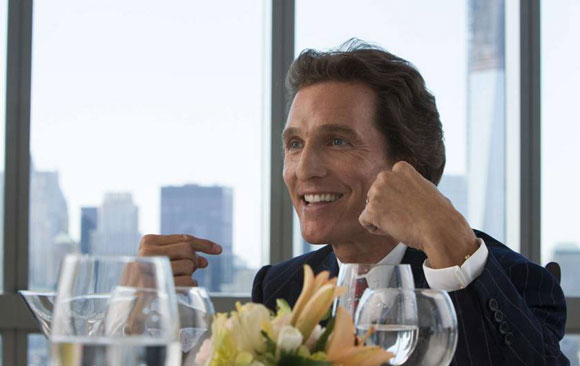 Perhaps his shortest amount of screen time among the ten films listed here but when you can own every scene you're in and upstage an actor like Leonardo DiCaprio (who gives one of the all time best performances in The Wolf of Wall Street) then you have done something right. McConaughey filmed this cameo concurrently while doing Dallas Buyer's Club so it explains his odd look. His performance is terrific but one scene needs to be mentioned and it's the scene in the restaurant where McConaughey does the chest beating. This was improvised by him as it's a ritual he does before the start of filming. DiCaprio had no idea what was going on. There's a brief shot of DiCaprio looking away and that is really him looking at director Martin Scorsese for guidance. DiCaprio liked it so much that he urged Scorsese to keep it in the film to set the tone for the rest of movie. McConaughey has that ability to take small scenes and make the something special.
9. The Paperboy (Daniels, 2012)
The Paperboy had a star-studded cast and was directed by Academy Award-nominated filmmaker Lee Daniels, but it's an offbeat film far removed from a glitzy Hollywood production and couldn't find an American theatrical distributor. In addition to Matthew McConaughey, you have Nicole Kidman playing a woman of questionable morality and John Cusack playing a mean and nasty person, which is unlike any character he has played before. And then you have McConaughey doing a fantastic job playing an ambitious journalist in pursuit of the truth, as well as a closet homosexual, which is also against his type as he usually plays the epitome of male heterosexuality. The Paperboy is not for everyone but McConaughey, among others, makes it worth seeing.
8. Dazed And Confused (Linklater, 1993)
This is McConaughey's debut film and the first words he ever recorded for film was his trademark "All right all right all right". The infectious line has been used and imitated over the years and McConaughey himself even used it during his Oscar acceptance speech. This is the film that launched his career and even though he had a small role in Dazed and Confused, he had two of the most memorable lines perhaps in film history. The "all right" line was one and the other was "That's what I love about high school girls. I keep getting older and they stay the same age." Even in his debut you could see McConaughey had charm and presence.
7. Failure To Launch (Dey, 2006)
People like to make fun of McConaughey's rom-com days. To some, if you aren't in a "serious" film you aren't taken seriously. Such was the case with McConaughey. I don't share that opinion and some of his lighter work is excellent. Failure to Launch is one of those films. He plays an immature man-child who simply will not move out of his parents house, even though he is in his mid-thirties. His parents (Kathy Bates and Terry Bradshaw) then hire a professional date, someone to make their son want to move out of the house. McConaughey's performance, like almost every film in which he appears, is the best aspect of a movie that features good comedic support from actors like Bradley Cooper and Justin Bartha.
6. Frailty (Paxton, 2001)
Matthew McConaughey worked with Bill Paxton on the submarine thriller U-571 and later Paxton would cast him in one of his best roles as the adult Fenton Meiks. He tells the story of when he and his brother were kids, acting as narrator as he recalls when they took it upon themselves to hunt down demons. Their father, played by Paxton, tells them that God has given him a special ability to see the demons and that they are to trust him. Ultimately the Meiks family commit murder many times over. McConaughey is perfect for this role and when he plays off fellow Texas actor, Powers Boothe, the scenes are quite powerful. You don't know if he is a good man in this story or if he is just the incarnation of evil. Credit Paxton's strong direction for this but McCoanughey's understanding of the character is what makes us identify with him.
5. Mud (Nichols, 2012)
McConaughey plays the mysteriously named Mud. He's a fugitive who has been hiding from the authorities and bounty hunters after committing a crime of passion…for the love of his life. It's a role that should have earned him an Oscar nomination. In it, Mud teaches two young boys about adventure and life and tries to help them live it. It's a beautiful coming of age story highlighted by McConaughey's stark interpretation of the title character.
4. Interstellar (Nolan, 2014)
Although not one of my favourite films, I can't deny how good McConaughey is in Christopher Nolan's ambitious production. What's incredible about the film is simply Matthew. He makes everyone around him better. He has the responsibility of telling the story and making us feel the human side of the story. He makes us feel many emotions, as a father, a scientist, a son and a human being. The sign of a good actor is when you don't necessarily care for the film they are in but you are hypnotized by their performance. For me, that's this film.
3. The Lincoln Lawyer (Furman, 2011)
Before The Lincoln Lawyer, McConaughey was frequently in rom-coms and other films that seemed to do fairly well at the box office but did little to show his dramatic acting chops. That all changed with The Lincoln Lawyer where he plays Mick Haller. He's a lawyer that operates mostly out of the back seat of his Lincoln and he will take on any case as long as you have the money. He doesn't operate outside of the law, nor does he break it. But he will defend anyone. McConaughey chews up the scenery in this film. His southern charm and drawl were perfect for the character and because of The Lincoln Lawyer he started getting offered more meaty roles.
2. Dallas Buyer's Club (Vallée, 2013)
The film that finally won McConaughey the Oscar for best actor is the one that saw him undertake his greatest physical transformation. He lost 47 pounds for the role and at one point of filming there were even concerns that he was too thin and gaunt. He lost the weight to play Ron Woodruff, an AIDS patient who refused to accept that there was no treatment for his condition. He fights the FDA and eventually discovers medicine that prolongs his life. It's not just the weight loss that needs to be mentioned here. McConaughey starts off one way and goes on a journey of enlightenment and acceptance. Few actors could take on this role and do it justice. McConaughey gives one of his best performances, just missing number one.
1. A Time To Kill (Schumacher, 1996)
McConaughey plays Jake Brigance, a white lawyer hired by a black man (Samuel L. Jackson) to defend him after he is charged with murder when he kills two men for raping and attempting to kill his 10-year-old daughter. This, in my opinion, is McConaughey's best performance. He should have been nominated for an Oscar. This is a film with one of the best casts ever put together, with names like Kevin Spacey, Sandra Bullock, Donald Sutherland and Oliver Platt to name a few. McConaughey shines brighter than all of them as the young and inexperienced lawyer who is in way over his head and is in jeopardy of losing the case until he gives one of the best courtroom monologues of all time. This is his best film and best performance.
Written & Compiled by Dan Grant
Your turn? Name your fave Matthew McConaughey performances…
Read more from Dan Grant:
Top 10 Films About The Oppressed Taking Their Revenge
Top 10 Embarrassingly Cringeworthy Moments In Film
Top 10 Supporting Actors Who Always Bring Something Special To A Movie