Despite the fact two bona fide horror marquee names were behind its creation, a supernatural thriller made during the first half of the 1980s somehow failed to fully capitalise on their popularity. Mark Fraser revisits a Hollywood movie which still refuses to accelerate.
WARNING: This review contains spoilers.
While 1983's adaptation of Stephen King's novel Christine didn't exactly mark the end of the road for director John Carpenter, it certainly showed he was starting to veer into the wrong lane. After being hailed as something of a horror-fantasy wunderkind based on a body of economically efficient work produced between 1974 and 1980, Carpenter entered the eighties riding high – a journey which soon became a bit bumpy after his expensive remake of Christian Nyby's 1951 alien opus The Thing From Another World (shortened to The Thing for the 1982 update) was, upon its release, unfairly greeted by public indifference and critical hostility.
No doubt this prompted the writer-director, whose previous successes included $70 million worth of box office (from a $300,000-350,000 investment) for his 1978 slasher hit Halloween and another $20 million-plus return on the $1 million The Fog (1980), to become a little more risk adverse. As a result pretty much all of his subsequent output – starting with Christine and continuing with titles like Big Trouble in Little China (1986), Prince of Darkness (1987), They Live (1988), Memoirs of an Invisible Man (1992), Village of the Damned (1995), Vampires (1998) and Ghosts of Mars (2001) – travelled down similar middle roads, eschewing the new grounds his earlier films successfully navigated.
Fear of further failure (although The Thing actually did make its $15 million budget back from the American market) may also have been a reason why Carpenter chose to make an adaptation of a story penned by King, another recent horror sensation whose own career was in overdrive by the early 1980s thanks to a list of best-selling horror fiction dating back to 1974. With two A-list names associated with it, there was a real possibility Christine would be a sure fire hit, even if the author had nothing to do with the movie other than provide the source material. (It's worth noting here that the book hadn't been published when the film was produced, suggesting the director was making something of a leap of faith when he signed up for the gig.)
Although it didn't exactly bomb when first released (US box office receipts alone doubled its $10 million price tag), Christine nevertheless failed to provide the spark needed to properly jumpstart Carpenter's career, leaving it stalled in the fickle Hollywood swamp in which it had just been bogged. Furthermore, judging from various interviews with King, it's difficult to determine if the author was fond of the director's (and scriptwriter Bill Phillips') handling of his original vision or not.
In a Rolling Stone article published in late October 2014, for instance, he told journalist Andy Greene vis-à-vis film adaptations of his books: "But Stand By Me, (The) Shawshank Redemption, (The) Green Mile are all really great ones. Misery is a great film. Delores Clairborne is a really, really good film. Cujo is terrific."
While Christine is conspicuous by its absence from this list (as is David Cronenberg's reasonably faithful 1983 adaptation of The Dead Zone), at least the writer didn't put it in the same class as Stanley Kubrick's 1980 reinterpretation of his best-selling novel The Shining, of which he said: "It's like this great big gorgeous car with no engine in it – that's all" (Howard, 1999). Strangely enough, using this mechanical metaphor was somewhat prescient given it pretty sums up Carpenter's eventual cinematic take on Christine, a good looking work which is so borderline that – unlike some of his crummier movies – it's almost completely forgettable.
Slow lane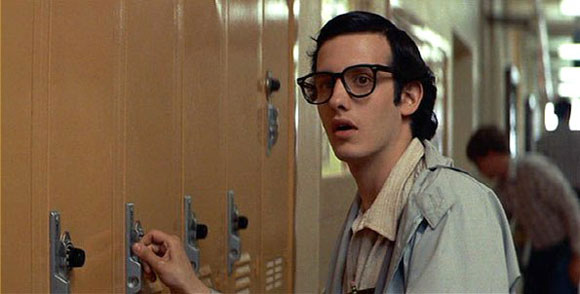 One possible reason for this is the fact it's quite difficult to enjoy a film about a possessed car when the vehicle in question isn't causing any interesting mass carnage, opting instead to hold idling grudges against those who either truly upset it or merely venture too close to its engine when it is in one of its moods. Unlike the driverless black Lincoln Continental in Elliot Silverstein's 1977 B-grade actioner The Car, for instance, Christine – a red and white 1958 Plymouth Fury – doesn't ominously go out onto the open road looking for random prey like some kind of deranged serial killer. Rather, it's reasonably selective when it comes to targeting its victims.
As part of the film's opening scene, which is set in a Detroit motor vehicle plant during 1957, the just-assembled Christine senselessly attacks one of the workers on its production line (played by an uncredited actor) by slamming its bonnet on his hand, smashing a few fingers in the process. Immediately after, it causes another employee (who may or may not be Charles Steak) to die of carbon monoxide poisoning (or a heart attack – it's difficult to tell) because he thoughtlessly flicks some cigar ash on its plastic-covered front seat upholstery.
Regardless of this rampage-at-inception, the car's only known history of homicide during the following 21 years involves the death of a family of three, a fact unbeknown to bullied Californian high school geek Arnie Cunningham (Keith Gordon), who notices its neglected clapped-out body sitting for sale in the front yard of local hillbilly George Le Bay (Robert Blossom) and immediately decides that he must have it. Later in the movie, once mysterious things start happening, it is revealed the victims comprised of Le Bay's brother, sister-in-law and niece, all of whom expired at different times.
Although Christine does end up causing some reasonable havoc – attempting, in an apparent act of jealousy, to choke Arnie's new girlfriend Leigh Cabot (Alexandra Paul) to death with the help of a hamburger at the local drive-in, as well as wiping out a gang of vandals (William Ostrander, Malcolm Danare, Steven Tash and Stuart Charno) that smash it up – these moments of murderous glory are too short-lived and surprisingly mundane to maintain interest.
Aside from one spectacular scene when the possessed Plymouth Fury blows up a petrol station and catches on fire, the execution of the movie's evil acts (in which people are crushed, incinerated or run down like dogs) are pretty half cocked and run-of-the-mill. When Moochie (Danare) finds himself cornered by the car in an alley, for example, there's no doubt as to what will happen – the vehicle simply mashes him. Ditto for Repperton (Ostrander) while he is being pursued along an open road (and running straight down its middle, one should add); as there is no dramatic option for him other than to become a hit and run statistic, this is exactly how it is played out. As a result the thrill of the chase is practically non-existent.
If anything it seems that – unlike with Halloween and The Thing – Carpenter didn't have too many narrative twists or cinematic tricks up his sleeve when he directed Christine, instead opting to play it strictly by numbers. Unfortunately he ends up showing too much faith in some of these figures, a strategy which leads to a few miscalculations. Unfortunately one of these missteps is the film's climatic confrontation, when Arnie's best friend Dennis Guilder (John Stockwell) and Leigh take the haunted vehicle head on with the help of a front-end loader. As exciting as this might sound, it turns out to be as dull as watching a bunch of stunt drivers ram each other at a weekend stock car meet.
Double parked
Another major problem with Christine is, at its core, it's really nothing more than another 1980s high school movie in desperate need of a Ferris Bueller. And, to be honest, it also lacks a Freddy Krueger given the titular car fails to be genuinely scary, despite Carpenter's and cinematographer Donald Morgan's concerted efforts to make it appear sinister.
Gordon – on whose shoulders the dramatic weight of the film sits – is not a particularly strong actor; nor is his character interesting enough to drive the story through to its hackneyed conclusion. In short, his quick transformation from bullied geek and parent-pecked teenager to murderous rebel with an evil cause is not a memorable one. To make matters worse Stockwell's Guilder spends a critical portion of the story confined to a hospital bed after being injured during a football game – a plot development which somehow diminishes the narrative's sense of urgency.
Then there's the usually reliable Harry Dean Stanton who, as Detective Rudolph Junkins, also fails to make much of an impression despite the fact he gets through to the movie's somewhat predictable dénouement. If anything, this is one of the rare occurrences when the veteran actor looks miscast. As for Paul, a leading lady she ain't – certainly not in the way Jamie Lee Curtis turned out to be in Halloween.
Extra mileage?
Despite these grievances, there is one aspect of Christine which is worth looking at regarding Carpenter's (and Phillips') interpretation of the original story. This observation, however, comes with something of a caveat – given this critic has neither read the King book nor all of the film's reviews, it may either be totally wrong (which it is if the author made this point clear in his novel) or completely redundant. Whatever the case, it is undeniable that in the movie Christine – aside from being a motor vehicle possessed by a malevolent supernatural force – is also a metaphor for rock and roll.
Born in the same decade as what was then a major new music phenomenon (the 1950s), and appealing to the frustrated sensibilities of an alienated teenager, the titular car is, like rock and roll, a curse on respectable society, being unstoppable when it comes to the corruption of youth and destruction of white middle class family unity (as seen in the rapid breakdown between the rebellious Arnie and his annoying parents, played by Christine Bedford and Robert Darnell).
To ram this point home, Carpenter has "Rock n' Roll is Here to Stay" by Danny and the Juniors blare from Christine's radio (fifties songs are always played when victims get wiped out) as the Plymouth Fury is being fatally mounted by the front end-loader before abruptly cutting to the vehicle's final appearance as a tidily-crushed scrapyard compact of twisted metal, shattered glass and mangled rubber.
During the movie's closing shot – just after the survivors (Guilder, Cabot and Junkins) take a breath of relief and conclude the ordeal is over – the car starts its rejuvenation process, proving that, like rock and roll, it too will never die.
In a 1984 interview with Randy Lofficer, King (who hadn't seen the Carpenter film at the time) said: "For me, rock and roll was the rise of consciousness. It was like a big sun bursting over my life. That's when I really started to live, and that was brought on by the music of the fifties" (lofficer.com, 2001).*
The same thing applies to the virginal Arnie when he falls for Christine – in effect the poor boy finally finds something good about life and discovers a degree of confidence hitherto unbeknown to him. And, in doing so, he rebels against both his parents and society in general, literally becoming possessed in the same way America's youth did when it was first seduced by the allure of this new music some 60 years ago.
So, while Carpenter may not have made a good movie by any stretch of the imagination – although it is undeniably handsome-looking and perfectly framed for the Panavision lens – it's arguable that he and Phillips may have added some interesting sub-text to the original story. If true, this is a plus given King's work sometimes lacks a half-decent hidden meaning.
*On this point it's worth noting that the author started all the chapters of his book quoting a rock and roll lyric.
INFORMAL BIBLIOGRAPHY
James Howard – "The Shining" Stanley Kubrick Companion, BT Batsford Ltd, 1999, p.155
Top 10 Films reviewed Christine on Blu-ray courtesy of Powerhouse Films which released the film on dual format DVD/Blu-ray in the UK October 24, 2016.
Powerhouse Films' limited edition dual format Blu-ray/DVD release is a treat for fans
Powerhouse Films' Indicator Limited Edition release is the first time Christine has been available on Blu-ray in the UK. The dual format release is packed with fantastic features that will undoubtedly thrill fans. The Indicator edition also features a 2K restoration which looks great as well as the original stereo audio and alternative 5.1 surround track.
Stand out extra features include a 48-minute three-part making of documentary, made in 2003, (Christine: Ignition, Fast and Furious & Finish Line) featuring interviews with cast and crew, including John Carpenter and Keith Gordon. The director and star also provide an audio commentary track. There is also a selection of deleted scenes.
The release also includes: an isolated score, image gallery including on-set and promotional photography, theatrical trailers, TV Spots and new and improved English subtitles for the deaf and hard-of-hearing. The limited edition (only 5,000 copies have been made) also includes an excellent 24-page booklet with a new essay by Jeff Billington and a 1996 article on Carpenter's cinematic 'guilty pleasures'
Discover more writing on film by Mark Fraser
"Man With A Movie Camera" Transcends Propaganda | "The Deer Hunter" Remains An Adult Fairy Tale | "The Train" Still One Hell Of A Ride | "Barry McKenzie Holds His Own" Maintains Its Irreverent Grip | Umberto Lenzi's "Eaten Alive" Is A Hard Act To Swallow | William Friedkin's "Sorcerer" Is A Curiously Mistreated Masterpiece | "To Catch A Thief" Shows Hitchcock Dabbling In Blandness