Staying well clear of the blockbusters, superhero movies and sequels, Lyndon Wells runs down his underappreciated films of 2016. How many of these have you seen…
2016 has been a mixed bag of a year for films. For every Captain America: Civil War there has been a Batman v Superman: Dawn of Justice. There have been plenty of crowd pleasing blockbusters like Deadpool, Fantastic Beasts and Where to Find Them, Zootopia, The Jungle Book, Star Wars: Rogue One, Jason Bourne, Doctor Strange and The BFG with big marketing budgets and box office success but there's also been many audience favourites elvated by word of mouth and crtiical acclaim such as I Daniel Blake and Arrival.
But these films only scratch the surface when it comes to 2016's cinematic delights…
Being a massive film fan I relish the opportunity to share and preach about those films not enough people have seen. Remember that last film you loved and told everyone to go see? Well this is my top 10 list of the most underappreciated films of 2016 that more people need to see. The top 3 of this list are my favourite films of the year and were all released in the same week in the UK! Let's begin…
Victoria (Schipper, Germany)
The only foreign language film on my list, but a must see for all film fans due to its technical achievement. Victoria (Laia Costa) is a young Spanish woman newly arrived in Berlin. She bumps into a group of local youths, accepts their invitation to hang out, and is inadvertently led into surprising and dangerous consequences. The film boasts one single shot: beginning in a nightclub at 4am and following Victoria until the sun rises over two hours later without a single cut. The triumph of the film though is the technical gimmick is forgotten by the viewer as the film seamlessly morphs into an unexpected thriller.
The Nice Guys (Black, USA)
Shane Black's unique sarcastic tone that bought us Kiss Kiss Bang Bang and Iron Man 3 arrived in 2016 in the form of his version of LA Confidential. Ryan Gosling steals the show as a failing private eye in 1970s LA and is forced into an unlikely pairing with an enforcer, Russell Crowe, to investigate the case of a missing girl and the connected death of a porn star. The dialogue is sharp and suits both the leads as they bumble through a number of darkly comic set pieces.
Green Room (Saulnier, USA)
A fresh twist on the siege and grindhouse genre as a young punk band are forced to fight for their lives when under attack from a group of Neo-Nazi thugs led by a memorable Patrick Stewart. It is also one of the last performances by the late Anton Yelchin. It has found the audience it deserves after its theatrical release but, I wish more people saw this tense riot of a film at the cinema. This is an exploitation film with a brain that delivers on the shock factor.
Midnight Special (Nichols, USA)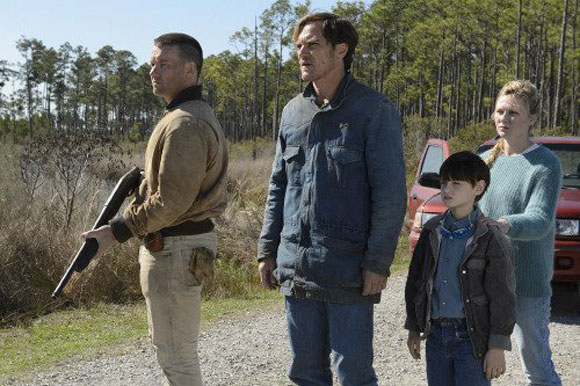 Director Jeff Nichols throws another family into turmoil in this smart sci-fi thriller. Roy (Michael Shannon) goes on the run with his son Alton (Jaeden Lieberher) who has powers that make him appear as a threat to some and a saviour to others. They are joined by Alton's mother Sarah (Kirsten Dunst) and old friend Lucas (Joel Edgerton) as they are pursued by government agents (Adam Driver) and an extreme religious sect overseen by Sam Shepard's driven leader. A soulful film that plays with 1980s nostalgia that bravely trumps themes and emotion above factual resolution.
Kubo And The Two Strings (Knight, USA)
A stop motion delight from studio Laika that continues its winning streak. The young Kubo is in hiding but after discovery by his grandfather the Moon King he is forced on a daring quest to find three magical pieces of a suit of armour. The animation is beautiful, a perfect backdrop to an undeniably emotive tale that is anchored by a strong voice cast including Charlize Theron, Matthew McConaughey and Ralph Fiennes. This animated adventure boast big laughs, scary moments and thrills all set on a gorgeous canvas.
Room (Abrahamson, USA)
Whilst included in last year's Oscar race this was a film with a 2016 UK release date so the more people I can encourage to see this masterpiece the better. Unlike the other Oscar contenders of last year like The Revenant and The Big Short I am still surprised that not enough people have seen this one. Room is an abhorrent story that challenges its characters to find hope in a seemingly hopeless situation. Ma (Brie Larson) and her five-year-old son Jack (Jacob Tremblay) live in a ten-square-foot room that is all Jack has ever known. Ma has been captive in this room for seven years after being kidnapped then raped countless times. Ma creates a world to protect Jack from the harsh reality they face. The film is masterfully directed by Lenny Abrahamson who presents it from a child's perspective. It is emotionally exhausting and many scenes produced more than misty eyes. The film is about a bond between mother and son and how they provide strength to each other in harrowing circumstances.
Hell Or High Water (Mackenzie, USA)
A modern western as two brothers – former con Tanner (Ben Foster) and divorced dad (Chris Pine) – are forced into an audacious bank robbing spree to save their family's West Texas farm from foreclosure. Standing in their way is a wily Texas Ranger (Jeff Bridges) and his suffering partner. A simple tale that drags the Western into the modern age in a tense and gripping tale with sympathetic characters and no clear villain, all tied together by the ever excellent Bridges.
Hunt For The Wilderpeople (Waititi, New Zealand)
A film from New Zealand by the director of vampire mockumentary What We Do In The Shadows Taika Waititi. The film follows troublesome fat kid Ricky Baker (Julian Dennison) after child welfare services delivers him to a remote farm in the countryside, to be fostered by the warm Bella (Rima Te Wiata) and her grumpy husband Uncle Hec (Sam Neill). An unfortunate event leads to Ricky and Uncle Hec becoming the object of a national manhunt when they go accidentally missing in the bush. This hilarious and warm film set to a background of Lord of the Rings country engrosses you with its hyper-realistic stance and razor sharp wit. A pursuit movie anchored with an oddball adventure of a mismatched pair.
Captain Fantastic (Ross, USA)
My top film of 2016 is a family drama with a beautiful comic sensibility and a heart wrenching exploration of modern society. Despite the title this is not another superhero film, Ben (Viggo Mortensen) is the metaphorical Captain Fantastic but can also at times be interpreted as the villain of the piece. Mortensen gives an Oscar-worthy and captivating performance as a father that takes his wife and six children deep into the woods to abandon modern life, preferring high-minded ideals and intellectual theories. However, when his wife dies, the family venture together into the modern world to attend her funeral, including awkward interactions with disapproving family members. This film is fiercely original as it explores the world through the eyes of a gang of outsiders, and the dense but carefully layered metaphors allow this impressive drama to be read on several different levels.
What are your fave underrated or underappreciated movies of 2016?