To celebrate the home entertainment release of the electrifying thriller Nerve, we take a look at a selection of the best cyber thrillers…
Trying to join cinema's elite group of best cyber thrillers, Nerve is a new film from Henry Joost and Ariel Schulman, the acclaimed creators of smash-hit documentary Catfish. Nerve stars Hollywood's hottest young actors, Emma Roberts (We're The Millers, Scream Queens) and Dave Franco (Bad Neighbours, Now You See Me).
Pressured by friends to join the popular online game Nerve, Vee (Emma Roberts) decides to sign up for just one dare in what seems like harmless fun, but when she is partnered with a mysterious stranger (Dave Franco) she finds herself caught in the thrill of adrenaline-fuelled competition. When the game takes a sinister turn, with increasingly dangerous acts, Vee is lead into a high stakes finale that will determine her entire future.
10. The Net (1995)
Long before social media, this now dated action film is still one of the best cyber thrillers thanks to a confident tough-girl performance from Sandra Bullock and a smart, fast-paced plot that is in some ways ahead of its time because it concerns a fear that is much more real today: cyber-terrorism.
9. Hackers
Hackers is one of the best cyber thrillers because it tapped into the cyber world just as it was kicking off in the 1990s. It stars Jonny Lee Miller, Angelina Jolie and Matthew Lillard and charts the exploits of their tech-savvy ability to hack into sensitive, confidential material to fight a corporate giant preparing to unleash a powerful computer virus.
8. Swordfish (2001)
A covert counter-terrorist unit called Black Cell led by Gabriel Shear wants the money to help finance their war against international terrorism, but it's all locked away. Gabriel brings in convicted hacker Stanley Jobson to help him. An amazing cast – with John Travolta, Hugh Jackman, Halle Berry and Don Cheadle – oozing with cool, and that dramatic notion that we can all be hacked.
7. Untraceable (2008)
FBI agent Jennifer Marsh is tasked with hunting down a seemingly untraceable serial killer who posts live videos of his victims on the Internet. As time runs out, the cat and mouse chase becomes more personal. Saw meets Chat Roulette, with a FBI agent hunting down the psycho. The Facebook live feeds you see on your wall look pretty tame now.
6. Chatroom (2010)
Five teenagers are introduced to each other in a chatroom called "Chelsea Teens!", all with different personalities. But when one shows its darker side, it threatens the life of the others. Back when chatrooms were all the rage…maybe…Chatroom spotlighted the obsession with connecting online, and the horrors you can face.
5. eXistenZ (1999)
A game designer on the run from assassins must play her latest virtual reality creation with a marketing trainee to determine if the game has been damaged. David Cronenberg steps into the virtual world for a twisty, shocking tale about playing, living and killing for game.
4. Fortress (1992)
In a dystopian 2017 (yes, I said, 2017!), a father is imprisoned in a futuristic penitentiary run by a computer called Zed-10, after trying to smuggle his pregnant wife across the US-Canada border. It has become law that families are only allowed one child; this would be the couple's second after their first tragically passed away. The "fortress" prison the man is sent to includes many cyber gizmos such as an implant in every prisoner that causes extreme pain or explodes, killing them instantly, if activated by a guard due to ill-discipline or an escape attempt.
3. War Games (1983)
An 80s classic. A young man finds a back door into a military central computer in which reality is confused with game-playing, possibly starting World War III. The film features a recurring idea of online games moulding into reality. Such fun!
2. Enemy Of The State (1998)
Tony Scott's ultra fast-paced Enemy Of The State is undoubtedly one of the best cyber thrillers thanks to its unsettling realisation of a world where we're all constantly watched by the technology that's all around us. Plus, it's a bloody entertaining experience. What's scary, however, is that we've advanced another 20 years since the film was released!
1. The Matrix (1999)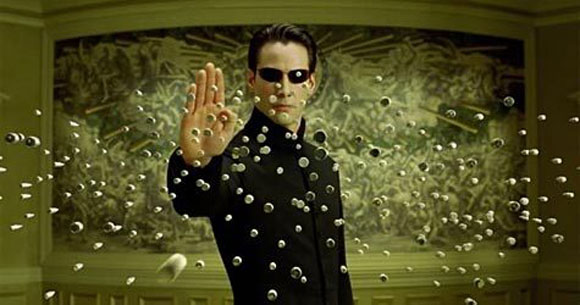 A computer hacker learns from mysterious rebels about the true nature of his reality and his role in the war against its controllers in arguably the best cyber thriller of all time. One of the most influential movies and an iconic representation of virtual reality, The Matrix set a new standard for action cinema and the integration of innovative camera techniques to capture motion never seen before.
So, in your opinion, what are the best cyber thrillers?
Nerve is available to own on Digital Download on December 4, and DVD and Blu-ray on December 5, 2016.