Nicolas Winding Refn's divisive film The Neon Demon could be an austere and clinical examination of beauty or a mesmeric trip into the realms of objectification backed up by an overbearing soundtrack or something else entirely. No matter, it's a modern day marvel.
What Nicholas Winding Refn has committed to celluloid here is divisive, dividing and above all original. Viewed as either an austere and clinical examination of beauty and the beautiful, or a mesmeric trip into the realms of objectification backed up by an overbearing soundtrack and exacting performances, there is something almost brazenly repellent, like the bastard child of Altman's Pret A Porter force fed mescaline and let loose into oncoming traffic.
Elle Fanning gives a performance of fragility which slowly morphs into something much more sinister and visceral. Her character Jesse represents everything real rather than shaped and sculpted for a paying clientele. In an industry defined by image and constantly in search of the new, Jesse becomes both threat and catalyst creating equal amounts of excitement and jealousy. Other directors have examined the ideas of consumerism, social expectation and fashionistas before but never like this.
Jena Malone's Ruby, who acts as confidante in the beginning, obsesses over superficiality, earning money on the side as a mortician. Marvelling in the purity which Jesse radiates, she misreads their relationship dynamic and ultimately seeks solace on the mortuary slab. Some have condemned this scene as grotesque self-indulgence, shocked and repulsed the director would choose to go that far. But within the context of this film those actions although appalling are honest, savagely on point and brave in ways it remains hard to define.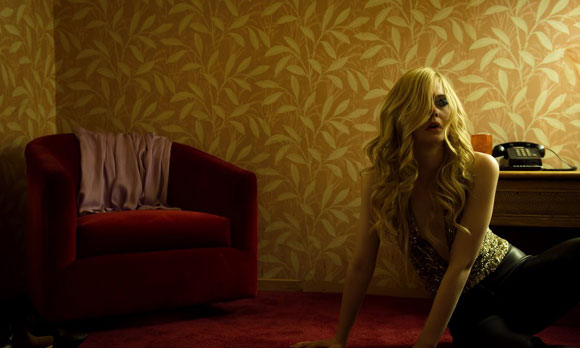 Undeniably stylised and employing heavy synthesisers within the soundtrack The Neon Demon is lit according to mood, location, situation and narrative. Stark symbolism which relies heavily on mirrors backs up the focus on self-image, whilst scenes of literal consumption are reminiscent of both Peter Greenaway and Tony Scott. Consider for a moment the touchstone of Greenaway's The Cook, The Thief, The Wife and Her Lover or Scott's The Hunger. Both contain scenes and themes which exist within The Neon Demon yet these men are revered whilst Refn remains ostracised.
Indeed, Refn has been singled out for using violence and horror needlessly in the pursuit of art house kudos. Whilst Ben Wheatley's High Rise, which was no less uncomfortable to watch at times, dealt only with social and political decline, rather than self-image and our desire to remain young and relevant, it is the media and society singling out one above the other for no other reason than personal taste in my opinion.
Ultimately these filmmakers make good films, but one has become accidentally mainstream whilst his counterpart remains uniquely counterculture by comparison. What people dislike perhaps is the fact that with The Neon Demon Refn has clearly cast a cold and calculated eye over the human condition and found it gloriously wanting; too bad originality is so frowned upon.
Top 10 Films reviewed The Neon Demon on DVD courtesy of Icon.
Directed by: Nicolas Winding Refn
Written by: Mary Laws, Nicolas Winding Refn, Polly Stenham
Starring: Elle Fanning, Karl Glusman, Jena Malone, Bella Heathcote, Abbey Lee, Christina Hendricks, Keanu Reeves
Released: 2016 / Genre: Horror
Country: France/Denmark/USA / IMDB
More reviews: Latest | Archive