Not only does actor Frida Farrell have the courage to tell her harrowing true story, but she stars in the role of Isobel, a young woman kidnapped, drugged and sold to random men in a grotty Los Angeles apartment. Frida spoke to Dan Stephens about the inspiration behind reliving her ordeal…
It was warm in London when the nightmare began. The details of Frida Farrell's harrowing ordeal are hazy – the result of drugs forcibly administered and selective memory burying the most horrible moments – but the days she spent imprisoned and sold to random men will never be forgotten.
Director Rudolf Buitendach's Selling Isobel is a powerful dramatisation of Frida's story. What's perhaps most startling about the film, aside from the truly disgusting actions of the people involved in this criminal underworld, is the fact Frida herself has the courage to play the lead role.
In many respects it was cathartic, she tells me. "At first I was hesitant, thinking I'm not sure I can actually do this. But the closer we got to a finished script and a start date I started thinking, wait, me doing this might be the best thing – both personally, as a way to get over the whole thing, and for the film."
Her first-hand experience of those people controlling sex trafficking and forced prostitution, the "clients" who feed the industry and the suffering faced by the women enslaved, was crucial to bringing authenticity to Selling Isobel.
"No one else will really know what it was like, so they'll have to imagine it. I didn't have that problem," she says. But surely it was uncomfortable putting yourself back into that situation, despite it being on a film set, I ask. "I always referred to the character as 'her' or 'Isobel', never as me. That helped to separate my emotions," she replies.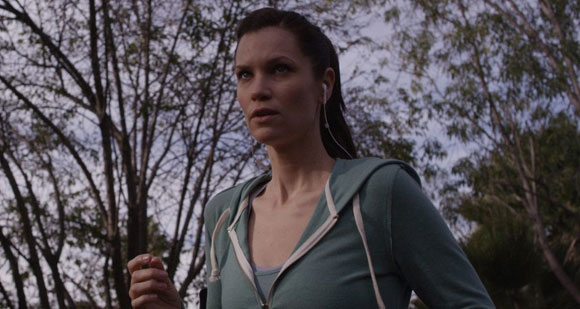 Understandably, Buitendach's film doesn't shirk its responsibility to remain truthful to Frida's story and thus present the disturbing realities of sex slavery. But even for 21st century audiences dulled to the effects of media violence, some things were too horrific to dramatise on film. That said, Frida says she managed to get through recreating scenes of rape by disassociation.
"I was somehow okay with the rape scenes, because in such distressed situations you manage to separate yourself from yourself so you can mentally survive it. For some reason the worst two scenes for me [to film] were actually the initial 'locking her in' and then the following scene of her getting punched in the bathroom because she refuses to put on the underwear he orders her to wear."
It was important to Frida that Isobel's story was as close to how she remembers the ordeal as possible but, in part because her recollection remains muted, some creative license was taken on developing the chief antagonist.
"We had to make up a little bit about the kidnapper, as I didn't know too much about him, his motives etc. We toned him down as well, because in real life he was even worse than in the film. But we figured it was too much for an audience to have him be as bad as the clients he organised."
Buitendach, whose feature Dark Heart starring Lucas Till was nominated for best film at the 20th Raindance Film Festival, moves events to Los Angeles. That was primarily for budgetary reasons but the relocation highlights the fact the problem is global.
About five years ago, Frida began working on the script having been encouraged by her husband to speak openly about her three-day ordeal in London. She'd come to the UK from New York where as a young 22-year-old she'd enjoyed a blossoming modelling career. However, ambitious to move into acting, Frida was accepted into London's prestigious Central School of Speech and Drama. It was while in the city that her terrifying ordeal took place.
Selling Isobel brings to frightening reality the events that took place across three days in London when Frida was coaxed into an environment of perceived trust, kidnapped, drugged, beaten and trapped in a city apartment near to the busy Oxford Street shopping district where she was sold to random men for sex. Her fight was not only physical but also an act of mental endurance to maintain her sanity and courage during those traumatic few days.
Frida's successful pursuit of acting over the last decade has provided the opportunity to bring increased focus to what the filmmakers say is the fastest growing criminal business in the world. The film's end titles claim that it accounts for the kidnapping of an incredible 20.6 million adults and children every year.
"I want to take the opportunity to turn the worst moment of my life into something good, if that's possible. So I thought, if I can come out and talk about this event openly (and that took over 10 years for me to build up to) and therefore make other young women more cautious and hopefully never end up in a similar situation, then my job is done," said Frida, who won the AOFF's award for Breakout Female Star for Contract Killers in 2008.
She tells me her hope for Selling Isobel is that it could lead to "something good" and that a positive outcome will come out of something so terrible. It's about "finding a healthy ending to something so horrific," she adds.
The most difficult thing for those who have survived similar circumstances is a sense of guilt or shame. It means too often victims bury their memories. That means perpetrators are left to continue to get away with it.
"I'm really hoping [the film] will a) make people who have been in a similar situation feel confident to come out and talk about it and b) I want them to shed all embarrassment they're holding onto. They must never blame themselves. It is NEVER the victim's/surviver's fault. But unfortunately that's the first thing you do – blame yourself. Try to push it all away as if it never happened because of embarrassment."
Frida feels the authorities can do more. They must "take this issue more seriously than they have in the past" and "listen to victims and survivors who come to them." She adds that it takes a lot of courage just to talk about what happened. "That alone is a big step to take."
Selling Isobel had its European premiere at the 24th Raindance Film Festival.