Neal Damiano reveals the best Keanu Reeves films in this top 10 featuring an eclectic mix of action-adventure, character-driven drama and sadistic horror…
10. Speed (de Bont, 1994)
Speed is an enjoyable thrill ride that made the most of its straightforward plot with high-octane set pieces and a great supporting performance from Sandra Bullock. Reeves himself was fine, but he was also at his most traditionally single-minded and heroic here. Speed isn't the best Keanu Reeves film because it lacks a bit of originality following the same formulaic hero-saves-the-girl format but the actor comes off as a genuine saviour and a badass at times which makes for an appealing combination of hero and heroine.
9. Knock Knock (Roth, 2015)
Eli Roth directed a truly frightening thriller and to be honest I didn't think Reeves could pull off traditional horror, but he is pretty convincing as a adulterous husband. Definitely one of the best Keanu Reeves films, Knock Knock is completely over the top insane. The two women dominate the scree, raging vengeance on cheating men. At times Reeves comes off weak and unforgiving but he handles his business.
8. The Replacements (Deutch, 2000)
The Replacements is such an amusing light-hearted, sarcastic film. Reeves starring as a second string quarterback hired to play for a losing football team The Washington Sentinels. A formulaic but funny film due to Reeves' character who is flooded with contrived moral conviction but doesn't want to let people down. Not a great film by any stretch but Reeves carries it with his enthusiastic charm and wit.
7. Parenthood (Howard, 1989)
Parenthood is a silly story but still one of the best Keanu Reeves films. It deserves a mention even if he is by no means the star of the film. It's hard to outshine Steve Martin, who plays Gil, a hard-working guy just trying to take care of a very big family. Reeves plays Tod, the tearaway boyfriend of Gil's sister's daughter, who manages to find his place within the increasingly chaotic Buckman family household. Reeves is delightfully quirky here as a laid back slacker kind of reminiscent of another character he once played.
6. The Matrix (Wachowski Brothers, 1999)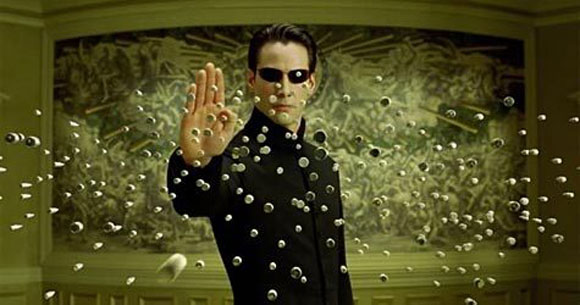 The Matrix is a fascinating film posing all sorts of questions and philosophies on life. Is it real or imagined? It questioned people's thoughts on reality and perception. Reeves himself is perfectly cast as the slightly spacey, emotionally detached loner who morphs into a trenchcoat-wearing badass. The actor is very dynamic in this role and proves he can handle action roles with ease. The film looks amazing thanks to its inventive, 360-degree camera work and sharp action sequences.
5. Point Break (Bigelow, 1991)
Point Break got shunned by critics and I don't know why. It's an interesting story and delivers a non-stop adrenaline rush, but it also displays some very good acting. Reeves stars as college football quarterback-turned-FBI agent Johnny Utah. We suppose the film was instantly greenlit once that was pitched. But it gets even better. Utah is assigned to infiltrate a band of surfers led by Bodhi (Patrick Swayze) who is believed to be tied to a string of bank robberies. Reeves found himself torn between his duty and his newfound friendship to the free-spirited Bodhi. The story is essentially about loyalty. Reeves although at times is over acting it somehow fits with the story. He remains convincing but the love story is cheesy. Bodhi, the soul surfer, does teach the wide-eyed cop a lesson in the end.
4. The Devil's Advocate (Hackford, 1997)
A dark, hybrid film: part legal drama, part supernatural horror film, part psychological character study. It's a mix that mostly works. Reeves stars as Kevin Lomax, a bright attorney with no hang ups about defending clearly guilty clients. An invitation to join an esteemed New York law firm leads to serious temptation when Lomax discovers that one of its partners, John Milton (Al Pacino), is actually Satan. Both Pacino and Reeves delivered some of their best performances of the '90s in this film, perhaps benefiting from a strong script. Reeves brought emotional subtlety to his portrayal of Lomax while Pacino layed his character on aggressively. The duality brought an interesting contrast.
3. Bill & Ted's Excellent Adventure (Herek, 1989)
Bill & Ted's Excellent Adventure is just a fun movie. Two stoner dudes in a band called The Wyld Stallyns want to make it big but first must pass a history exam. What could possibly go wrong? Bill & Ted race against time and pall around with everyone from Billy the Kid to Abraham Lincoln to an ice cream-chugging Napoleon. Reeves and Alex Winter fit their roles like a glove, portraying Bill and Ted as equal parts surfer dudes and metal heads. The film deserves its high place because I do believe this is the one that let us know Reeves was destined for stardom. Reeves is extremely entertaining along with Winter in this offbeat comedy.
2. My Own Private Idaho (Van Sant, 1991)
Reeves was no doubt looking for more heartier roles in the 1990s. In fear of being typecast as a rocker stoner dude. Reeves plays Scott, son of a politician from a well to do family. He rejects his silver spoon existence by hanging with street people and the poor. His best friend is Mikey played by River Phoenix, a hustler who he takes under his wing. I believe the film really displays his acting ability. Reeves really has to stretch himself here giving a heartfelt performance as a dear friend to a lost soul. Then has to turn his back in a twist of bad fate. My Own Private Idaho is very loosely based on Shakespeare's Henry IV, Part 1, Henry IV, Part 2, and Henry V. Though a bit light on plot, the film dealt with the struggles faced by these young men as they dealt with day-to-day trials and Mikey's quest to reconnect with his mother.
1. River's Edge (Hunter, 1986)
River's Edge offers an engaging battle based of a California murder case. John (Daniel Roebuck) confesses to his group of high school friends (including Reeves, Crispin Glover and Ione Skye) that he murdered his girlfriend. After finding her body, the disaffected and emotionally detached teens struggle with the desire to protect their friend and the need to do the right thing. This is the film that really displayed Reeves' acting ability because up until this film he had only played comical light-hearted roles. River's Edge broke him out and proved he can actually act. It's a fascinating film and Reeves is so charismatic in a dark and gloomy way. His chemistry bounces of Ione Skye like a finely tuned instrument. Reeves convincingly plays the voice of reason to a group of desensitized kids.
Read more about Keanu Reeves' best film in Top 10 Films editor Dan Stephens' review
Your turn: what is the best Keanu Reeves film?