It is said that many of the stockbrokers today were born in the 1980s and 1990s. This era was defined by some of the most iconic films ever made and we should not be surprised that the financial markets had featured prominently.
Whether referring to the power ties and cocaine-laden nights of the 1980s or the sell-or-be-sold attitude of the 1990s, many still believe that the movies created during this 20-year period have served to shape the industry as we know it today. Let's take a look at some of the most famous (and infamous) power films about Wall Street.
American Psycho
"Do you like Huey Lewis and the News?" – Patrick Bateman
Before Christian Bale became famous for his off-screen rants and his role as Batman, there was American Psycho. This film depicts the high-pressure life of a wealthy investment banker and his inability to cope with the ordeals of such a volatile world. Obsessed with his physical body and seemingly unimportant novelties such as the colour of a certain business card, Mr. Bateman finds relief in some truly gruesome acts of murder. What is interesting about this movie is that it attempts to depict a tortured man living what appears to be a perfect life on the outside. Full of 1980s references such as Whitney Houston, Phil Collins and VHS tapes, American Psycho is the perfect embodiment of the phrase "all that glitters may not be gold".
Glengarry Glen Ross
"Put that coffee down. Coffee is for closers only." – Blake
Glengarry Glen Ross boasts an all-star cast including Jack Lemmon, Ed Harris, Al Pacino and Kevin Spacey. This film takes a dark (and unfortunately realistic) approach to the struggles endured by financial salesmen. Words such as "commissions", "targets" and "closing" are some of the mantras that these individuals live by. In turn, we witness what happens when each reaches his own breaking point. The fact that these men are not exactly new to the business provides us with a melancholic perspective on what the slow death of a salesman really looks like. The dialogue in this film is brilliant and when backed up with stellar rants by Pacino and others, it is clear to see why Glengarry Glen Ross has become a true classic.
Trading Places
"My god! The dukes are going to corner the entire frozen orange juice market!" – Louis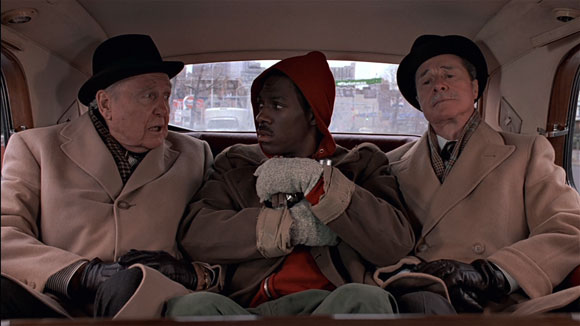 It would be impossible to examine Wall Street films without mentioning Trading Places. Eddie Murphy and Dan Aykroyd are at the height of their careers and the self-deprecating comedy that ensues has not tarnished in nearly three decades. This movie follows the story of how the engineered fall of one man (Aykroyd) can prove beneficial to another (Murphy). Culminating with a well-executed market manipulation that could not have been written more appropriately, we learn to appreciate that taking things for granted is the first step towards folly.
Wall Street
"The point is, ladies and gentlemen that greed, for lack of a better word, is good." – Gordon Gekko
Wall Street is arguably the most well-known film revolving around New York's famous financial district. This movie examines how some men are able to justify truly deplorable practices simply by taking emotion out of the game. Gordon Gekko (Michael Douglas) grooms an all-too-eager apprentice by the name of Bud Fox (Charlie Sheen). Unfortunately for Fox, his ultimate intentions are more nefarious than altruistic. Gordon Gekko is the man that we love to hate; wealthy, ambitious and in some ways, absolutely correct in regards to how the markets functioned in the 1980s. We are left wondering if we would also learn to agree with the statement "greed is good".
Although times have changed, the fact of the matter is that the modern trading platform now enables us to be part of this fast-paced world without having to become caught up in its darker aspects.