Being a parent isn't easy but it's still one of the best things in life. Recently, Top 10 Films contributor Lyndon Wells took his two-year-old daughter to the cinema for her very first big screen experience. It's a day he'll cherish forever.
Going to the cinema is more than just watching a film, you can do that at home. It's an experience whether that's enjoying the scale of IMAX or a collective cry thanks to an emotional drama. Being a massive fan of any experience you relish the opportunity to share and preach that experience to others. Remember that last film you saw and loved and told everyone to go see? How good did you feel when they reported back how much they enjoyed it, that's how you know what that experience means to you. In the last week I have had my top two cinema experiences ever, whilst watching two mediocre films.
Every cinema fan has an early memory of their first cinema trip. Mine, as my family often remind me, is shouting hello back to Winston in Ghostbusters 2 as they explored the sewers. This might however explain my love of Ghostbusters 2 and the exasperated reaction I get when I suggest it is better than the original!
So after weeks of pondering I took my two-and-a-bit-year-old daughter to her first cinema trip. Don't worry every good toddler cinema story includes some poo and this one is no different.
Frozen…and the Five Stages of Grief
As every parent will know the true judge of a great children/family film is how much it gets on your nerves after the 1000th viewing. The first film my daughter watched on hard rotation was predictably Frozen. I have analysed my reaction to Frozen like the five stages of grief:
1 – Denial: nope it's a dream Frozen is not on again
2 – Anger: Please make it stop I hear Let It Go in my sleep
3 – Bargaining: how about this film or this one just anything but Frozen
4 – Depression: Not even Sven can make me smile anymore – I am dead inside
5 – Acceptance: yes we can watch Frozen…again.
Now as any parent of a toddler will know, how peaceful and tantrum free your day will be is directly proportional to your skill of bargaining. "The Frozen DVD is broken but I found this fish one it looks really really good!"
That fish one was Finding Nemo and so began the age of Nemo. Pixar is a trusty brand that despite thousands of viewings I am yet to enter the five stages of grief. However I have fallen into the magical time loop of watching the same bit over and over again. For Finding Nemo I have seen the shark AA meeting scene more than any and it still makes me chuckle.
Pixar to the rescue
By happy accident the age of Nemo peaked as the sequel Finding Dory emerged into the cinema. As the release drew nearer I ran dry runs at home calculating 45 minutes as the "fidget limit". Nice and still for 45 minutes then suddenly she is doing shuttle runs whilst dancing naked in the hallway. A 90-minute film at the cinema seemed unlikely to be a success. Surely the big screen, the tasty sweets and new surroundings might help.
Then the day came. For children the cinema isn't just an experience, it's an event; preparation is key. Picnic at the ready for a constant supply of food and snacks. Take the Potty just in case, as we have mastered number ones but still getting caught out by the occasional number two! We got into the cinema 10 minutes after the start time: I didn't want to waste any of our 45-minute window with adverts and trailers. Daddy gets a coffee, we get seats near the exit and we have a booster seat, but Daddy's lap will prove much more comfortable. We have a toilet stop before we leave home and before we enter the cinema, plus Daddy plans to be stingy with the drink supply during the film! Much more planning than my usual cinema trips.
Luckily the early start time and sunny weather leave only a handful of potential people to annoy in the same screening. It is nearly 30 minutes after the start time before the actual film starts, I never noticed before as not really timed it, but adverts and trailers bloody drag on when every minute counts.
Cinema etiquette and the allure of the big "telly"
Then the lights drop and it starts. Inevitably I will spend more of the film watching her face than the film itself so it is difficult to provide a completely unbiased review. Then her first breech of the cinema code of conduct occurred: "Daddy where is Nemo?" I had forgotten about the pre-film Pixar short, but as always it was a delight and beautiful story-telling with no words. My little girl was still talking about the funny little bird after the film so the short film was a success. Now to the main feature and when Dory first appeared on screen Georgie announced it to the whole cinema, embarrassing but sweet. Then the trance started, completely engrossed by the really big telly.
The film itself is not as good as the first, but I have only seen Finding Dory once and Finding Nemo at least one million times. Pixar are at their best when being original and inventive like Inside Out and Monsters Inc. Finding Dory feels like a Hollywood semi-origin story expanding on a previous supporting character. The sequel's supporting-cast don't land as well as Bruce the Shark, Nigel the Pelican and the fish tank crew. It's not a disaster like Cars 2 but nor is it hitting the heights of the Toy Story sequels. It's fun and emotional Pixar fare with an overblown climatic closing act.
Beware the 45-minute "window of opportunity" and unsuccessful toilet trips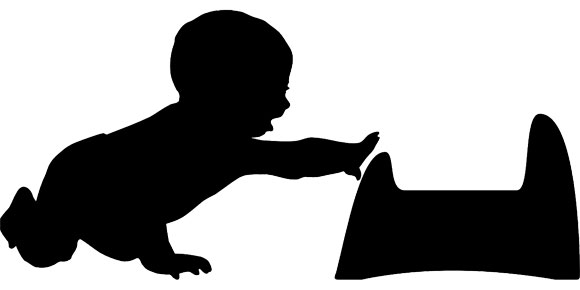 But who am I to judge as during the second half we had to briefly pop out three times pretty much as soon as we hit the 45-minute mark.
1 – "I need a wee" but forgot to take the potty out of the bag and she didn't like the toilet. So back to the cinema, we don't need a wee anymore apparently. Two minutes later – "I really need a wee".
2 – Take the potty, do a tiny wee, she says she needs to do a poo but nothing happens. Back to the cinema – rookie mistake from Daddy! Didn't wait long enough for that poo. I smell it first as she is standing watching the film.
3 – To the toilet with the bag, clean knickers, luckily wearing a dress so easier to clean. Apologies to my local cinema as the dirty knickers went into the nappy bin!
As we finally sat back down for a cuddle we hit the emotional climax of the film and was reminded what Pixar do so well. The spectacular visual aesthetic and emotional storytelling now seen through the eyes of my little girl. Somehow this adds an extra element of magic.
Despite the mixed success of her first cinema trip, in the August sun we went for a midweek lunchtime viewing of The Secret Life of Pets. We spoke over breakfast about seeing the dogs on the big telly. We got the booster seat and sat down 20 minutes after the start time so in plenty of time. I provided a constant supply of snacks and she sat still and was engrossed for the entire film.
The pre-film Minions short was lacking the Pixar charm but despite no brand recognition like Finding Dory, The Secret Life of Pets was a success. From the adult viewpoint it was an average not particularly original but fun and bright kids films. The high energy and colourful film mesmerised my daughter. I watched her with fascination as she pointed out the dogs, gasped in shock and whispered "uh oh" as the dogs perilously trekked across the city. It was amazing. What do I know about films? To her this was a masterpiece.
An average film can provide a "great" cinema experience
So I have learnt that an average film can be elevated by the experience and my top 10 film experiences are composed of Finding Dory and The Secret Life of Pets and the next eight times I take my daughter to the cinema!
What are your top film experiences? Others I could include are Gravity at the IMAX, a film improved by 3D. Taking my wife to see Its A Wonderful Life at BFI Southbank last Christmas for her first viewing of the film. The collective stunned silence at the cinema at the opening night of The Dark Knight, no-one expected it to be that good! Secret cinema have elevated the experience to a new level and their Empire Strikes Back event was spectacular. But of course the Daddy and daughter screenings will always come top for my best cinema experience.