Top 10 Films is delighted to be giving away Stephen King's 11.22.63 on Blu-ray. See below for free entry details…
WHAT IF YOU COULD CHANGE THE PAST? FIND OUT AS WARNER BROS. HOME ENTERTAINMENT RELEASES 11.22.63. Out Now on Digital HD, Blu-rayTM and DVD. Based on the number-one bestselling novel by Stephen King about the JFK assassination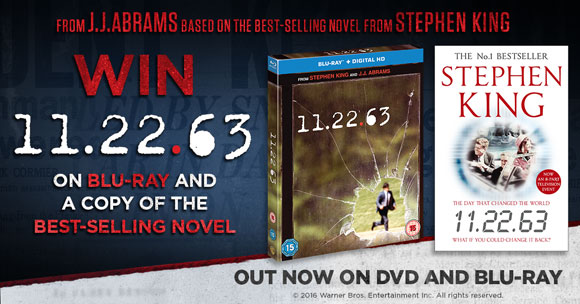 James Franco (127 Hours, Spider-Man) stars in 11.22.63, available on Digital HD now and coming to Blu-ray and DVD August 15.
Executive Produced by Emmy® winner J.J. Abrams (Star Wars: The Force Awakens, Lost), Stephen King (The Shining, The Shawshank Redemption, Stand By Me), Bridget Carpenter (Friday Night Lights. Parenthood), Bryan Burk (Star Wars: The Force Awakens) and Kevin Macdonald (The Last King of Scotland) the event series includes all 8 episodes, as well as a brand new featurette.
Viewers hurtle deep into the unpredictable darkness of the American dream. James Franco stars as Jake Epping, a high school teacher at a loss with his life, who wants to make a difference and do something meaningful. Encouraged by his ailing friend (Chris Cooper), Jake journeys back in time to prevent the assassination of President John F. Kennedy. The story transports audiences into the world of 1960s Texas as Jake explores the multiple mysteries surrounding the alleged assassin Lee Harvey Oswald (Daniel Webber). But Jake's mission faces threats not only from Oswald, but from Sadie (Sarah Gadon), a beautiful librarian he falls in love with, and from the Past itself… which doesn't want to be changed. And if the Past doesn't want to be changed, it will push back ¬– often violently. With something for everyone, this edge-of-your seat mystery offers an epic and emotional thrill ride.
Win a copy on Blu-ray and a copy of the best-selling book.
For the chance to WIN 11.22.63 on Blu-ray all you have to do is:
1. LIKE our Facebook page
2. SHARE the competition with your friends
3. …AND send an email titled 11.22.63 to competitions[at]top10films.co.uk with your name and an address you'd like the prize sent to, to be entered into the random prize draw…
Terms and Conditions: UK residents ONLY. Winners will be randomly chosen from entries following the correct entry instructions. Winners will be contacted via email. Top 10 Films cannot be held responsible for any lost prizes. Please allow 28 days from competition closing date for delivery of prize. Closing date for entries is MIDNIGHT Sep 15