Were you a kid who enjoyed their formative years during the 1990s? If you were, you'll probably remember Andi Peters and the Broom Cupboard, Denise Van Outen and Johnny Vaughan and their Big Breakfast, and TV shows like Blue Peter, Byker Grove & Round The Twist. But what movies stick in the mind?
Back To The Future (Zemeckis, 1985)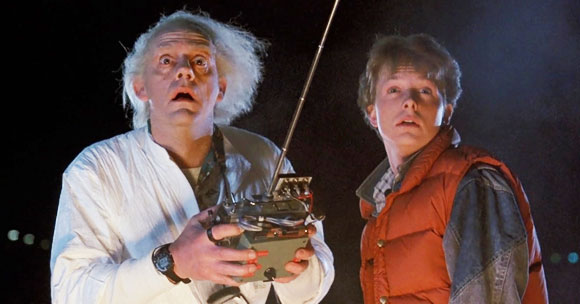 In terms of stories that children and teenagers could really immerse themselves in, Back To The Future beats the likes of Honey, I Shrunk The Kids, The Goonies and Home Alone by virtue of having a time-travelling DeLorean. Oh, and that scene when Marty McFly "invents" rock n roll. And that scene when Marty's Dad knocks out bully Biff Tannen for hurting Lorraine. And that bit when Marty escapes Biff and leaves him and his gang caked in manure ("I hate manure!").
Discover More: Top 10 1980s Science-Fiction Films For Children
Star Wars (Lucas, 1977)
The brilliance of Star Wars is most striking when you consider how good it looks despite being a 1970s film. Kids in the 1990s – seeing the film for the first time on TV (or maybe VHS) – didn't bemoan the dated clothing or old school special effects because they weren't criticisms you could level at it. Even today, George Lucas's film looks fantastic. For kids and teenagers it gave us an immersive, authentic adventure story set in space with ships like the Millennium Falcon that felt as real (and temperamental) as Dad's Ford Escort.
Discover More: Top 10 Films Of A Ten Year Old
Ghostbusters (Reitman, 1984)
The sort of supernatural scares that didn't lead to sleepless nights, Ghostbusters remains a favourite thanks to its wonderful wit and the sparkling chemistry between the ghost-fighting team.
Discover More: Top 10 Dan Aykroyd Films | Ghost-bustin' & Other Misdemeanours: Celebrating The Work Of Harold Ramis | Bill Murray's Top 10 Sarcastic Remarks
Home Alone (Columbus, 1990)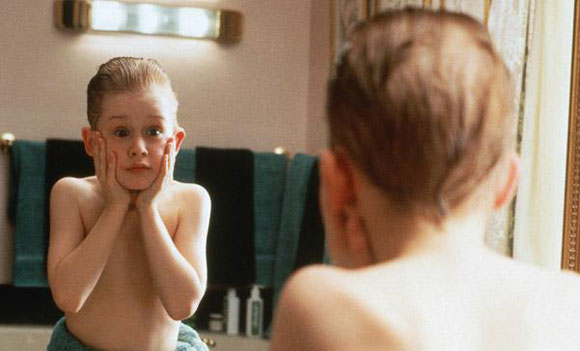 Every Christmas throughout the 1990s Home Alone was on TV. You couldn't miss it, and why wouldn't you want to. This small-scale domestic war between a cocky pre-teen and the two bumbling villains trying to rob his house provides endless fun thanks to the sparkling performances and the film's wonderful imagination which, importantly, takes its cues from the everyday items found around the house. The fact that few of us lived in anything approximating Kevin's mansion-like abode on that affluent Illinois street is quickly brushed aside when there's this amount of fun to be had.
Discover More: Top 10 Christmas Films of the 1990s
Tremors (Underwood, 1990)
A horror film that "naughty" kids stayed up late to watch on TV as midnight drew near. Tremors was actually a great film for older kids to see with parents open to the idea of letting their children watch some over-the-top carnage with a PG-13 monster who lived beneath the ground. Actually funnier than it is scary, Ron Underwood's film is memorable for the buddy-buddy relationship between Kevin Bacon and Fred Ward, a brilliant concept (you move you die) and that scene when the Gummer's (Michael Gross and Reba McEntire) use an entire arsenal to put down an attacking Graboid when it threatens their reinforced homestead.
Discover More: Top 10 Supporting Actors Who Always Bring Something Special To A Movie
Mac and Me (Raffill, 1988)
A regular on TV, this E.T. cash-in might actually be a horrid piece of commercial tat with not a unique idea in sight. Indeed, it could even be considered a blatant rip-off. But did a ten-year-old watching it on TV in 1992 care? Nope!
Discover More: Top 10 Scariest Villains In Children's Films
Honey, I Shrunk The Kids (Johnson, 1989)
Another film kids growing up in the 1990s might have seen in cinemas, Joe Johnson's special effects extravaganza was released in UK theatres in 1989. This adventure story about miniaturised kids trying to plot their way back home from the bottom of the garden could be seen as an early blueprint to Pixar's favourite narrative structure (the physical and metaphorical journey as seen in the likes of A Bug's Life, Inside Out and Finding Nemo).
Discover More: Where Are They Now: The Cast Of "Honey, I Shrunk The Kids"
Raiders Of The Lost Ark (Spielberg, 1981)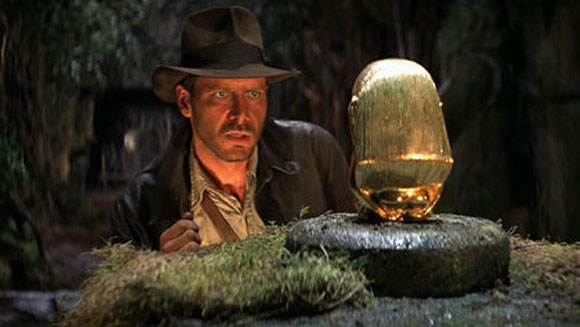 Kids need heroes. Harrison Ford has proven a skill for portraying some of cinema's greatest good guys. Indiana Jones mighty just be the best of them all. Another classic adventure story from "big kid" director Steven Spielberg, Raiders of the Lost Ark, like its first two sequels, was regularly played on television and became a firm favourite of 1990s children.
Discover More: Top 10 Treasure Hunts in Film
The Goonies (Donner, 1985)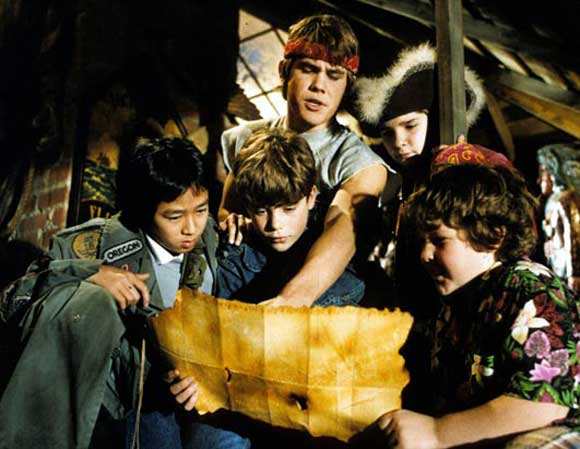 A TV favourite for certain, The Goonies was a staple of 1990s TV schedules, especially during Christmas. A thrilling adventure featuring teenagers in the main roles, Richard Donner's brilliant contemporary treasure hunt is still a joy to watch whether you're six or sixty.
Discover More: Top 10 1980s Childhood Adventure Films
Jurassic Park (Spielberg, 1993)
For young kids and teenagers in the 1990s this was probably the first "favourite" to be seen in the cinema. This Steven Spielberg treat remains a marvel of immersive special effects and adventurous spectacle; an adventure story that befits a director who is a child at heart.
Discover More: Top 10 1990s Films I'd Like To See In Theatres
Over to you: there are loads of faves for kids growing up in the 1990s – what have I missed? What were your faves? Do you have a top 10 of your own?