High-Rise director Ben Wheatley, who is also responsible for Sightseers and Kill List, reveals 21 British films he believes everyone should see. Films that have influenced his approach, and inspired him as a filmmaker.
With internet chatter debating the pros and cons of Ben Wheatley's critically acclaimed High-Rise, the film garnering opposing views damning it as mediocre or hailing it a masterpiece, the director reveals 21 British films that have influenced his approach. Films he feels everyone should see.
The following segments are taken from Paul Wilson's Esquire UK interview with Wheatley in which the filmmaker discusses his favourite films. Within the conversation Wheatley talks about films such as Nicolas Roeg's Performance, Ridley Scott's Blade Runner and Douglas Hickox's Sitting Target as well as others. Here we'll feature 10 of his choices and his reasons for choosing them.
The Long Good Friday
Says Wheatley: "Massive scope; it's so big. Loads of detail and brilliant lines. The central performance of Bob Hoskins is incredible. It's also weirdly prescient, talking about the development of the docks, the rebuilding and reclaiming of London. This is a favourite from when I was a kid."
The Ladykillers
Says Wheatley: "This is probably the film I've watched more than any other. It's really funny, but it's really sinister at the same time. "
The Third Man
Says Wheatley: "A stone-cold classic with a perfect script, structurally, and shot so imaginatively. The image that sticks with me is of Welles' fingers going through the grate at the end of the great sewer chase – that's cinema. He's so close to escaping but can't get his freedom. He's a monster that you love. This film says everything about the reality of morals: life is not black hats and white hats, it's lots of very grey hats."
Withnail and I
Says Wheatley: "I couldn't believe how funny it was first time I saw it. That kind of drinking culture is something I understood and had seen: bar wit and being able to swear in an incredibly hilarious and muscular way really appealed to me. It's so sharp, certainly for a movie where nothing happens really: the biggest thing they manage to do is go on holiday 'by mistake'."
Get Carter
Says Wheatley: "Michael Caine's central performance is so hard, and there's something sweaty and sleazy and Seventies about it. It doesn't feel like they were playing; they weren't acting, they were just being. The whole film feels like a hangover. Caine walking around naked but not being ripped – you can't imagine a modern actor looking doughy like that now. The pace of it as well: a proper heart-pounding B-movie. It's a cowboy movie as well as a revenge drama."
Scum
Says Wheatley: "This is, as with a lot of Alan Clarke films, about incredible turns of tone, terrifying you fundamentally. Not just scaring you with a vampire or something, but showing you something that makes your blood go cold. You physically feel the fight-or-flight response with his films, like you have to get out of the room it's so horrible."
The Shining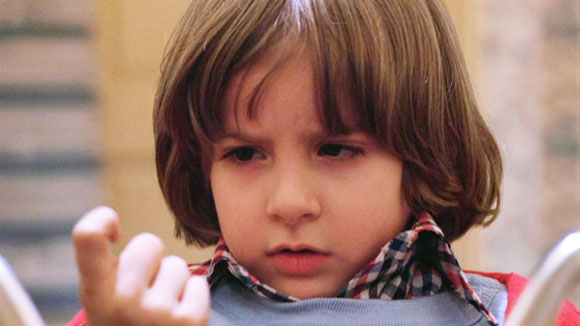 Says Wheatley: "You can make more of an argument for The Shining as a British film because Kubrick lived here and was de facto a British director. When I found out it was all shot on massive sets, that the Overlook Hotel [interior] wasn't real, that it was built at Elstree? Blew my mind."
Brazil
Says Wheatley: "I don't think there has ever been a film as visually dense as this, before or since. The retro-future look is really gorgeous. One shot, pulling back from Jonathan Pryce to show him inside a massive cooling tower just before he's tortured, is unbelievable. I remember just seeing that made me love cinema, thinking, "God, Gilliam had that idea, he knows how to move a camera, he knows when a wide-angle lens is going to make something look totally unique and incredible.""
The Cook, The Thief, His Wife and Her Lover
Says Wheatley: "Greenaway's stuff is so painterly, and I really like that. It feels composed, like you're trapped inside a painting or inside a careful piece of clockwork. It is a different kind of cinema, a different eye at work, a different way of representing stories."
The Devils
Says Wheatley: "Just a phenomenal film that looks like nothing else in British cinema. It's transcendental, it transports you somewhere completely other, in a way that very few films can."
High-Rise was released on DVD & Blu-ray July 18.