The greatest courtroom movies take a very simple setting to create a cauldron of sweaty tension and high stakes. Here's 10 great movies and the lawyers you can rely on to win a courtroom battle…
The best courtroom dramas and thrillers have provided us with some of cinema's most iconic characters. Take for example Tom Cruise's Daniel Kaffee in For A Few Good Men and his face-off with Jack "you can't handle the truth" Nicholson or Gregory Peck's good-natured idealist in To Kill A Mockingbird. In this top 10 list, I take a look at some of the greatest movie lawyers, the ones you can rely on to win a courtroom battle.
10. Ghostbusters 2 (Reitman, 1989)
Rick Moranis as Louis Tully
Let's face facts. Louis Tully isn't the ideal lawyer if you're in a real bind. However, the cash-strapped would be unlikely to find anyone better, especially since he has a slimy friend for company who could sway the judge if things aren't going to plan.
9. The Exorcism Of Emily Rose (Derrickson, 2005)
Laura Linney as Erin Bruner
Laura Linney's lawyer in The Exorcism of Emily Rose is a must-have for any good courtroom team for two very important reasons. Firstly, she'll happily tackle a case where the defendant requires the dead to rise from the grave and testify that they in fact were up to no good. Second, she's a brilliant actor. And being a good actor in court is always good to sway the jury if you're losing the case, or, like O.J. Simpson, you're actually guilty and want to get away with it. There's a third reason too: who wouldn't want to spend endless hours with Laura Linney? The longer the case, the better if you ask me!
8. Guilty As Sin (Lumet, 1993)
Rebecca De Mornay as Jennifer Haines
With legs that could kill a man (literally), Jennifer Haines is a hot lawyer in more ways than one. She'll try to get you in court but if that doesn't work she's quite handy taking care of business in her own way. She'll fight for justice even if it means putting her own life on the line.
7. Witness For The Prosecution (Wilder, 1957)
Charles Laughton as Sir Wilfrid Robarts
Despite his doctor warning against the sort of high stakes tension a major legal battle can have on a man's ailing blood pressure, Sir Wilfred Robarts takes on a murder case regardless. That's the definition of determination.
6. My Cousin Vinny (Lynn, 1922)
Joe Pesci as Vinny Gambini
Keep it in the family because most of the time you can rely on the loyalty of your bloodline to help win a court battle. Vinny Gambini isn't very smart, he only just passed his exams, and he has very little experience. But he's got more charm than most legal representatives which is helpful when swaying a jury (and a judge).
5. The Verdict (Lumet, 1978)
Paul Newman as Frank Galvin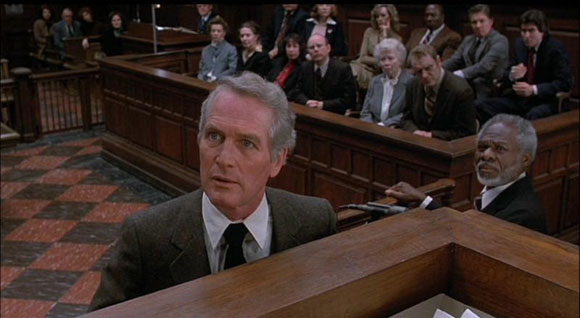 Washed up and somewhat out of the game, Frank Galvin is still a man determined to find the truth and bring wrongdoers to justice. In Sidney Lumet's brilliant courtroom drama The Verdict, a chance to renew his belief in the system comes when a friend gives him a seemingly open and shut lawsuit case. Galvin sees it as an opportunity to extract proper justice and refuses an initial compensation package. Against all odds he fights for what he feels his client deserves. With fire in his belly again, he's a man you want in your corner.
4. The Lincoln Lawyer (Furman, 2011)
Matthew McConaughey as Mickey Haller
This ballsy L.A defence lawyer knows everyone in and outside the system. He's the man you want on your side if you know you're guilty but want a ticket out. That's if you can afford him. In Brad Furman's slick thriller The Lincoln Lawyer, Haller prefers to earn his pennies defending guilty rich kids. But he's targeted by his latest defendant who has a fetish for seeing other people do time for his crimes. Haller has to draw on all his inner cool to get himself out of this sticky situation.
3. To Kill A Mockingbird (Mulligan, 1962)
Gregory Peck as Atticus Finch
There are few movie lawyers who believe as strongly in the belief you're innocent until proven guilty as Atticus Finch. There are even fewer with his moral fibre, his belief that everyone should be treated equally. Finch has the courage to stand by what he believes in, making him a vital asset in the courtroom, especially when the evidence points to guilt despite the accused being innocent.
2. JFK (Stone, 1992)
Kevin Costner as Jim Garrison
Tough as nails. Determined. Undeterred by outside influence. Compassionate and in possession of a squeaky clean moral standing. Jim Garrison is the man for the biggest case (even those involving American presidents). He also loves to break the fourth wall!
1. A Few Good Men (Reiner, 1992)
Tom Cruise as Daniel Kaffee
Anyone with the balls to go up against Jack Nicholson in a movie courtroom has confidence on their side. And confidence is crucial when it comes to winning a case when you have the entirety of the U.S. Navy fighting against you. That's why Tom Cruise's Daniel Kaffee is a must-have lawyer: No foe is too much, or too strong.
Over to you: what movie lawyers would you want on your side?