Paolo Sorrentino's rumination on youth, featuring an all-star cast including Michael Caine and Harvey Keitel, is an enchanting love letter to lost opportunities. Martin Carr takes a closer look…
There is much to be said for Youth. Paolo Sorrentino's rumination on the subject is at once an affirmation of that philosophy and love letter to lost opportunities. Employing a meandering delicacy which some may construe as slow, he uses character, music, location and scenario to illustrate the fragility of life.
Michael Caine's Fred Ballinger and Harvey Keitel's Mick Boyle are in their creative twilight. One is resigned to his fate while the other ploughs on blindly attempting to recapture former glories. Both Caine and Keitel equip themselves well, ably supported by an understated Paul Dano and formidably brassy Jane Fonda. Rachel Weisz as Caine's long suffering daughter also has more than her fair share of moments, in a film which is as much about silence as conversation.
Elements of Peter Greenaway's Belly of An Architect come through in the use of location, emotional isolation and formal composition, especially in the surrealist dream sequences. There is a calm which pervades the film which is rarely disturbed, whilst this serenity works in juxtaposition to the emotional struggles that carry on between times. However amongst the precision and beauty exists one oddity in the form of Paloma Faith. Music diva, tangible pop star and actress for which the adjective wooden may well have been invented.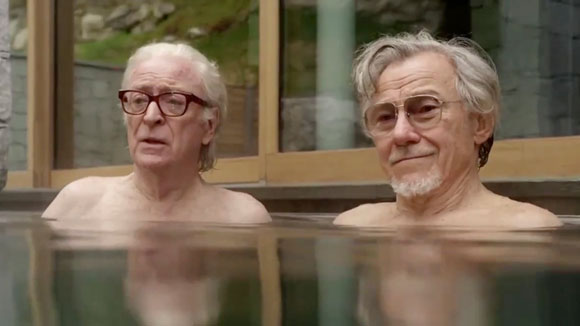 Her inclusion however has little to do with ability. She is current, of the moment and relevant if only for context. Sorrentino's use of Paloma Faith works in direct opposition to Ballinger's simple song, which echoes off the walls of this sanatorium. Just as Fonda's Brenda Morel echoes Wilder's Norma Desmond in Sunset Boulevard, if anything the most artistically acerbic study of wasted potential committed to celluloid.
What unfolds in Youth both acknowledges and embraces the flaws of humanity, whether that be a denial of time passing or one's limitations either young or old. What Sorrentino has created here is a film which leaves unanswered questions on a subject with boundless permutations. Whether focusing on the physicality of carnal lust, cerebral preoccupation inherently linked to creativity, or the diminishing of both as our bodies grow frail. This filmmaker much like this reviewer came away with but one conclusion. That in the final analysis Youth is wasted on the young and experience, or old age, only places more stock in such things as they become increasingly unobtainable.
Directed by: Paolo Sorrentino
Written by: Paolo Sorrentino
Starring: Michael Caine, Harvey Keitel, Rachel Weisz, Paul Dano, Jane Fonda
Released: 2015 / Genre: Drama
Country: Italy / IMDB
More reviews: Latest | Archive
Discover More: Top 10 Films of Michael Caine | Top 10 Films of Harvey Keitel