In a brilliant year for homegrown cinema, Top 10 Films reveals the best British films of 2015 including the fascinating sci-fi Ex Machina, heart-string-pulling documentary Amy, and exquisite relationship drama 45 Years…
In Top 10 Films editor Dan Stephens' Top 10 British Films of 2015, we list ten films funded wholly by British-based backers. Therefore, acclaimed 2015 releases such as the award-winning Carol (US and UK co-production), Academy Award-nominated Brooklyn (internationally funded), and US/UK joint venture Spectre were not in contention.
10. I Believe In Miracles (Owen)
This documentary charting Nottingham Forest's rise from second division minnows to European champions is a fascinating insight into the club's rapid success when no one, apart from themselves, believed they had any right to dream so big. Their glory, in most commentators' minds, is the achievement of their talisman, outspoken manager Brian Clough. Archival footage features various interviews with charismatic Clough throughout Forest's journey to European Cup glory, in addition to coverage of the important goals along the way, while brand new interviews with some of the club's key players fleshes out the story in this excitingly paced tale of a true underdog going on to win European football's biggest club prize.
9. The Fear of 13 (Sington)
David Sington's moving documentary takes a far more intimate approach to its subject matter than similar tales of wronged men facing death row. In The Fear of 13 the stage is entirely in the hands of the subject, in this case Nick Yarris, a convicted murderer who proclaimed his innocence and fought the death penalty for more than two decades. Freed in 2004 following DNA evidence proving his innocence, Yarris has a characteristically hypnotic storytelling ability (the principle reason behind director Sington deciding against including other participants in the documentary) which, alongside some smart narrative structuring, takes a firm grip of the audience throughout.
8. Convenience (Collins)
This fun crime-comedy has elements of Dog Day Afternoon and Clerks as two quick-fix criminals try to rob a convenience store only to learn the safe won't open until morning. They therefore stay the night, posing as the store's staff. Keri Collins' film benefits from an absurdist humour that only gets better thanks to the assortment of middle-of-the-night customers who come through the shop's door. Vicky McClure's delightfully acerbic hostage is a nice foil to our likeable villains' road-to-ruin exploits.
Discover More: Edgy & Unpredictable, "Convenience" Is Britain's Answer To "Clerks"
7. Howl (Hyett)
It's not easy to inject new life into the werewolf horror genre and director Paul Hyett acknowledges that by reeling off generic tropes with his tongue in cheek. It's all in the name of stalk and slash and, delightfully, it works. The down and dirty visual aesthetic of the film paints a bleak picture of Britain's railway industry as a group of passengers on a late-night train get stuck in the middle of nowhere. The problems begin when a family of werewolves start searching for their next big meal. Hyett's skill as a director is how he complements atmosphere – oppressive and imperfect – with stylish creature effects. Ultimately, Howl is the best werewolf movie since Dog Soldiers.
Discover More: "Howl" Is The Best Werewolf Movie Since "Dog Soldiers"
6. Woman In Gold (Curtis)
Another classy performance from the ever-dependable Helen Mirren elevates an otherwise conventional story of a "little fish" battling the "big fish" in court. In this case it's the real life tale of Maria Altmann, (Mirren), an elderly Jewish refugee living in Los Angeles who, after the death of her sister, pursues her sibling's attempts to regain possessions, including a very valuable painting by the acclaimed artist Gustav Klimt, stolen by the Nazis during World War II. Now claimed by the Austrian government, Altmann, with lawyer Randy Schoenberg (a convincing Ryan Reynolds), pursues the case through the American courts in order to, in her words, keep "these memories alive" and get "justice" for her family. A heartfelt dramatisation of a fascinating story that, at its core, is about the pursuit of a kind of closure for those who fled Nazi occupied territory during the Second World War.
5. The Falling (Morley)
A film that has understandably divided audiences (its plot diluted in favour of an unnerving, ambiguous mood), The Falling is nevertheless a captivating mystery with elements of pubescent coming-of-age drama bottled up in a maddening horror show featuring enigmatic mass fainting and teenage rebellion. Not as finely-tuned as writer-director Carol Morley's drama-documentary Dreams of a Life but far more dynamic, the film's melodramatic conclusion may be considered trite in comparison to the sedately paced and defiantly vague drama leading up to it but offers some defining lines to satisfy our thirst for closure. If you watch it thinking it's a school from Summerisle before Edward Woodward's Sergeant Howie gets there in The Wicker Man, it's far more fun. And star Maisie Williams (who was sixteen at the time of shooting) is excellent.
4. Ex Machina (Garland)
It isn't all about kitchen-sink drama, drab housing estates and regional accents international audiences need subtitles to understand, British cinema can also tackle futuristic science-fiction with immersive special effects as well. Thanks to the talents of writer-director Alex Garland (who almost religiously researched consciousness, neuroscience and the possibilities of computer's thinking for themselves in the years leading up to production), Ex Machina adds another fascinating entry into global cinema's guarded meditation on artificial intelligence and its potential impact on future societies.
3. Amy (Kapadia)
Asif Kapadia's accomplished documentary about the life and death of eclectic jazz singer Amy Winehouse is a fascinating and expertly assembled film charting the troubled angst and creative genius of a great British singer-songwriter. Exhaustive research has unearthed personal home video and photographs while extensive use of archival interviews and media coverage brings to life the story of a brilliant artist whose highs unfortunately matched the lows.
New interviews have been recorded to tell of Winehouse's rise and fall with Kapadia rendering her struggles through the songs she wrote. Captioning assorted lyrics alongside depictions of her music interestingly draws comparisons with the events of her private life. It's a compelling distillation of how life influences art (and in many ways how they get in the way of each other to tragic effect). Richly detailed and smartly assembled, Amy is both a captivating document about celebrity and music, as well as a heartbreaking account of a troubled young girl and her battle to balance her creative gift with a life of her own.
2. Catch Me Daddy (Wolfe)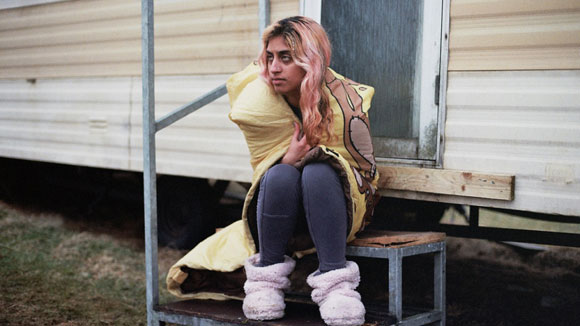 Dark and uncompromising, Daniel Wolfe's film (which he wrote with brother Matthew) tackles the incendiary subject of honour attacks within the Pakistani Muslim community in England. As if Romero and Juliet's star-crossed love was chucked into a caravan on the West Yorkshire moors, Catch Me Daddy has a suitably bleak stage for its hand-to-mouth runaways to fight off a group of bounty hunters tasked to track them down. Newcomer Sameena Jabeen Ahmed has a heartbreaking vulnerability about her performance; youthful, somewhat naïve anti-establishment ideals weighted down by archaic religious and cultural expectation. It's a powerful film – difficult to watch at times – and one that lingers on the mind long after the credits have rolled.
Discover More: Gut-Punch Thriller "Catch Me Daddy" Is British Cinema At Its Caustic Best
1. 45 Years (Haigh)
With Weekend in 2011, writer-director Andrew Haigh showed a nuanced skill at presenting, with brutal honesty, the trials and tribulations of human relationships. 45 Years is no different. It swaps Weekend's contemporary look at homosexuality in modern Britain with a fascinating meditation on aging, marriage and love. Once again, Haigh shirks conventionality to suggest that human beings' capacity to love is as tragic as it is life affirming. It doesn't need to be said that actors Charlotte Rampling and Tom Courtenay provide flawless performances, the industry veterans perfectly complementing Haigh's subtle emotional notes and restrained camerawork. Indeed, the director is more than happy to just point his camera and shoot as in one lovely moment when he slowly closes in on Rampling's Kate Mercer playing piano (a scene that was widely improvised). However, the real beauty of 45 Years – the best British film of 2015 – is its penchant for setting nothing in stone – everyone will take something different away from it.
Discover More (On writer-director Andrew Haigh's previous film Weekend: A film which challenges a perception built on heterosexual overload in films dealing with love, sex and companionship.
Over to you: what are the best British films of 2015 in your opinion?