We like to think of our top 10 supporting actors as being a bit like "ketchup"! Simply put, if you have ketchup as a stand alone food, it's not very good. But add ketchup to many foods and it makes it that much better. Same with these ten stars…
If you allowed these brilliant supporting actors to star in a film as the main selling point, chances are no one is going to be all that interested. But add them to an already decent cast and it becomes that much better. These are my top 10 supporting actors, ones that add panache to a film; stars who make movies taste so much better.
10. Don Cheadle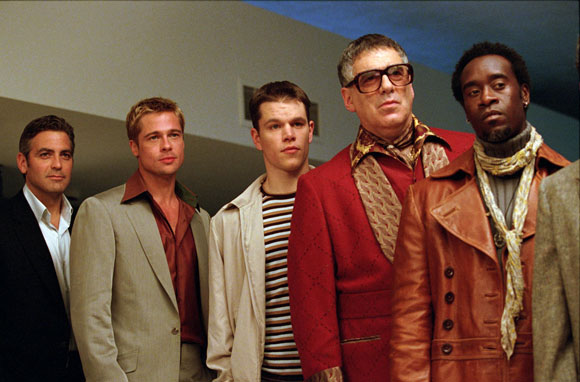 Before Don Cheadle became known to comic book nerds as Colonel James Rhodes…aka War Machine, for a period of about 15 years, he always showed up in juicy but secondary roles. He had some very minor roles, like the mysterious Cash in the Nic Cage film Family Man and even an uncredited cameo in Rush Hour 2. But most of the time Cheadle was cast as the charismatic supporting actor in films like Traffic, Swordfish and Boogie Nights. The role that put him on the map was the explosives expert, Basher Tarr in the Ocean's 11 franchise. Cheadle has a smooth delivery and he adds class to any film he's in. He doesn't work as much today as he did 15 years ago, but at one time, he was the go-to guy for supporting roles.
9. Stephen Tobolowsky
Here's a tall, kind of unconventionally handsome, white actor who was born to play unscrupulous politicians, nerdy insurance salesman and doctors of any sort. He has more than 250 credits to his name and he has been working in films and TV since the 1970s. His big break came either in Spaceballs or in the Alan Parker Oscar-nominated film Mississippi Burning. My guess is he was noticed in the latter. He played the mayor of a small Mississippi Town and he made it known very clearly that he condoned the killing of the three civil rights workers. From there, he never looked back. He was on screen for less than 5 minutes in Basic Instinct, as the clinical psychologist who deconstructs Catherine Trammel and her motives. He was the annoying insurance salesman in Groundhog Day. He's been in Steven Seagal movies and done lots of voice work. He's someone who could play a niche role and do it well.
8. Judi Dench
Dame Judi Dench started acting on TV in the late 1950s and yet she is most known for her work as M, the brilliant, ostensibly angry and acerbic boss of James Bond. She began playing M in 1995 and just recently hung up her Bond Glock for good in Skyfall. But beyond Bond, she has won an Oscar for her 15 minutes of screen time in Shakespeare In Love, she has played a rogue character in the Vin Diesel film The Chronicles of Riddick and she's part of a brilliant ensemble cast in The Best Exotic Marigold Hotel and its sequel. And in between she has been in more than 110 films. She didn't necessarily get started late but her star has clearly risen in the last 20 years. In today's cinema, it's either her or Helen Miren that seem to get cast when you need a spunky but elegant female octogenarian. She's also one of the best actors working today.
7. Robert Duvall
Robert Duvall was in a handful of movies before he did The Godfather. He did Bullitt, True Grit and THX-1138 but for the most part his career was in television. After 1972, he was ubiquitous. While Al Pacino and Robert De Niro went on to super stardom, Duvall seemed content with being the supporting guy. He got his Oscar in 1983 when he did Tender Mercies, but he never really became an A-lister. However, scan his credits and you'll see an actor that could play any role. From a tough street cop in Colors to a doctor trying to stay grounded in reality in Phenomenon to a mentor in Days of Thunder to a cop who understands D-Fens a little more than anyone else does in Falling Down. Duvall works feverishly still to this day as he stars in big budget films like Jack Reacher and The Judge to smaller films like Get Low and Crazy Heart. He's an actor who has embraced his supporting status and makes any film he's in that much better.
6. Ving Rhames
I could leave out every single performance this man has given us and just mention him in one film, and Ving Rhames' inclusion on this list would be justified. That film, of course, is Pulp Fiction. In my opinion, it's one of the greatest supporting characters ever created and brought to life like no one else could. Rhames has been around since the 1980s when he had small but somewhat memorable roles in films like Stop or My Mom Will Shoot, Jacob's Ladder and Casualties of War. Even in his early roles, he commanded the screen. Then he got his pre-Pulp Fiction big break when Ivan Reitman cast him in Dave. Here he played the straight and narrow secret service man assigned to protect the ersatz President, while the real one was in a coma. This film allowed him to show his range and combined with his good looks and deep resonating voice, he made an impression. When Quentin Tarantino cast him in Pulp Fiction, a star was born. For about 15 years, Rhames was cast as a supporting character in just about everything. He worked with Tom Cruise in Mission Impossible, he was in one of the best ensembles ever put together when he did Con Air and Zack Snyder cast him in the remake of Dawn of the Dead. Rhames unfortunately is now relegated to direct-to-DVD films but for more than a decade, he was one of the best supporting actors you could cast. He instantly brought swagger to any role he was in.
5. Christopher Walken
Here's an actor with a fascinating rise to the top. Christopher Walker has been acting for seven decades and has a best supporting actor win for his role in The Deer Hunter. Yet a lot of early work, while good, was more in the capacity of lead. He was fantastic in David Cronenberg's The Dead Zone and he had good-sized roles in films like Biloxi Blues and Heaven's Gate. But then, he was cast in two Quentin Tarantino films, the first of which was True Romance, where he shared five minutes of screen time with Dennis Hopper and the two of them made magic together. Next came Pulp Fiction where he had even less screen time. His explanation and the story he tells Butch, about how he and Butch's dad spent time in a Vietnamese prison camp and how they had to hide a watch in their ass, gets one of the biggest laughs in the movie. Small role, big payoff. Walken has never looked back and has been cast in many roles since. If you needed someone to play an eccentric father like he did in Catch Me if You Can, or a former CIA operative living in Mexico like he did in Man on Fire or a manager of a rock band like he did in Jersey Boys, Walken was your go to guy.
4. J.T. Walsh
Tragically, J. T. Walsh passed away at the age of 54 or he might have made number one on this list. He has more than 70 credits to his name and many of those credits were small but incredibly memorable performances. He and Kurt Russell had a synergistic working relationship as they starred in four films together. One of his best roles was as the clueless and slimy chief of police Maguire, in Tequila Sunrise. Arguably, his best role, albeit smallest one, was his uncredited performance in Outbreak. He plays the angry, straight shooting and accountable Chief of Staff, who tells a room full of suits that the decision they make, the decision to wipe out an entire town, is going to be a unanimous one. His five minutes of screen time are nothing short of explosive and mesmerizing. Walsh never gained super stardom but he played memorable roles in almost every film he was in.
3. Gary Oldman
There is nothing this actor can't do, no role he can't play. Until doing this article, I actually forgot Gary Oldman was British – he has played so many American roles that it's easy to forget that he is not a Yank. I first got to know of Oldman when he did the 1990 Irish gangster film State of Grace. He commanded the screen and was noticeable, even in a film with strong actors like Sean Penn and John Turturro (an actor that just missed this list). And then came Oliver Stone's opus JFK, where Oldman played accused Kennedy killer, Lee Harvey Oswald. So convincing was he as Oswald that there are times when you really can't tell who is Oldman and who is actually Oswald from stock footage. He's played glib and unscrupulous politicians like he did in The Contender, he's portrayed a drug dealer with a Jamaican accent and dreads in True Romance, he has been Dracula and he's starred in the Christopher Nolan Batman films as Commissioner Gordon. Oldman is a chameleon. You really don't recognize him in some of his roles.
2. Steve Buscemi
Steve Buscemi has the distinction of being one of the most versatile actors ever. He can do slapstick comedy, he can do drama, horror and he's not afraid to play idiots, morons, dorks, nerds, killers and everything in between. Buscemi is a favourite of directors like The Coens, Quentin Tarantino and Michael Bay. He's also close friends with Adam Sandler and this has allowed his resume to range from films like Fargo and Reservoir Dogs to Grown Ups and Mr. Deeds. He's also done a lot of voice work. Buscemi is not traditionally good looking so his chances at a leading man were kind of slim but put him in any film and he adds character and colour to it. I personally will see any film Buscemi is in.
***On a side note, something that has nothing to do with film, but I think should be known about him is that he was a NY City fireman for four years in the 1980s. When 9/11 happened, he went to his former firehouse and went out and worked 12 hour shifts for a week. He did this anonymously. It's stories like this that need to be told. Buscemi never forgot where he came from even after he became famous.
1. (tie) Samuel L. Jackson & Kevin Bacon
Starting with Samuel L. Jackson, here's a guy who has made a career out of playing supporting characters. He even went to George Lucas and told him that he wanted to be in the Star Wars prequels. Lucas, without hesitation, wrote the part of Mace Windu for him. Jackson is also the face of Marvel in a way. He's also just as famous for his liberal use of colloquial words with mother in it. His famous cheesy line from Snakes on a Plane was added in post production because fans demanded it. Jackson has worked on numerous films with Bruce Willis and he got his big break by being one of Spike Lee's favourites. Then in the 1990s he just started showing up in everything. He was a truck driver in Martin Scorsese's Goodfellas, he told us all to hold onto our butts in Jurassic Park and then of course, like a few others on this list, once he was cast in Tarantino's Pulp Fiction as Jules, he never looked back. Sam Jackson adds humour, class, swagger and credibility to almost any film he's in.
Kevin Bacon started out as the traditional good looking frat type guy in films like Animal House, Friday the 13th and his breakthrough role as Ren in Footloose. However, Bacon never took off as a leading man. Hollywood tried to cast him in the lead in films like She's Having a Baby, Criminal Law and Tremors. None of them did all that well, although Tremors certainly developed a cult following. But then Bacon started showing up in numerous films in the supporting role. He played Willy O'Keefe, a gay prisoner in JFK, he was in an ensemble in Flatliners and Rob Reiner cast him as Captain Jack Ross, the district attorney in A Few Good Men. This was his calling and from here on out, he seemingly worked with everyone in Hollywood, there's even a game named after him. Directors like Clint Eastwood, Ron Howard, Mathew Vaughn and many others, all cast Bacon in their films. From what I have read, Kevin Bacon is one of the good guys in Hollywood, having actors like Bill Paxton and Meryl Streep sing his praises. It's no wonder everyone wants to work with him.
Between Sam Jackson and Kevin Bacon, it seems like they have been in every film ever made in the last 20 years. And for this reason, they share the number one spot on my list.
What do you think? There are probably hundreds of other actors that could have made this list. Bill Paxton, James Caan, Jon Turturro and probably a litany of actors from the Golden Age of Hollywood could all be named here. Narrowing it down to ten was difficult.
Written & Compiled by Dan Grant
Name your "ketchup stars" or tell us your top 10 supporting actors who always bring something special to a movie.