There's been talk of Matthew McConaughey's McConaissance – in other words ditching the commercially safe rom-com in favour of more edgy material – but what about Michael Keaton? Since 2014's RoboCop, Keaton has reestablished himself as a viable Hollywood commodity; an actor of talent, range and that unlearned skill: cinematic magnetism.
10. One Good Cop (Gould, 1991)
A cop tries to manage domesticity with a life battling crime. Keaton makes this work far better than it would otherwise.
9. The Dream Team (Zieff, 1989)
A bit of a One Flew Over The Cuckoo's Nest knock-off without the subtext or well-rounded characters, The Dream Team is nevertheless a fun fish-out-of-water tale thanks to the sprightly performances of its cast with Keaton leading the way as the roguish, pathological liar Billy Caufield.
8. Night Shift (Howard, 1982)
Keaton's first starring role remains one of his best in this Ron Howard-directed comedy about a pair of co-workers (Keaton alongside Henry Winkler) who hatch upon a plan to run a "call girl" service headquartered at their place of work – a New York City morgue – during their night shift. Keaton is off the leash the sort of loveable rogue that became a trademark of his early film work.
7. Clean and Sober (Caron, 1988)
Clean and Sober is recognised as Keaton's first departure from comedy, showcasing his skills as a dramatic actor in the role of Daryl Poynter whose life takes a downward spiral due to his cocaine addiction.
6. Jackie Brown (Tarantino, 1997)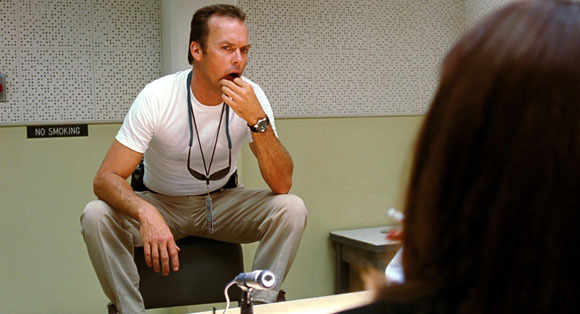 Only a small role for Keaton but he's great as the smooth-as-silk ATF agent who's trying to instigate a sting but becomes a puppet in Jackie Brown's audacious scheme.
5. Batman (Burton, 1989)
An iconic role for Keaton in Tim Burton's wonderfully dark adaptation of the DC superhero. The actor is probably upstaged by Jack Nicholson's brilliant Joker but Keaton has the street-smart to make his version of caped crusader work.
4. The Paper (Howard, 1994)
Keaton re-teams with director Ron Howard as newspaper editor Henry Hackett in this sparkling and amusing depiction of a newsroom and the personal and professional challenges of the job.
3. Pacific Heights (Schlesinger, 1990)
A bit like Robin Williams when he turned to the dark side in the early 2000s with films such as Insomnia and One Hour Photo, Keaton discards the comedy for a deeply unsettling role as a con man in John Schlesinger's thrilling Pacific Heights. He proceeds to turn the lives of an unassuming couple (played by Matthew Modine and Melanie Griffith) upside down when he rents the downstairs apartment of their home. You'll never look at a nail gun in the same way again, or exposed pipework for that matter!
2. Birdman (Iñárritu, 2014)
Somewhat of a comeback film for Keaton in a starring role, Birdman showcases the broad range of Keaton's skill, combining dramatic nuance with the charms of his comic tendencies. This tale of a former star trying to return to the limelight not only has a Sunset Boulevard feel about its set-up but is that good it can confidently claim to match Billy Wilder's film in the quality stakes. Keaton leads a marvellous cast in what is arguably the actor's finest film to date.
1. Beetlejuice (Burton, 1988)
There are few characters as memorable as the roguish, smart-mouthed ghost Betelgeuse whose shoes Keaton fills like he was born to play the character. One of Tim Burton's finest films, Beetlejuice is a terrific dark comedy with an absurdist sense of humour and the director's trademark penchant for imaginative visuals.
Over to you: what are your top 10 films of Michael Keaton?