Provocateur Lars von Trier's Nymphomaniac fails to live up to its ambitious scope becoming nothing more than a lazy, over-indulgent attempt to titillate. Lyndon Wells takes a closer look…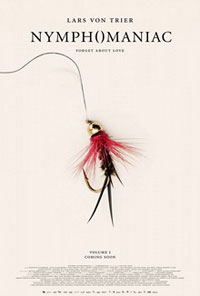 A film titled Nymphomaniac made by provocative Danish screenwriter and director Lars Von Trier is exactly what you would expect it to be. This is the third in his "depression" trilogy following the divisive Antichrist and Melancholia. Von Trier enjoyed his traditional tongue-in-cheek publicity, complete with cast posters in mid orgasm.
The film starts in jarring fashion with an unnerving and abrupt score as scholar Seligman (Stellan Skarsgård) finds Joe (Charlotte Gainsbourg) injured in an alley. He takes her in and listens as she recounts the story of her life, focusing on her many and varied sexual encounters. This lazy narrative structure often returns to the pair for inane chat that has illusions of artful grandeur.
Gainsbourg tells her story in titled chapters taking cues from objects round the dreary room like tea stains and a fly fishing hook. Skarsgård enjoys himself as he muses through the stunted dialogue, complete with illustrated footnotes about fly-fishing, music, mathematics and mythology.
The bizarre nature of film can be explained with one quote: "So oral sex became, in the eye of the angler, your Finnish weapon". This quote follows a degrading scene as a young Joe (Stacy Martin) competes to achieve the most sexual of exploits, on a train, for a bag of sweets.
There are many different cuts of Lars von Trier's ambitious drama, depending on how tolerant you are of explicit imagery depends which version will disgust you the most. Whilst released as two separate films it should be considered as an overlong self indulgent whole. The two films were released within a week of each other, and Volume II cannot be considered a stand-alone feature, it is simply a continuation.
The films look professional with some stunning imagery and quite an impressive ensemble cast. There is plenty from the mysterious Shia LaBeouf who unintentionally provides the comic highlights with his unidentifiable globe trotting accent. Christian Slater escapes unscathed as Joe's father but Uma Thurman is grating in a farcical scene as the wife of one of Joe's partners.
Volume II is even more wayward, with Gainsbourg taking over from the young newcomer Stacy Martin and features an understated Jamie Bell as a professional sadist. The sexual exploits are pornographic, but do dare to venture into areas even porn films would be uncomfortable; including a dying man crapping himself and guys with erections having a row that interrupts a potential threesome.
The films aim to be provocative but if you are not already a fan of Lars Von Trier there is nothing here to enjoy but plenty to infuriate.
Directed by: Lars von Trier
Written by: Lars von Trier
Starring: Charlotte Gainsbourg, Stellan Skarsgård, Stacy Martin, Shia LaBeouf, Christian Slater, Uma Thurman, Sophie Kennedy Clark, Connie Nielsen, Jamie Bell, Willem Dafoe
Released: 2013 / Genre: Drama / Country: Denmark/Belgium/France/Germany / IMDB
More reviews: Latest | Archive
Discover More: "Melancholia" Is No Friend To Man