Daniel Wolfe's brilliant feature film debut Catch Me Daddy sees a young girl on the run after her father sends a bunch of careless thugs to bring her home. It's gut-punch cinema at its very best.
A cloying sense of emptiness emerges from the sweaty pours of writer-director Daniel Wolfe's brilliant feature film debut Catch Me Daddy. It's written with muddy pen across a cocaine-fuelled bounty hunter's hand-to-mouth existence, a star-crossed lover's squalor, and a father's empty restaurant during closed morning hours. The tone quickly weighs heavily on our shoulders, framed with a washed-out palette; grey skies blankly colouring desolate urban streets amid an eerie silence.
Wolfe is unhurried in setting up the component parts of this drama but it isn't long before the stakes are set. At its centre is Laila (Sameena Jabeen Ahmed), a rebellious British-Asian girl on the run from her father who disapproves of her relationship with Scottish "lad" Aaron (Connor McCarron). They're holed-up in a caravan somewhere outside the city, living off a crisis loan and Laila's cash-in-hand job at the local salon. However, her furious father has learned of her whereabouts and commissioned a couple of local thugs to track her down (Gary Lewis and Barry Nunney). He's also sent his psychotic brother and three other family members along to ensure everything goes to plan.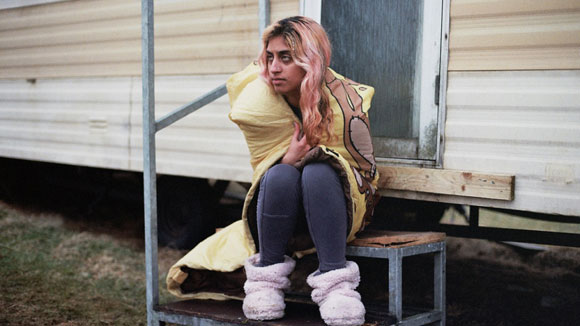 As much as Catch Me Daddy's slow-burning drama is underpinned by its unforgiving atmosphere, the plot gains momentum thanks to the ambiguity surrounding Laila's potential fate. We are unaware of the antagonists' motives – is it money, family honour, the thrill of the chase. But their prey – a confused, desperate young girl with no one in the world to turn to has surely little chance of escape. The chase therefore has an unsettling sense of the inevitable.
Meanwhile, the chasers – their individual characteristics ranging from placid concern to paranoia and outright sadism – could not be criticised of caricature. Indeed, Wolfe – who finds a distinctive modern day kitchen-sink sensibility about his colloquial villains (their playground the working class estate, their choice of nourishment the nearest kebab shop, their clothing finished with a pair of last season's trainers) – acknowledges an explosive unpredictability that furthers the film's foreboding.
It's uneasy viewing but that's the beauty of Wolfe's horror show. Inspired by the increasing notoriety of honour killings in the UK, Catch Me Daddy paints its subject's defiant journey as a struggle without much hope. Laila numbs the pain through drug abuse – her over-the-counter high from Co-codamol tablets indicative of her bleak situation and lack of money – while she optimistically reminisces about her childhood. There's an evocative, almost painful nostalgia as if home was, at one time, a settled, safe environment. What went wrong is an enigmatic question left largely unanswered, as is the wisdom, or lack of, behind her father's selfish actions. There are no winners here, only degrees of loss.
Sameena Jabeen Ahmed, who won Best British Newcomer at the 2014 London Film Festival, is a strong presence despite Laila's fragility. Her messy, bleached blonde hair is an aesthetic contrast to her humdrum existence and a further sign she's left the traditions of her Pakistani father behind. Ahmed is appealingly natural in the role, confidently taking her cues from director Wolfe who pays just as much attention to silence as he does to the sound of dialogue. Indeed, some of the film's most powerful moments are wordless – when eyes meet in smile or close out of exhaustion; when words are less appropriate than, say, dance, exampled as Leila, her troubles temporarily far away, flings her arms to the words of Pattie Smith.
Ahmed's turn is one of many good performances in the film. Gary Wood as the comparatively mild-mannered partner of more conventional thug Barry (the absolutely terrifying Barry Nunney), is one of the stand outs, while the calculated Shoby (Shoby Kaman) has a beguiling placidity that hides a penchant for violence.
Most satisfactorily, after Wolfe has had you gripped to the edge of your seat for two hours, he's not done after the credits roll. Catch Me Daddy is one of those films whose atmosphere transcends the screen, landing on you like faint rain before becoming an itch you can't scratch. This visceral, gut punch boasts caustic thrills, strong performances and an unforgettable ending. It's a night you won't forget.
Directed by: Daniel Wolfe
Written by: Daniel Wolfe, Matthew Wolfe
Starring: Sameena Jabeen Ahmed, Gary Lewis, Conor McCarron
Released: 2014 / Genre: Thriller / Country: UK / IMDB