With the superheroes of Marvel and DC battling it out for box office supremacy, the movie hero has never been so obviously a part of 21st century popular culture. But many of Hollywood's most iconic achievements – and Tinseltown's biggest commercial successes – are founded upon heroic figures who emerge from unlikely places.
In this top 10 I look at the unwitting movie hero, someone who rises to the saviour of the good guys despite not having Arnie's muscles, James Bond's license to kill, Iron Man's suit, or Superman's superpowers.
Take away the might of military training and an infantry backing you up, the scale of the police force, and, indeed, Thor's hammer, Top 10 Movie Heroes from Unlikely Professions looks at noble endeavour by unassuming men and women whose day-to-day nine-to-five is routinely mundane in comparison to their life-saving superhero counterparts (of both the magical and public service kind).
On this day they get their time in the limelight and enjoy (or endure) a day they will never forget.
10. Tom – Architect (David Strathairn in The River Wild – Hanson, 1994)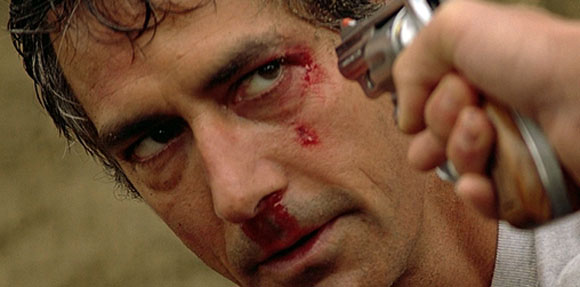 Taking nothing away from Meryl Streep's tough-chick performance as wife and mother Gail in Curtis Hanson's pulse-racing white water thriller The River Wild, its her mild-mannered architect husband Tom (David Strathairn) who goes from 70-hour working week to unwitting hero. When Kevin Bacon's badass bank robber sets upon his family, pacifist Tom becomes the third-wheel in Gail's attempts to save the family. But after being seemingly killed in an escape attempt, the architect concocts a cunning plan to get his family back.
9. Seymour Krelborn – Florist (Rick Moranis in Little Shop of Horrors – Oz, 1986)
Frank Oz's fun rock-musical sees mild-mannered florist Seymour become the unwitting hero of the New York City slums after his vampiric killer plant Audrey II's insatiable appetite for human flesh threatens more than just those close to him.
8. Solomon – Handyman (Ernie Hudson in The Hand That Rocks The Cradle – Hanson, 1992)
In Curtis Hanson's domestic drama, the family unit is devastatingly threatened when the disconcertingly po-faced Rebecca De Mornay becomes the nanny-with-a terrible-secret for the innocuously ordinary Bartels. The picture postcard middle class ideal is disrupted when the nanny's real motives emerge leading to Lennie Small-type Solomon, the family's nice-but-dim handyman, coming to the rescue of the children when the shit hits the fan.
7. Annie Porter – Office Staff (Sandra Bullock in Speed – de Bont, 1994)
Annie Porter's job is never explicitly mentioned in Jan de Bont's Speed but she does allude to missing her car after her license was revoked for speeding. Thus, she must catch the bus to get to work. If anyone's nine-to-five is interrupted perhaps Annie's adventurous diversion from the norm is the worst of the lot. Great for action fans though. Jan de Bont's high concept peddle-to-the-metal blockbuster never fails to entertain with its simple premise: a bus must stay above 50-miles-per-hour to prevent a secreted bomb on board going off. Sandra Bullock is great as the unwitting secondary hero who takes on the challenge of driving the bus while, of course, falling in love with Keanu Reeves' cop Jack Traven.
6. The Tramp – Glazier (Charlie Chaplin in The Kid – 1921, Chapin)
The Tramp, a downtrodden hero who became an icon of both early silent cinema and Charlie Chaplin's oeuvre, is the saviour and unofficial adoptive father of an orphaned baby in this 1921 classic. A poignant and funny film, The Kid remains an important part of film history given that it is recognised as one of the earliest examples of combining slapstick comedy with touching drama.
5. Allen Bauer – Fruit & Vegetable Wholesaler (Tom Hanks in Splash – 1984, Howard)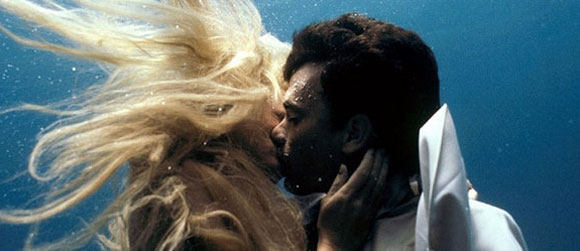 The delightful talent of Tom Hanks becomes the saviour of the mermaid he falls in love with in this comic heart-warmer from crowd-pleasing director Ron Howard. Hanks, in the early part of his comedy-dominated 1980s career, is the likable hero nobody believes when he tells them mermaids exist off the coast of New York. They soon believe him when one turns up on his doorstep and he has to return her to the ocean before unscrupulous government scientists start prodding her with needles.
4. Roger Thornhill – Advertising Executive (Cary Grant in North by Northwest – 1959, Hitchcock)
A case of mistaken identity sees ad executive Roger Thornhill land in hot water when he is kidnapped by a mysterious criminal group who wrongly believe he's getting in the way of them smuggling government secrets out of the country. Hitchcock's "wronged man" motif has rarely been this exhilarating or fun, and the brilliant Cary Grant takes to the challenge with sophisticated "suited and booted" glee.
3. Bud Brigman – Foreman of experimental deep sea observatory (Ed Harris in The Abyss – Cameron, 1989)
The stakes are a little higher than normal for Bud Brigman who becomes the unwitting hero of mankind when his deep sea observatory discovers alien lifeforms in an ocean crevice. James Cameron's terrific film features a brilliant power struggle between two opposing groups of people trapped in unforgiving surroundings at the bottom of the sea, the dramatic tension increasing just as the heat rises in the sweaty confines of our characters' underwater prison. Depending on which version of the film you see (the longer one is more effective), the ending alternates slightly. However, the film sees a hero emerge out of Bud's willingness to open his mind. If nothing else, The Abyss is worth seeing for its brilliant production design and underwater photography. For me, it's one of James Cameron's best movies.
2. Ripley – Space Freighter Warrant Officer (Sigourney Weaver in Alien – Scott, 1979)
When Alien was initially in development its hero wasn't always a woman. However, the enduring success of the film makes it difficult to imagine anyone but a heroine at its core. It's even harder to think of Sigourney Weaver as anything but a powerhouse movie hero. Ridley Scott's ace science-fiction horror is a terrifying thrill ride thanks to its claustrophobic spacecraft-based setting and the largely unseen monster lurking in its dark and dirty corners. But it's elevated by its exemplary cast and the emergence of its unlikely hero (not the Captain, or the second in command, or one of the cocky engineers, or, perhaps most importantly, a man). Weaver made Ripley not only a hero we could get behind but an example of how female characters can dominate the screen just as much as their male counterparts.
1. Indiana Jones – Archaeologist (Harrison Ford in Raiders of the Lost Ark et al – Spielberg, 1981-)
Across a group of films, some great, some not-so great, the college professor and part-time adventurer Dr. Henry Walton "Indiana" Jones, has saved more lives than the average superhero. In Raiders of the Lost Ark, his first and best cinematic outing, he endures being beaten up, buried alive and dragged across desert roads by motor vehicle in a desperate attempt to prevent the Nazis from acquiring a power far greater than any atomic bomb. Oh, and he gets the girl too.
Over to you: what are the best movie heroes from unlikely professions films?