"We come in peace", say the little green men. Top 10 Films goes in search of cinema's friendliest aliens from the TV-watching simpletons of Galaxy Quest to the curious ocean-dwelling beings of The Abyss…
10. Galaxy Quest (Parisot, 1999)
A smart parody of science-fiction television and celebrity, Dean Parisot's amusing sci-fi-comedy sees a group of has-been television personalities transported into space to save an alien race from powerful aggressors. This quirky treat has a great premise: aliens, with no concept of fiction, have mistaken television broadcasts for historical documentaries and therefore believe the cast of Galaxy Quest, a Star Trek-like series, have the ability to lead them to peace. A stellar cast including Sigourney Weaver, Sam Rockwell and Alan Rickman ensure this nineties gem remains a favourite of many.
9. Cocoon (Howard, 1985)
A theme amongst many of the "friendly alien" movies is a penchant for sentimentality, perhaps because of their eagerness to please the entire family. Ron Howard's Cocoon is no different as a bunch of retirees get a new lease of life thanks to the energy they draw from a swimming pool filled with alien eggs (not, it must be said, the same eggs from Ridley Scott's Alien!). Sparkling performances from its predominantly sixty-plus cast (Don Ameche, Wilford Brimley and Hume Cronyn particularly) cut through the mawkish melodrama while Steve Guttenberg provides laughs from the younger generation.
8. Starman (Carpenter, 1984)
Unapologetically melancholic, John Carpenter's Starman shifts the director's attention away from malevolent aliens and trying to scare his audience into a twitching stupor by presenting us with an extraterrestrial with love in his heart. Jeff Bridges plays a being from outer space who takes on the appearance of a widow's husband and takes the bewildered woman on a cross-country trip to rendezvous with a rescue ship after reporting that earth is hostile. It's essentially E.T. with adults and terrible theme music but Carpenter makes it work with a star-crossed romance at its core and the relentless pursuit of the unscrupulous authorities.
7. The Abyss (Cameron, 1989)
Another filmmaker to have enjoyed success with malevolent aliens turns his attention to those with benevolence at their core. The Abyss benefits firstly from its production design putting audiences inside the watertight structure that houses the operations team of an experimental drilling rig on the ocean's floor. Director James Cameron's claustrophobic setting is the ideal stage for a dramatic power struggle between two opposing groups led on either side by the square-jawed masculinity of Ed Harris and Michael Biehn. Tensions rise as the perfectly paced drama raises the stakes ahead of a powerful, unpredictable conclusion. Cameron, as is his way, also gives us a couple of strong female characters too – notably, Mary Mastrantonio's rig designer Dr. Lindsey Brigman who enjoys the film's best scene when she finds herself cut adrift in one of the rig's two-man submarines with water quickly engulfing the vehicle's interior.
6. Explorers (Dante, 1985)
Joe Dante's Explorers suffered from a lack of love from the studio who rushed it through production to hit an early summer release date. Nevertheless, this "kids film for adults" has a wry sense of humour thanks to its director's satirical eye and a genuine sense of childhood adventure and imagination.
5. Contact (Zemeckis, 1995)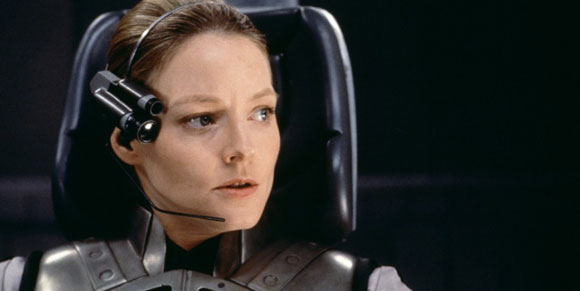 Featuring a sense of tangible authenticity not often evident in the world of fantasy and science-fiction, Robert Zemeckis' film benefits greatly from its source novel of the same name written by acclaimed astronomer Carl Sagan. The film asks the question: what if intelligent life existed "out there" in the universe and contacted earth? Who should try to decode the message? What would we do with the message retrieved if its meaning is discovered? Who should deal with the earth's response, and from what system of principles should that response take? It's a fascinating exploration of a number of "what ifs" with the wide-eyed strength of Jodie Foster's Dr. Ellie" Arroway leading the audience on a journey of extraterrestrial discovery. Director Zemeckis' ability to consider the practicalities of a "close encounter" with an air of sincerity alongside a stargazing sense of imagination and a well-tuned but restrained use of special effects makes Contact a profound, idealistic space adventure with its roots firmly on planet earth.
4. The Iron Giant (Bird, 1999)
Brad Bird's directorial debut premised a string of hits including Pixar's The Incredibles and Ratatouille, and action-adventure Mission: Impossible – Ghost Protocol. Much loved, The Iron Giant features both traditional and computer-generated animation to tell the story of a "man" from outer space who befriends an imaginative young boy and must evade the attentions of the U.S. military who see the Iron Giant as a threat. With a Cold War backdrop, the film's fifties setting creates an appealing battle between the fear of the unknown and the innocent trappings of childhood imagination. It works just as well for adults as it does for kids.
3. Superman (Donner, 1978)
Still one of the best comic book adaptations, Richard Donner's Superman remains a superhero delight. Christopher Reeve in the role of the eponymous saviour of Metropolis is a charming hero; sweetly funny as the scaredy-cat Clark Kent, perfectly toned in muscular form when donning the tight-fighting blue and red costume. The humour on show is a nice counter balance to the film's cunning chief villain, the mastermind Lex Luther played by the brilliant Gene Hackman.
2. E.T. (Spielberg, 1981)
It's fitting that two Steven Spielberg movies sit at the top of this list. He's the master of evoking an innocent, wide-eyed childlike appreciation of the world for adults to enjoy long after they've grown up. Both in terms of its pre-teen protagonist Elliott and the similarly youthful alien he befriends, E.T. puts the child at the centre of its story. The friendship that ensues is built upon coming of age tropes with the raising stakes of unscrupulous government agents closing in. Spielberg elevates the film through the simple yet profound relationship that develops between Elliott and E.T., while cutting through the story with a child versus adult motif and adding in some trademark flourishes in the form of iconic set-pieces (the flying bicycle silhouettes in front of the full moon being the pick of them).
1. Close Encounters of the Third Kind (Spielberg, 1979)
Spielberg's greatest achievement is perhaps his most personal project. Close Encounters of the Third Kind is similar to E.T. but instead of Spielberg telling us the story through the eyes of the child, he tells us we can still see the world with wide eyes if we allow ourselves to give in to our imaginations as adults. The innocence is gone; boxed up and shipped out thanks to bad relationships, bad choices and the evening news. But it doesn't mean our ability to see beyond our own existence must be locked away too. Richard Dreyfuss, in his greatest film performance, plays Roy Neary, a working class family man from suburbia who suddenly becomes obsessed with the apparent visitations by beings from outer space. His pursuit of the truth – to find vindication for his childlike regression – destroys the family unit but ultimately satisfies a long and deeply rooted yearning to know he is not alone and never has been.
Over to you: what are the best films about friendly aliens?