J. J. Abrams' sequel to George Lucas' epic space adventure Star Wars is everything fans could have wished for. Dan Stephens takes a look Episode VII – The Force Awakens…
Could a sequel to Star Wars be a disaster? The simple answer to that is – yes. A big yes. Just look at George Lucas' dreadful prequel trilogy. That J.J. Abrams, The Force Awakens' writer, director and producer, has ensured the film is anything but a failure is a triumph every Star Wars fan wished for. This reboot of the franchise, which dusts off a few relics from the epic adventure that clearly continues in a "galaxy far, far away" and chucks in a collection of exciting new elements, is a glowing tribute to blockbuster cinema.
Not only does it have possibly the greatest hook of any film since Return of the Jedi simply because it is a sequel to Star Wars but The Force Awakens has the credentials to back its hype. It's wilfully throwback but contemporary in its sparks of Marvel-era heroic back-slapping, it's gleefully aware of its roots but eager to start new ones, and it's respectful of the original trilogy with an imaginative spirit to begin new adventures. It is a film that will remind age-old fans why Star Wars is so special while turning sceptical audiences and those too young to enjoy the previous movies into devotees.
And that's the trick Abrams needed to weave with The Force Awakens. He always knew he had a commercial property that would, almost certainly, break box office records but brand recognition can only get you so far. Here, the master movie marketeer delivers an adventure of high-octane action that evokes memories of A New Hope as our protagonists unwittingly get dragged into a battle between good and evil spanning the galaxies. It's straightforward storytelling done with finesse: Abrams' set-pieces are enthralling, his characters engaging and individually rendered, his laughs delivered with a self-aware glee. He also has as much fun as his audience watching Star Wars favourites Han Solo and Chewbacca back in their old but trusty Millennium Falcon.
Indeed, I can't deny the sense of childlike excitement I felt watching some of Star Wars' iconic features rolled down the red carpet. Perhaps Abrams' greatest achievement with The Force Awakens is successfully recalling the innocent fantasy of George Lucas' original films for audiences now introducing their children to the space opera which they held so dear as kids themselves. It makes this film very difficult to look at objectively but remove the rose-tinted glasses and Episode VII is still just as effective.
Certainly, Abrams' strength lies away from direction. He's an ideas man: brilliant at selling a movie, not quite as good at making one. That results in a film with a sense of safety in mind. Structurally, The Force Awakens takes no chances, in fact, it mimics A New Hope in many respects. That is somewhat disappointing. Hollywood's major studios have happened upon a successful commercial trend: remakes masquerading as sequels. It allows them to sell a movie as a new and unique property but one that is attached to a previous box office smash hit. Then, instead of truly giving us something original, the new film riffs on former glories to such a degree audiences are treated to what is ostensibly a remake with a few new bells and whistles. Jurassic World is the biggest perpetrator so far, but the Ed Helms-fronted National Lampoon's Vacation sequel did the same thing.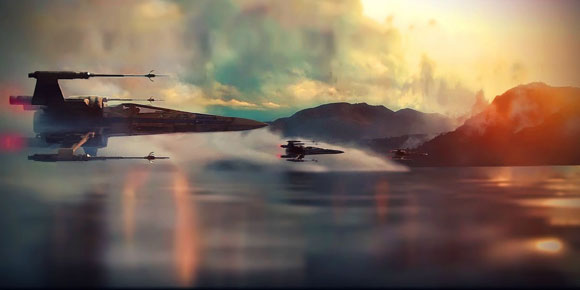 However, The Force Awakens gets away with it because of two distinct factors. Firstly, Abrams knows how to develop and deliver a great action sequence. He also does so without the overbearing artificiality that peppered Lucas' "green screen" prequel trilogy, where every single scene had to be so indulgently grandiose it felt like watching a cartoon. From the empire's TIE fighters to the rebellion's X-Wings and Han Solo's Millennium Falcon, these iconic spaceships have a metallic rust you feel you can touch with Abrams at the controls. Yes, CGI has improved, but curiously, Lucas' original films – made in the 1970s – felt more real than his 21st century attempts.
Secondly, and more importantly, The Force Awakens gets an injection of originality – and vitality – thanks to the performances of English actors John Boyega and Daisy Ridley. Their youthful exuberance is matched by the authenticity of their heroic credentials: Ridley's scavenger Rey is crying out for purpose and adventure, her hand-to-mouth existence providing a steely demeanour and courage beyond her years; Boyega's Finn, in search of an identity he can call his own alongside an eagerness to fight back against the empire which once imprisoned him. These brand new elements to the world of Star Wars are inspired, giving it a shiny, contemporary gloss.
Ultimately, this is Abrams' greatest achievement so far – whether you are talking about writing, producing or directing. A few reservations aside – Carrie Fisher looks no less than embarrassed to be talking about magical forces – Episode VII is an absolute delight. It will more than satisfy fans of the original films, spark the interests of newcomers, and thrill both adults and children alike. It's the sort of film that makes you fall in love with this "galaxy far, far away" all over again.
Directed by: J. J. Abrams
Written by: Lawrence Kasdan, J. J. Abrams, Michael Arndt
Starring: Harrison Ford, Mark Hamill, Carrie Fisher, Adam Driver, Daisy Ridley, John Boyega, Oscar Isaac, Domhnall Gleeson
Released: 2015 / Genre: Sci-fi/Fantasy / Country: USA / IMDB