Tis the season to be bloody! While children write their letters to Santa, stuffing their faces with holiday treats, horror fans seek a different kind of seasonal satisfaction.
There's a particular subgenre that makes us jolly, emphasizing winter's wicked chill: Christmas Horror. And it's never been more popular, as 2015 saw the anti-Claus himself, the demon Krampus, invade popular culture. Being naughty has never been more treacherous! For those who prefer terror and fear to merriment and cheer, I present this list in no particular order. Enjoy!
Krampus (2015, Dougherty)
Writer/director Michael Dougherty, the cinematic mastermind who perfectly captured the spirit of Halloween in 2007's Trick 'r Treat, gives Christmas a similar treatment with Krampus. It's very reminiscent of Gremlins, from the Krampus's marauding minions to the fact that young lead Emjay Anthony resembles a miniature Billy Peltzer. Trust me, this one will become a seasonal staple.
Gremlins (1984, Dante)
Speaking of Gremlins…Joe Dante's seminal 1980's classic has long been the go-to treat for Christmas Horror aficionados who like their gore with a heavy dose of black comedy. Plenty of death and destruction—but at least the dog lives! A truly mischievous romp with plenty of thrills, Gremlins scares as well as it entertains, while never pandering to holiday sentimentality.
Batman Returns (1992, Burton)
While Batman Returns isn't a traditional horror movie, it's absolutely the darkest pre-Nolan manifestation of the caped crusader. The film uses Gotham's violent mythology and gothic aesthetic to assault its Christmas backdrop, resulting in haunting juxtapositions (from bombs in presents, to terrorists attaching a tree-lighting ceremony, and even parents abandoning their child in a sewer!). Danny DeVito's Penguin is disgustingly unnerving and Christopher Walken is chilling as the sociopathic Max Shreck.
Silent Night, Deadly Night (1984, Sellier)
The grittiest of all Christmas Horror movies brought protesters out in droves when it hit theaters in 1984. Parents were infuriated by the concept of an axe-wielding, blood-thirsty killer in a Santa suit. The rape and blatant criticisms of Christianity surely didn't help. This one definitely isn't for the kiddies.
Black Christmas (2006, Morgan)
Don't hate me fellow horror fans, but I actually preferred the 2006 remake of Black Christmas to the 1974 original. Writer/director Glen Morgan's version has a smart and stylized quality that puts it in the same league as films like Wes Craven's Scream. With a complex mystery at its core, Black Christmas is challenging and chilling. Definitely not appropriate for family-time viewing.
The Nightmare Before Christmas (1993, Burton)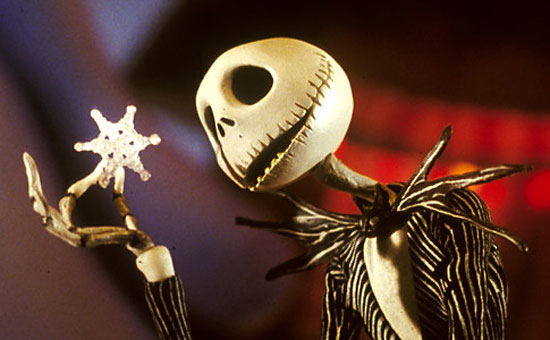 Tim Burton's holiday favorite is another film that gives Christmas the Halloween treatment. The Nightmare Before Christmas captivates those of us old enough to nostalgically recall claymation TV specials from the 1970's and 1980's. More than any other on the list, this one is a treat for the entire family. It's evil enough to make us horror fans chuckle without giving our nieces and nephews night terrors.
Sheitan (2006, Chapiron)
Horror fans looking for something truly perverse to watch this holiday season can venture into French Extremity with Sheitan (the Arabic word for Satan). A group of club kids have a Christmas Eve from Hell when an enigmatic young woman invites them to her family's country estate. Vincent Cassel is disturbing yet utterly hypnotic as the affable and volatile groundskeeper Joseph: At one moment charming, the next moment terrifying. This one also sports some vicious gallows humor.
Rare Exports: A Christmas Tale (2010, Helander)
From the land of Santa Claus, this Scandinavian chiller provides top-notch entertainment, with more genuine heart and authentic scares than any other film on the list. Often intense, and sometimes downright melancholia, Rare Exports is nonetheless utterly infectious and ultimately triumphant; great for the whole family. Even if you don't have time to peep this one during the winter holidays, put it on your Must Watch list. You won't be sorry.
The Children (2008, Shankland)
Those craving straight-up emotional devastation can check out The Children. When families gather for Christmas, children bring light and joy to all, right? Not this time. A mysterious illness puts the youngsters off kilter, eventually transforming them into sadistic killers. The Children delivers extreme brutality without revealing too much, allowing our own minds to fill in some very disturbing blanks. Despite the title, this is another one that's definitely not for the children.
Dead End (2003, Andrea/Canepa)
Traveling on Christmas Eve can be a nightmare; for the family in Dead End, a trip to grandmother's house becomes a maddening descent into perpetual darkness. A near miss on a snowy highway send the clan down an unfamiliar back-road where they're stalked by a variety of ghostly visions including a mysterious black car. And you thought traveling with your family was stressful!
Christmas horror movies – what are your faves?
See more from Josh Millican on Top 10 Films:
Top 10 Horror Movie Vacations From Hell | 10 More Horror Movie Vacations From Hell | Top 10 Horror Films from France | Top 10 Horror Films from Scandinavia
See Also: The Greatest British Horror Films of All Time