Ryan Pollard, a self-confessed Star Wars sceptic and someone who has never been a fan of either the original films or prequels, believes J.J. Abrams' "The Force Awakens" is one of the films of the year.
A long time ago, in a galaxy far, far away, a man named George Lucas created a franchise that has gone on to become regarded by many as one of the greatest cinematic achievements of all time. However, despite being loved by many, the Star Wars universe never captivated me, mainly because of how silly and OTT Lucas made it. Years later, the memory of the originals ended up being somewhat tarnished by the awful prequel trilogy, which had horrible scriptwriting, bland performances (particularly Hayden Christensen) and a sense of artificiality. All this makes J.J. Abrams' The Force Awakens even more special: it is the that completely changes my overall perspective of Star Wars, finally making me be one with the force. It's the kind of film that evokes the inner child, immersing you within this fantastic universe.
Abrams set out to make this film tie-in with the originals, yet keeping it fresh for a whole new audience, and that is where he truly succeeds. One of his other strengths is making everything physical and authentic, which is something that was definitely lacking in the heavily digitised prequels. The production values involved, whether its in the crafting of the sets, the way the locations are filmed, or the way the fight sequences are choreographed, is some of the best I've seen in modern cinema. The vast desert landscapes of the planet of Jakku recall the breathtaking vistas of epics like of Lawrence of Arabia and Zulu, and this can also be said of the many beautifully realised alien planets the characters explore. That is what the best of sci-fi can offer, which is that sense of interplanetary shock and awe, and that is one of this film's many strengths. Even though it is presented with an optional 3D projection in cinemas, it's highly recommended that you see it in 2D, as the 3D would probably ruin the immersive experience for you. Plus, this is one of those films that'll genuinely make you laugh, cry and gasp with equal measure, with the laughs being more in abundance than most comedies Hollywood churns out.
In terms of the cast, Daisy Ridley is phenomenal as the main protagonist Rey. Despite the fact that Ridley is a genuine newcomer, she acts as if she's been doing this for her entire lifetime, and that's what makes her a genuine screen talent. She brings the right balance of feisty and vulnerability, which the great female heroes of sci-fi have always embodied, and throughout the whole film, you are invested in her and her journey through this story. Dare I say it, and this may be considered blasphemy, Rey is a more engaging and compelling protagonist than Luke Skywalker, despite how much of a Mark Hamill fan I am (the best Joker of all time). Despite how extraordinary Daisy is in the lead role, John Boyega does a brilliant job with the role of Finn, making the character credible, yet bringing out real screen charisma and genuine humour to the part. Whilst not quite as iconic as Darth Vader, Adam Driver's Kylo Ren comes close; he's pretty much a teenage Darth Vader with real temper issues and that's understating it. Both Harrison Ford and Carrie Fisher bring back that nostalgic charm that you remember so fondly from the originals, and it's no surprising why the filmmakers chose to keep Mark Hamill's Luke Skywalker away from the promotional material.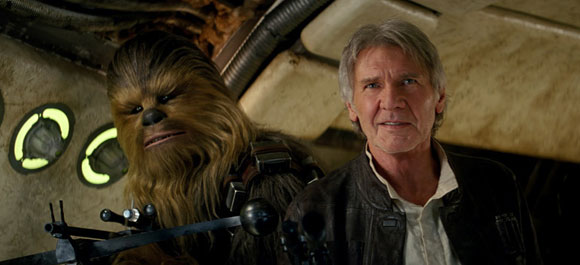 There is no doubt that this film will become not just the biggest grossing film of the year but also the highest grossing movie of all time. What Abrams has achieved is a film that will be remembered as a pure cinematic event that'll stand the test of time for years to come. It's engaging both dramatically and artistically, and the director has done an incredibly solid job of using familiar tropes yet realising them in a fresh and exiting way. It is a shame that this'll be Abrams' last foray in the Star Wars universe, but the franchise will no doubt be safe in Rian Johnson's hands after doing wonders with both Brick and Looper. If you are a Star Wars fan, you won't be disappointed. If you're not a Star Wars fan or have always been a sceptic like me, you will probably be as won over as I was. For me, despite how much I actually enjoyed Empire Strikes BacK, The Force Awakens is without a doubt the best Star Wars movie to date.
Directed by: J.J. Abrams
Written by: Lawrence Kasdan, J. J. Abrams, Michael Arndt
Starring: Harrison Ford, Mark Hamill, Carrie Fisher, Adam Driver, Daisy Ridley, John Boyega, Oscar Isaac, Lupita Nyong'o, Andy Serkis
Released: 2015 / Genre: Science-Fiction/Action/Fantasy
Country: USA / IMDB
More reviews: Latest | Archive