As well as an ensemble cast, Samuel L. Jackson, Uma Thurman, character monologues and violence, writer-director Quentin Tarantino loves Mexico. Here's proof…
Quentin Tarantino is a famous screenwriter, producer and actor. He is well known for highly satirical films that are rife with violent scenes, which are created to disgust but also seduce his audience.
Tarantino has produced some of the most popular films to be released in the last few decades and he now has a dedicated following of fans. His movies have acquired an almost cult-like status and you will find that people either absolutely love his stuff or they are thoroughly disgusted by it.
Although he has produced and filmed movies all over the world, one of his favourite places to work is in Mexico and he has produced a number of films there.
He doesn't just like working in Mexico however, and he is known to go on numerous vacations to the country and often takes his girlfriend Lianne Spiderbaby (real name Lianne MacDougall) on beach holidays to the Mexican Coast where they can have fun in the sun in relative peace.
Tarantino Movies Filmed in Mexico
Quentin Tarantino has filmed a number of movies in Mexico but the two most famous ones are:
From Dusk Till Dawn

This 1996 movie, starring George Clooney, was written by Quentin Tarantino but directed by his good friend Robert Rodriguez. After a fairly average opening weekend the film has become somewhat of a cult film for Tarantino fans all over the world.
The movie follows the tale of Richie and Seth Gecko- two brothers who flee to Mexico to evade the FBI. They commit crimes along the way and are surprised by a bar full of vampires when they eventually arrive.
The movie follows Tarantino's line of gory work and like most of his other movies the story line isn't exactly linear or solid. However, it has become one of his most famous films to date.
Kill Bill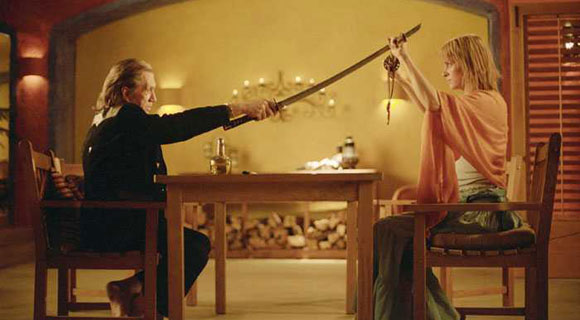 Kill Bill was filmed in California, China and Mexico and it is one of Tarantino's most iconic movies. For the film he drew inspiration from Japanese martial arts and follows the story of Beatrix, played by Uma Thurman, on her quest for revenge.
It was his highest grossing opening weekend of his career when Kill Bill: Volume One was released in 2003. The second part of the film was released in 2004 and also did well at the box office.
Quentin Tarantino is an absolute master in his area of gory action movies and his love of Mexico is clear to see in the movies that he has produced there.