Eddie Murphy was once one of Hollywood's funniest, most bankable stars with hits such as Beverly Hills Cop, 48 Hrs and Coming To America. Now he's the forgotten man. Top 10 Films checks out his best work…
10. The Distinguished Gentleman (Lynn, 1992)
Take out the commercial success of the overrated Nutty Professor and the late decade accomplishments of Life and Bowfinger, Murphy's career in the 1990s took a nosedive. Jonathan Lynn's The Distinguished Gentleman is a minor highpoint sandwiched between the hollow nastiness of Boomerang and painfully misguided Beverly Hills Cop III. Here he plays a fast-talking con artist who uses the death of a congressman to hustle his way to Washington.
9. Another 48 Hrs (Hill, 1990)
Another film in the late 1980s and early 1990s built to cash-in on Eddie Murphy's star persona, Another 48 Hrs isn't as good as its predecessor but anyone wanting more cop-convict squabbling and bullet-riddled mayhem need look no further.
8. The Golden Child (Ritchie, 1986)
A strange departure for Eddie Murphy into fantasy – a genre that has never really worked for him when you consider such cinematic monstrosities as Vampire in Brooklyn, The Adventures of Pluto Nash and The Haunted Mansion – The Golden Child is unsurprisingly uneven and, well, a bit weird. But with Charles Dance hamming it up, Murphy, adorned with "serious face", adds another decent film to his repertoire even though it was considered a commercial failure by the studio.
7. Life (Demme, 1999)
Murphy forms an entertaining double act with Martin Lawrence during a particularly strong period in the former's career. Despite a couple of good movies in 1999 suggesting Murphy was on the way back, only the Shrek franchise has stood out making Life one of his last good outings. It tells the story of two wrongly convicted cons living their entire lives behind bars and the assortment of characters they meet over the years.
6. Bowfinger (Oz, 1999)
1999 threatened to be a comeback year for Murphy with two excellent films including Steve Martin's Bowfinger. Here he plays two parts – a paranoid Hollywood superstar and a simpleton doppelganger – as Martin's desperate filmmaker tries to produce a sci-fi action movie without his leading actor knowing he's in it. With layers of satire, some wonderful performances, and an inventive streak not seen in Martin's work for years, Bowfinger is a terrific comedy.
Also check out:
The Most Memorable Eddie Murphy Characters
5. Beverly Hills Cop II (Scott, 1987)
A terrific sequel to Eddie Murphy's best film, Beverly Hills Cop II offers a familiar but entertaining ride. Tony Scott takes over in the director's chair, giving a bit more gravitas to the action sequences, but the stage is Murphy's and he excels.
4. 48 Hrs (Hill, 1982)
A gritty feature film debut, Eddie Murphy is a con forced to team up with Nick Nolte's racist detective to track down a pair of cop killers in Walter Hill's lightweight actioner. Murphy is given enough of a stage to show off his scene-stealing presence. The best sequence features the acclaimed comic imitating a cop in a redneck bar in order to get intelligence out of the customers.
3. Trading Places (Landis, 1983)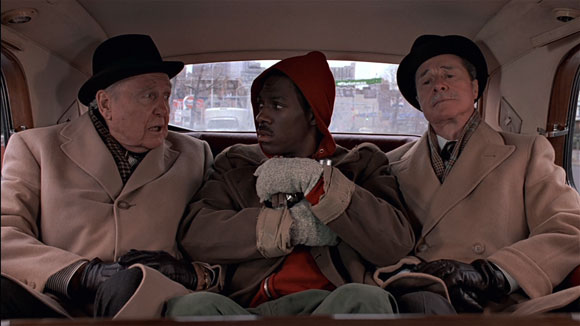 Following his feature film debut in Walter Hill's 48 Hrs, Eddie Murphy gets another opportunity to showcase his comic talent alongside Dan Aykroyd. Once again he's fighting bigots with a cool ability to return fire with comedy, breaking down the barriers of stereotype. Here he's the butt-end of a joke between rich commodities brokers in New York who decide to orchestrate a plan to switch their educated and ambitious managing director with an out of work street hustler to settle a debate over nature versus nurture.
2. Coming To America (Landis, 1988)
John Landis was one of the first directors to recognise the potential of Eddie Murphy as a movie star. Five years after giving him an opportunity in Trading Places, Murphy excels playing multiple roles including as wise-cracking New York barber and crazy soul singer as well as main character Prince Akeem Joffer, an isolated African prince who sets out to find his true love in America.
1. Beverly Hills Cop (Brest, 1984)
Eddie Murphy's earliest star-vehicle remains his best work as the wise-cracking, cocky Detroit cop Axel Foley. When his crooked friend is murdered, he tracks his killers to Los Angeles where his unpredictable and eccentric approach to police work makes him the fly in the ointment of his Californian colleagues. For audiences, however, it's great fish-out-of-water comedy.
Over to you: what are the best Eddie Murphy films?
You may also like:
Risky & Risque: Top 10 Comedies That Take A Chance & Win