Spectre is dessert to Skyfall's main course as 007 goes back to fight old foes in this high-octane, exhilarating addition to the James Bond franchise…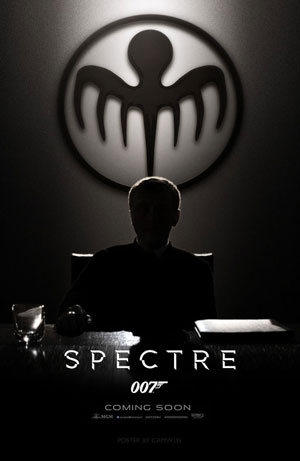 Set shortly after the events of Skyfall, Spectre sees James Bond receiving a cryptic message from beyond the grave, which takes him from Mexico to Rome. After infiltrating a secret meeting, 007 uncovers the existence of the sinister organisation SPECTRE. Needing the help of Madeline Swann, the daughter of Bond's old nemesis Mr White, he embarks on a mission to find her. As Bond ventures toward the heart of SPECTRE, he finds himself face to face with a man who has been messing with his life for a long time.
Before release, audiences were concerned that this wasn't going to live up to the spectacular heights of Skyfall, becoming another Quantum of Solace. The reactions from both audiences and critics since release have been very divisive, but to be honest, it is hard to see why as Spectre is a worthy addition to the Bond saga's best entries. If Casino Royale felt like a fresh beginning for both Bond movies and action movies in general, then Spectre has a sense of finality to it. It expands on Sam Mendes' vision post-Skyfall in a fresh and exciting manner, taking the action and spectacle to its very peak, and brings together Bond's collective gallery of friends and foes for an amazing, aesthetically pleasing potential finale to the Daniel Craig era.
While it is true that this isn't as strong as Skyfall, this is a very different entity in its own right; more creative, playful and much more varied. It harks back very knowingly to the more ambitious side of Bond's legacy, taking elements from You Only Live Twice, From Russia With Love and The Spy Who Loved Me. With the Craig era being a rebooted universe of its own making, this film does a solid job of retelling Bond's first encounter with the shady organisation of SPECTRE, whilst also examining Bond's psyche in an interesting way and showing just how much trust Bond has in his allies, including Q, Moneypenny and the new M. While the mystery of the main villain's true identity fizzles, there are plenty of other surprises to fall back on, plus strong performances with real character development.
Daniel Craig is the ultimate Bond – staying more true to Ian Fleming's vision of the character. Craig's performance is multi-layered, mesmerising and reminiscent of Dalton's gritty, well-rounded portrayal of the character in The Living Daylights. Lea Seydoux is probably the best Bond-Girl since Eva Green in Casino Royale, creating a three-dimensional character that is independent, resourceful, sultry and is very much Bond's equal, much like Green and Diana Rigg before her. Christoph Waltz does a solid job of being Bond's ultimate nemesis, playing the part in an almost reptilian fashion, yet still containing the menacing glee that the best Bond villains always had. Ben Whishaw is scene-stealing as Q, Naomie Harris still fantastic as Moneypenny, Ralph Fiennes is a worthy M, and Andrew Scott is brilliantly smackable as the humourously named C. The talented Monica Bellucci on the other hand, despite the hype and publicity surrounding her and her character, gets nothing more than a glorified cameo in what can only be described as a very Roger Moore-ish sequence.
When you look at the film, it's really centred on characters interacting with a fractious romantic subplot running through it, instead of just one character with everything happening around him, which goes to show how much the writers have focused on creating strong character development. Yet despite that, we do get the usual stuff that audiences pay to see in a Bond movie; we do go country-hopping (Austria, Mexico, Rome, etc.) and have a lot of high-octane action sequences involving cars, trains and helicopters, but despite the fact that those elements can tend to be the least-interesting element in the Bond movies, here it's done in spectacular fashion and is genuinely nail-biting in every sense.
They are never dull or boring, and are very reminiscent of the spectacular spectacle seen with the best works of Christopher Nolan, who ironically was inspired by On Her Majesty's Secret Service when making Inception. The cinematography is beautifully dazzling, which is all thanks to Hoyte van Hoytema, who's famous for shooting Spike Jonze's Her and Christopher Nolan's Interstellar. This is perfectly demonstrated through the bravura opening sequence set during the Day of the Dead Festival where the first 4-5 minutes look as though it was all done in one shot, which goes to show how far Bond has come since Dr. No. Plus, it does have funnier laugh-out-loud moments than most comedies have recently.
The fact that audiences and critics have become so bothered by this film since release boggles the mind; true it's no Skyfall, but then what is? This wasn't trying to top Skyfall or repeat what Skyfall set out to do, instead it tries to be its own film and provide a fitting conclusion to Craig's trilogy (yes I said trilogy, Quantum of Solace does not exist in my universe). If this is in fact the last Bond outing for both Daniel Craig and Sam Mendes, then the Craig era will have ended on a high note. It's one of the most ambitious Bond films to date, not just in its sense of scale, scope and spectacle, but also in its varied selection of characters. It may not have worked for everyone, but Spectre truly is an outstanding film on almost every level.
Directed by: Sam Mendes
Written by: John Logan, Neal Purvis, Robert Wade, Jez Butterworth
Starring: Daniel Craig, Christoph Waltz, Léa Seydoux, Ben Whishaw, Naomie Harris, Dave Bautista, Monica Bellucci, Ralph Fiennes
Released: 2015 / Genre: Action
Country: UK / USA / IMDB
More reviews: Latest | Archive
Discover More on Top 10 Films about James Bond:
The Best James Bond Films | Bond Girls | Gadgets | Opening Credit Sequences | Vehicles | Henchman | Quips