Daniel Craig's fourth outing as James Bond in SPECTRE has been met with widely positive reviews from critics but there's a general feeling it doesn't live up to the highs of its predecessor.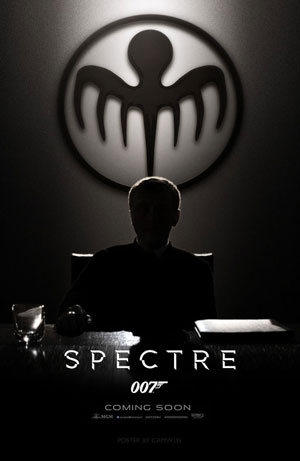 With SPECTRE debuting for critics in Leicester Sq. last night, reviews suggest the film will divide audiences. Detractors blame the script, flimsy foundations, poorly conceived female characters and a villain who doesn't match Skyfall's antagonist, while many who loved it noted the qualities of the action scenes and its penchant for fun action-adventure over depth and character.
It's a case of "two steps forward, one step back" bemoaned Stephen Dalton in his review for The Hollywood Reporter, noting the inadequacies of the screenplay negatively impacting upon the female characters and, more importantly, the villain. High hopes were certainly centred around Christopher Waltz as Oberhauser but Dalton blames the script for failing to make "his long-standing grudge against Bond plausible" providing "zero motives for his power-hungry schemes."
Time Out's Tom Huddleston was very disappointed with Waltz's character. He said one of SPECTRE's major problems is "a ridiculously unconvincing villain" He adds: "The script attempts to shoehorn a spot of Skyfall-style backstory between Bond and his enemy, which sadly leaves the character looking more laughable than terrifying, despite Waltz's best efforts."
Total Film's editor Jamie Graham said there was a lot he liked about SPECTRE but enough nagged at him to limit it to being merely "mixed", noting, like Dalton, flimsy foundations. It's interesting to note as Graham took to Twitter to discuss his reaction that his appreciation of the film seems to dilute as the screening sinks in.
Straight after seeing the film he called SPECTRE "not a classic but strong", adding that it features "old-school adventure & flamboyance, done with discretion & steel." Soon after he adds that the film doesn't match either Casino Royale or Skyfall. The morning after the screening he's more reserved: "Mixed reviews for SPECTRE because it's a mixed film? Thin plot & flimsy female characters but ace set-pieces, flamboyance" he says.
Danny Leigh, writing in the Financial Times, found only the odd moment that "clicks", bemoaning a hangover from the qualities of Skyfall. "After the sombre excellence of Skyfall, SPECTRE tries to tweak the formula while clearly being thrown into panic at the thought," he says. He also has reservations about the villain: "The presence of Christoph Waltz as nemesis feels like the no-brainerest of casting calls, but once he's here, the film doesn't know whether to let him enjoy himself or keep him dulled by understatement."
Oliver Lyttelton, in his review for The Playlist, was damning in his assessment, saying anyone expecting another Skyfall will be "left bitterly disappointed".
Lyttelton could find no forgiveness for flaws in the script. "Plot holes might be forgivable in a Bond movie (even ones of the gaping, you-could-drive-a-truck-through-it size we get here), but they stand out more when you're mistaking mystery for actual story, with Bond on a quest that jumps from set piece to set piece rather than building up to something more compelling," he said.
However, there were many five-star reviews by highly-regarded critics suggesting SPECTRE may divide audiences. The general consensus from those that not just liked SPECTRE but LOVED it took umbrage with critics moaning about the script, suggesting Bond should never be taken so seriously.
The Guardian's Peter Bradshaw, in his five-star review, called the film "deeply silly but uproariously entertaining". He has no trouble with Waltz's villain, indeed he levitates the actor's role to that of a "papal presence" while highlighting director Sam Mendes' penchant for a great action sequence.
Robbie Collin was equally impressed with the film's action-adventure, saying "it's a swaggering show of confidence from returning director Sam Mendes and his brilliant cinematographer, Hoyte van Hoytema".
Collin also noted the Skyfall-esque history between hero and villain but found it to be a help not a hindrance. "Waltz occasionally dices with camp, but mostly underplays what's essentially a ridiculous role, deploying a blank serenity that's truly chilling in key scenes, including his first appearance in the SPECTRE boardroom, silhouetted against a column of golden light."
Elsewhere, Geoffrey MaCnab writing in he Independent, had positives for Craig, saying: "In his fourth outing as 007, [Craig] gives a double-edged performance, tackling the action and romantic scenes with a boyish relish while trying to convey Bond's anguish at the death that surrounds him."
In his four-star (out of five) review he found little wrong with the film apart from its ending (which he thought was sentimental), saying it's "an exhilarating movie" and one that for "at least half its running time, this is as good as Bond gets – a rip-roaring and very stylishly made thriller with tremendous production values."
It sounds to me like SPECTRE has all the qualities to be a worthy, entertaining and re-watchable Bond movie, relying on the sillier side of 007, the side that is so gleefully exciting. Perhaps Skyfall's mature bleakness and nuanced backstory – a real positive within the previous film – wasn't needed here. It's back to old school Bond and those that like their action fast and fluid will be in for a great ride.