The old adage to filmmakers: never work with children or animals. It's logical and sensible but as this top 10 shows, some of the finest performances have been delivered by children…
10. Thomas Turgoose (This Is England, 2006)
Plucked from school and given a shot without any experience as an actor, Thomas Turgoose displayed a feisty lost soul in Shane Meadows' This Is England before confirming his talent (and range) in Meadow's later film Somers Town.
9. Connor Chapman (The Selfish Giant, 2013)
Connor Chapman is another, like Thomas Turgoose, who got his shot in film after being hired as a non-professional. The benefits are obvious in Clio Barnard's brilliant childhood drama The Selfish Giant. The young boy from Bradford gained the role after impressing at a school casting, displaying not simply an ability to read lines but a charisma that could be brought into the fictional character he eventually plays. There's a raw, unscripted energy to his performance that can often only be gleaned from the untrained.
8. Kirsten Dunst (Interview With A Vampire, 1994)
Like a few others on this top 10, Kirsten Dunst is one of those young actors who have gone on to a successful career in Hollywood. In other words, they haven't let childhood celebrity go to their heads. Dunst's performance in Interview With A Vampire is astonishing in its maturity – after all, she's playing an adult character in a child's body.
7. Bill Milner (Son Of Rambow, 2008)
English actor Bill Milner continues to delight with the innocent wide-eyed roles he's embodied since emerging on the scene in 2008's Son of Rambow. He's enjoyed parts in X-Men: First Class and Is Anybody There alongside Michael Caine, but his debut remains the stand out – fun, unassuming and instantly likeable (a bit like the film itself).
6. Natalie Portman (Leon, 1994)
Like Kirsten Dunst after the beyond-her-years performance in Interview With A Vampire, Natalie Portman displayed an innate talent for acting (in a strikingly understated way). Leon has very adult themes yet she never looks out of place, or overwhelmed by proceedings. She's aided by the excellent Jean Reno, the pair making one of Hollywood's most unique and engaging vigilante duos. Portman has unsurprisingly gone on to do better work as an adult (including Oscar-winning turns) but her performance here remains one of the best of her career.
5. Tatum O'Neal (Paper Moon, 1973)
Like many of her childhood peers, Tatum O'Neal wasn't as fortunate as some. The talented child-actor's career could be described as intermittent at best, disappointing at worst. Celebrity was always a tough thing for O'Nealto deal with given that she's the daughter of actors Ryan O'Neal and Joanna Moore but it can't be blamed for her adult career failing. Yet, as a child she showed a real zest for the profession, appearing alongside her father as a pair of con artists in Peter Bogdanovich's Paper Moon for which she became the youngest ever recipient of the Best Actress Academy Award, aged 10.
4. Leonardo DiCaprio (What's Eating Gilbert Grape, 2004)
Few actors have turned childhood stardom into a long and successful Hollywood career. Whether it be the unfortunate baggage that comes with celebrity (a curse which afflicted actors such as River Phoenix, Macauley Culkin, Edward Furlong and Corey Haim), an inability to turn early success into a career (Haley Joel Osment, Tatum O'Neal, Linda Blair) or a disinterest in the industry (Mara Wilson), the route is not an easy one. Leonardo DiCaprio had the talent, the desire and the wherewithal to become one of Hollywood's biggest stars and greatest assets. Although his 1992 breakthrough role in This Boy's Life is impressive, it is his turn in Lasse Halstrom's poignant drama What's Eating Gilbert Grape a year later which earned him an Academy Award nomination and a place on this top 10.
3. David Bradley (Kes, 1969)
If you've read all the way through this top 10 you'll notice a trend amongst the British actors. Most of them got their breaks without formal training – it's either a mark of British cinema's penchant for raw, social realism or an indication of this writer's personal tastes…actually it's a bit of both. However, few would argue about the authenticity of David Bradley's character Billy Casper, a local lad with a local accent. He's not so much acting but reacting to the staging director Ken Loach creates for him, but it works and importantly stands the test of time.
2. Linda Blair (The Exorcist, 1973)
A film as scary as William Friedkin's The Exorcist should have children kept as far away as possible. But as it happens, a teenager plays the chief antagonist and she's brilliant. Linda Blair's career never took off after the success of The Exorcist but her discipline throughout a film that sees her character transform from an innocent, bubbly and attractive young girl into a monster, is astonishing. Caked in make-up and prosthetics, and asked to do some horrendous acts in-character, Blair utilises the tools given to her by the director and special-effects team to produce one of cinema's most devastatingly frightening creations.
1. River Phoenix (Stand By Me, 1985)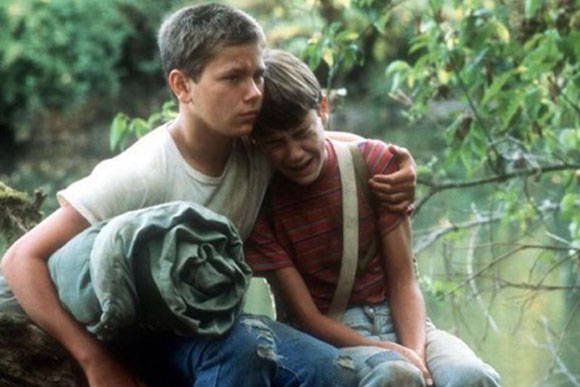 River Phoenix's performance as Chris Chambers – the heart-of-gold kid from the wrong side of the tracks – is made more poignant because of his untimely early death. The coming of age tale sees four young kids, intrigued by a rumour there's a dead body lying near the railway line not far from their home town, setting off on a journey of self-discovery. An underlining theme of the story is ambition and aspiration – some of them have it, some of them are happy (or stuck) with their lot – but it hinges on what happens next. Where do their lives lead? Chris Chambers is adamant he has no hope in life because of his upbringing and the tarnished name of his family hanging over his head. Phoenix excels as a toughened kid with a soft centre; a far-too-young patriarch to this group of outsiders. His in-character assumption about his uninspiring future is even more heart breaking given the tragedy that would interrupt his real life. But, on performance alone, there are few childhood scenes as powerful, or perfectly acted, as the "milk money" sequence. Here he admits to stealing money but after owning up and returning it to a teacher, is reprimanded anyway after the teacher claims to know nothing about the money, secretly spending it on herself. Every time I see the scene it brings me close to tears.
Over to you: what are your top films featuring child actors and teenagers?
See more great lists about actors on Top 10 Films: Caine | De Niro | DiCaprio | Downey Jr. | Hanks | Hoffman | Streep | Roberts | Schwarzenegger | Oldman | Gandolfini | Freeman | Ford | Eastwood | Dreyfuss | Keitel | Woods