Neal Damiano heads to the highway to sample some of the best buddy road trip movies including Something Wild, Planes, Trains & Automobiles and Midnight Run.
10. Harold & Kumar Go to White Castle (Leiner, 2004)
A stoner comedy of epic proportions starring John Cho and Kal Penn, the two title characters go on an adventure to satisfy an insatiable craving for White Castle burgers. The mission is quite simple – drive on over to White Castle – but these two stoners can't seem to get out of their own way. Nothing is going to stop the two from satisfying the weed munchies with those classic mini burgers. They ride a cheetah. Their car is stolen by Neil Patrick Harris. It's all good fun.
9. Tommy Boy (Segal, 1995)
A lot of comedies are funny but not well written stories. Tommy Boy is an exception, if you took the comedy out of Tommy Boy it's still a compelling story and that is quite unique. The chemistry between David Spade and Chris Farley is undeniable – the odd couple routine just works perfect here. David Spade's character looks after Chris Farley as if he's a child and in many ways Farley's character is a child unable to take care of himself. Spade has an admirable respect for Mr Callahan with an endearing heart and promises to care for Tommy on their road trip.
8. Easy Rider (Hopper, 1969)
Easy Rider broke boundaries in film, shunning conventional ways. Despite no support from the Hollywood studios and a major backlash from the industry, Dennis Hopper and Peter Fonda went on to make the ultimate road trip film. Hopper and Fonda are two individuals living on the fringes of society. Armed with their motorcycle and backpacks they take to the road on a destination to Mardi Gras. Easy Rider has some of the most fascinating and vibrant moments – for example, the graveyard scene comes to mind. The use of camera, color, and lighting is incredible. With the exception of a very sad ending, Easy Rider is an amazing adventure on the open road from start to finish.
7. Thelma & Louise (Scott, 1991)
How about the ladies get their due and have a little fun outrunning the cops? While most of the movies on this list feature male buddies teaming up, this 1991 classic joined Susan Sarandon and Geena Davis as the famous outlaw partners. While simply looking for a break from routine and the cumbersome of their relationships, their fun goes south and they end up on the run from the law. It also introduced us to a young Brad Pitt, who has gone on to make some amazing films. Although the ending is incredibly sad in a victorious kind of way because you're cheering for these two "badasses" the whole film. It's a bittersweet ending, I don't think Thelma or Louise would have it any other way.
6. Sideways (Payne, 2004)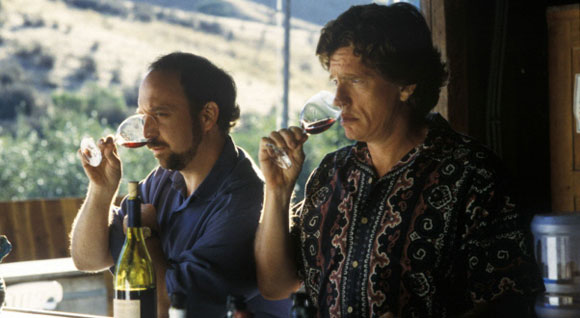 A quintessential road trip film. Two middle-aged friends, disappointed with their place in life, go soul-searching and drinking around California's wine country. Paul Giamatti plays a stumbling writer, while Thomas Haden Church plays a struggling actor that almost no one seems to recognize. They have an awkward but interesting chemistry through the movie. Thomas Haden Church is very entertaining as a smooth talking playboy and earned an Oscar nomination for Best Performance in a Supporting Role in Sideways. I feel he's a very underrated actor. Paul Giamatti's performance is outstanding and so human. His disappointment radiates through the screen and it's an interesting contrast to Haden's easy going nature. A very well written character-centered film.
5. The Sure Thing (Reiner, 1985)
The Sure Thing is one of my favorite films made in the eighties simply for the insane sexual tension between the two central characters played by John Cusack and Daphne Zuniga. Two college students forced by circumstances to travel cross country together. The contrast of Cusack's goofyness and Daphne Zuniga's strait-laced demeanor is funny to watch. On the surface they can't stand each other, but the sexual tension is obvious and very comical. The build up of a love / hate battle brewing in the atmoshpere is so thick you can cut it with a knife. The more obnoxious Cusacks character is the more Zuniga likes him. But this sassy over- achiever will never admit it.
4. Rain Man (Levinson, 1988)
I'm not a huge Barry Levinson fan but Rain Man is an exceptional film. Cruise plays Charlie, a cocky and self-centered jetsetter only concerned about fast cars and beautiful women. Charlie gets the rug swept out from underneath him when he finds out he has a long lost brother with autism. When Charlie realizes his late fathers will is left to Raymond. He sets out to find Raymond and act as his legal guardian. At first the motives are pure selfish and greed. As Charlie spends time with him developing a relationship he realizes there is more important things in life than money. The film truely has memorable quotes and iconic scenes.
3. Midnight Run (Brest, 1988)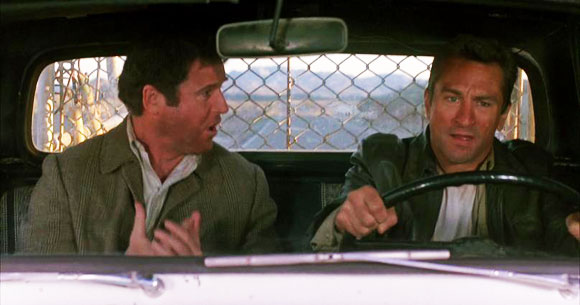 How's this for a storyline – an ex-cop turned bounty hunter is hired to capture a crooked accountant who steals a large amount of money from the mob. Midnight Run is a madcap, hilarious, fun ride. The pairing of De Niro and Grodin is almost too perfect. Mixing the grumpy demeanor of De Niro with the careless leisure of Grodin is pure brilliance creating a unique dynamic between the two. They argue back and forth like an old married couple. Both encounter their own personal fears together along the trip for example flying and swimming. Although not buddies in the conventional sense they do begin to respect each other. De Niro admiring the balls it took for Grodin to say screw the system. Grodin respecting him for choosing friendship over money.
2. Planes, Trains & Automobiles (Hughes, 1987)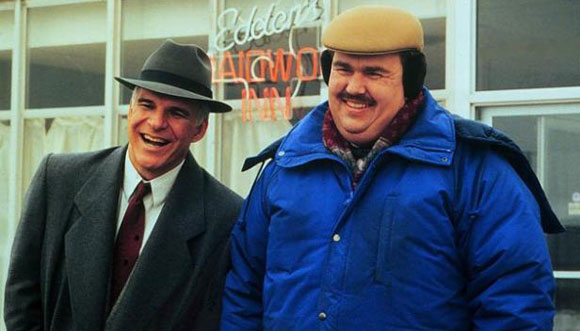 The ultimate Oscar and Felix homage, John Candy and Steve Martin play polar opposites traveling together over the Thanksgiving holiday. John Hughes wrote and directed an incredibly funny and entertaining road trip film. Steve Martin plays an uptight businessman, who is just trying to get home to his family for Thanksgiving. Due to a few unfortunate happenings he hooks up with an unlikely travel mate. John Candy plays a kind hearted aimless drifter who talks way too much. Undoubtedly, Candy gets on his nerves to no end but Martin's character has a soft spot for the man. Obviously, what makes the film is the dynamic between Martin and Candy but it's also a really good story – humorous, engaging, and at points sad. Hughes doesn't defer from the fact that they care for each other.
1. Something Wild (Demme, 1986)
This is one of my favorite films because of the amazing chemistry between Melanie Griffith and Jeff Daniels. Jonathan Demme directed a highly entertaining adventure of two complete opposites on a chance meeting finding love. Melanie Griffith gives Lulu a free spirit, who lives life with no restrictions. Daniels plays the opposite – a well mannered professional. One morning Daniels decides to catch a thrill by skipping on a breakfast bill. Lulu happens to be in the same diner and spots him out. The character of Lulu really makes the film because Griffith delivers this uncanny ability to bring out the wild side in anyone. Lulu takes him on a much needed adventure swaying him so far away from his conventional structured ways. In the process Daniels realizes it's quite fun and liberating to just let go. I enjoy these kind of films because the central characters learn so much from each other along the way. An absolutely thrilling and fun ride. I'm so glad the film is released on Criterion, well deserving.
Tell us: what are your top 10 buddy road trip films?
More Top 10s you might like:
Top 10 1980s Comedy Characters | Top 10 Films Featuring Terror On The Highway | Top 10 Road Trip Comedy Films | Top 10 Car Chases of All Time | Top 10 Buddy Films since 1980