Top 10 Films travels across the peaks and valleys of Wales to discover the most fascinating movie locations to visit. Films to have shot scenes in Wales include The Dark Knight Rises, Harry Potter & Captain America.
10. Capel Curig – Sherlock Holmes: Game of Shadows
The mountains – and the Ffynnon Llugwy lake – around Capel Curig in North Wales' beautiful Snowdonia region was used for Sherlock Holmes: Games of Shadows.
9. Brecon Beacons – Stardust
The Brecon Beacons get the chance to shine in aptly named Stardust as Yvaine treks with Tristan through the national park taking in the hills above Llyn y Fan Fach.
8. Caerphilly Castle – Restoration
An all-star cast but a largely forgotten 1995 film, historical drama Restoration enjoyed time at Britain's second largest castle Caerphilly in the South Wales Valleys.
7. New Quay – The Edge of Love
The Edge of Love, starring Keira Knightley and Sienna Miller took in an array of picturesque seaside views in and around the town of New Quay in West Wales.
6. Llanrhaeadr-ym-Mochnant – The Englishman Who Went Up A Hill But Came Down A Mountain
Hugh Grant stars in this 1995 film based on the story about the real village of Taff's Well in Rhondda Cynon Taff. However, to recreate the period setting, production occurred at the rural town of Llanrhaeadr-ym-Mochnant in mid Wales.
5. Llynnau Cregennen – Tomb Raider & The World Is Not Enough
This mountain region in Snowdonia has been used many times to represent distant locations, for example, Kazakhstan in Bond adventure The World Is Not Enough and China in Tomb Raider: The Cradle of Life.
4. Caerwent – Captain America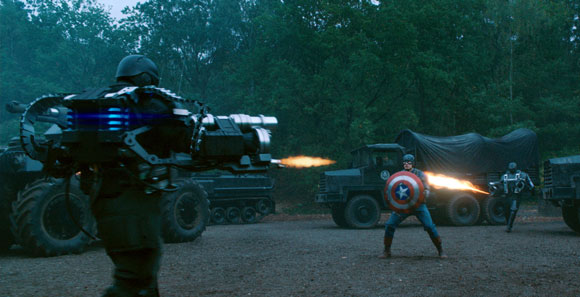 Hydra's compound was created out of an old military base between Newport and Chepstow. Witness Bucky's incarceration and Johann Schmidt's daring escape in this Welsh countryside location.
3. Freshwater West – Harry Potter and the Deathly Hallows
It isn't the first time Freshwater West has been captured on film in a major Hollywood production. And it won't be the last. When Dobby saves the gang from Malfoy Manor they are transported to a Cornish beach, only the beach isn't in Cornwall but on the Welsh coast in Pembrokeshire.
2. Crickadarn / Black Mountains – An American Werewolf In London
Lots of great on-location shots were filmed in Wales to represent the North Yorkshire Moors in England for John Landis' An American Werewolf In London. The pub in the fictional village of East Proctor (which isn't a real pub by the way) is in Crickadarn, six miles south of Builth Wells, while the moors scenes the two characters are seen hiking on were filmed around the Black Mountains.
1. Henrhyd Waterfall – The Dark Knight Rises
The Henrhyd Waterfall acts as the secreted doorway to Batman's cave and is located on the southern edge of the Brecon Beacons National Park.
Written and Compiled by Rory Fish