Neal Damiano charts the successes of Hollywood actor Vince Vaughn whose career has been populated by confident, self-assured best buddy-type characters.
10. Four Christmases (Gordon, 2008)
Instead of one Christmas, Vince Vaughn and Reese Witherspoon experience four. Our Top 10 Films of Vince Vaughn begins with this offbeat comedy about a couple come up with an elaborate plan to lie and tell their divorced parents they're on retreat volunteering for humanity. A thick fog cancels their traveling plans and they're forced to spend the holiday with both sets of divorced parents. Lots of comedy ensues as the two try to warm up to their parents. Vince Vaughn carries the film very well with his witty sarcasm but surprisingly Witherspoon is quite funny too. Of course Vaughn has that rare talent, where he bounces off his co-star's charisma so good.
9. Dodgeball (Thurber, 2004)
One of the funniest spoofs in the last ten years. Vince Vaughn plays a jaded owner of a rundown gym soon to be in foreclosure. He has 30 days to come up with $50,000. What does he do, assemble a team of Average Joes to enter a tournament. Standing in his way is his nemesis, an egotistical fitness freak played by Ben Stiller who is looking to put Vaughn out of business. What makes Dodgeball absolutely hilarious is that it's continuously funny all the way through. Due mostly to Vaughn and Stiller's rivalry performance because it's so outlandish and over the top you just have to laugh.
8. Return To Paradise (Ruben, 1998)
One of Vaughn's more intense performances Return To Paradise deals with some serious and deep issues. Intense drama centers around American's Joaquin Phoenix, David Conrad and Vince Vaughn, who embark on a wild vacation in Malaysia. Two years later, lawyer Anne Heche informs Vaughn and Conrad that Phoenix will be hanged on drug charges if they do not return to the country. Vaughn starts off his easy-go-lucky funny self but soon turns dark when his back is against the wall. It definitely tests his acting skill here and he succeeds.
7. The Locusts (Kelley, 1997)
Vince Vaughn plays a drifter who comes into a quiet town and gets involved with two local women played by Kate Capshaw and Ashley Judd. The Locusts is a really great steamy drama due to the chemistry between Vaughn, Capshaw and Judd. Inundated with forbidden passion and jealous obsession, the relationships lead to dangerous consequences.
6. A Cool, Dry Place (Smith, 1998)
This domestic drama features Vince Vaughn as a lawyer whose life unravels when he loses his job and his wife leaves him and their son. Hoping to start a new life Vaughn moves to Kansas and falls for a free spirit played by Joey Lauren Adams. He has to make tough decisions when his wife comes back into the picture. I feel this film really stretched out his acting ability because in most of his films there's a comedic element he can work with, here it's pure drama in which he leads the way.
Discover More Actor Top 10s:
Jeff Bridges | Buscemi | Cage | Cusack | De Niro | DiCaprio | Downey Jr. | Hackman | Keitel | Nicholson | Oldman | Rourke | Christian Slater
5. Old School (Phillips, 2003)
One of the funniest films of the 2000s Vince Vaughn and Will Farrell set the bar for hilarity with an extreme Peter Pan complex. Both struggle to move past the glory days of school and remain in arrested development. They decide to go back to college and start a fraternity. Will Farrell and Vince Vaughn have a childlike quality to them anyway, so to put them in a film like this is pure icing on the cake. Add in Luke Wilson and Jeremy Piven and you got yourself a party. They try desperately to do their Alma Mater proud but soon realize you can't look back in life. You have to keep moving ahead.
4. Made (Favreau, 2001)
Vince Vaughn returns with his sidekick John Favreau to make one of the funniest comedies in the last fifteen years. Favreau and Vaughan together have this uncanny ability to make absurd and dangerous moments really funny. Vaughan plays the obnoxious friend role very well and it's never more evident here. He relentlessly rattles and misguides Favreau through the entire film leading him into treacherous situations and then having to talk both their ways out of it. Again, Vaughn has that rich talent to make one keep coming back to rescue him. Vaughn's annoying and paranoid ways is what makes this film so great.
3. Wedding Crashers (Dobkin, 2005)
Like I have said many times you can pair Vince Vaughn up with anyone and it's guaranteed laughs. Vaughn and Wilson play a couple of charming con men just looking to score with desperate women. Many quotable lines from both Wilson and Vaughn, but what makes Wedding Crashers so funny is the many over the top and raunchy scenes due to Vaughn's comedic talent and timing. Like often Vaughn playing a character you want so bad to hate, but he's so funny you can't help liking him.
2. Swingers (Liman, 1996)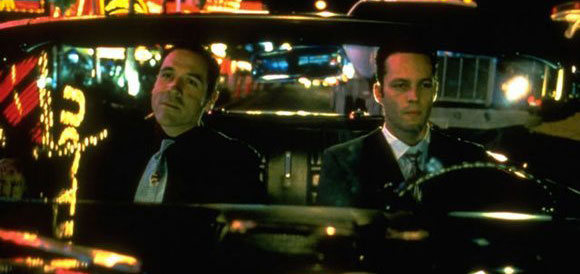 This is my second favorite Doug Liman film because of the teaming of John Favreau and Vince Vaughn. Favreau wrote an incredibly entertaining script, in my opinion Swingers is the most entertaining independent film to come out in the 90s. Vaughn is on full force as the obnoxious friend leading his best friend into all sorts of wild and sticky situations. We all know the incredibly catchy and funny quotable lines from Vaughn here but his ability to be a complete idiot but still be there for his friend is convincing enough to fall for his charm. From the opening scene to the ending, Vaughn is on and engaging us every frame totally contrasting with his depressed friend. But somehow they balance each other out taking us on an absolute hilarious ride through the Los Angeles bar scene. The great thing about Swingers is you find yourself actually really caring about these characters, to me that makes a great film.
1. Clay Pigeons (Dobkin, 1998)
I have to put Clay Pigeons at number one for the pure simple fact that it displays Vince Vaughn's acting ability like no other film. He stands alone in an extremely dramatic role and completely hits it dead on. Vaughn is both engaging and charismatic taking us on a thrill ride into his world. He often plays comedic roles posing no serious danger or threat. In Clay Pigeons he is completely transformed into a very dangerous, creepy sociopath and quite convincing. A very good script and acting from the entire cast, but Vaughn clearly shines bright as this offbeat slick cowboy. What makes Vaughn's acting performance so great here, is his ability to play a sleazy, unpredictable character and somehow remain extremely likable. Vaughn's charisma is so enthralling in Clay Pigeons making it such a fascinating film from beginning to end.
Tell us: what are your top 10 films of Vince Vaughn?
Check out some more great top 10s by Neal Damiano:
Top 10 New York Films
Top 10 Films of John Cusack
Top 10 Films of Ewan McGregor
Top 10 Films of Nicolas Cage