Currently Hollywood's most recognisable actress, the multi-talented Jennifer Lawrence has established herself as a diverse and dynamic performer. Ryan Pollard checks out her best work…
Described by Rolling Stone as "the most talented young actress in America", Kentucky-born Jennifer Lawrence has grown to become an accomplished actress of incredible feats ever since her breakout in 2010's Winter's Bone. Since then she has become an X-Man, a revolutionary archer, and an Oscar winner. She has caught the attention of David O. Russell, appearing in three of his films (Silver Linings Playbook, American Hustle and the upcoming Joy) and demonstrating that, despite his reputation of driving his actors mad, she's more than a match for the controversial director. Perhaps her most recognised of roles being that of Katniss Everdeen, who has, because of Lawrence's breathtaking performance, become both a cinema icon and an important role model of out times. Not bad Lawrence. Not bad at all. Now, we're going to be looking back at Ms. Lawrence's big-screen career as we go through the top 10 Jennifer Lawrence performances.
10. House at the End of the Street (Mark Tonderai, 2012)
Taking a stab at the horror genre, this psychological thriller may not have set the world on fire after receiving a poor reception, but Jennifer Lawrence's performance in it was something that wasn't to be underestimated. Playing a young woman who makes a connection with a mysterious young man who maybe more dangerous than he seems, Lawrence gave it her all to make sure that the character of Elissa Cassidy was not your stereotypical cookie-cutter role. She brought a real believability to the character, and knew how to make audiences feel her connection to her mum and her new crush, as well as her fears when things go awry.
9. The Beaver (Jodie Foster, 2011)
A supporting role in a Mel Gibson puppet-beaver movie was likely never going to be a standout performance for other actors, but in the hands of this accomplished actress, the character of Norah rarely fades into the background. A popular girl whose life is not as simple as it may appear, she turns to the son of Mel Gibson's character to write her valedictorian speech. Ultimately culminating with her speech, this flawed dramedy sees the actress not going for the OTT theatrics most movie speeches devolve into, and instead gives us the impression that she was working out some sort of inner monologue.
8. Like Crazy (Drake Doremus, 2011)
Playing the other girl in another couple's love story can often be a thankless job, which is why giving Jennifer Lawrence the role of Samantha was a masterstroke for this film's casting department. Starting a relationship with the male lead during an off-period for the romantic drama's main couple (as played by Anton Yelchin and Felicity Jones), she may not have been destined to keep the man, but still he must have been a bit crazy not to try and make things work out with her.
7. The Burning Plain (Guillermo Arriaga, 2009)
Sharing a role with Charlize Theron may have been a daunting task, but there's zero hint of doubt in this impressive turn. Even if she was still in her teens, Lawrence was able to bring a multi-faceted performance as a young woman, whose anger at her mother's infidelity, motivates her to actions that haunt her for the rest of her life. Shifting from anger to guilt and self-loathing at incredible speed, Jennifer steals the spotlight from anyone she shares scenes in this drama.
6. The Poker House (Lori Petty, 2008)
Playing the oldest of three children whose life has been rife with constant abuse and neglect, The Poker House perfectly displayed Lawrence's ample potential in powerfully raw acting, which had brought her universal acclaim in the years that followed. Falling for her mother's pimp, her character, Agnes, strongly believes he loves her back, despite his highly abusive behaviour towards her mother. Jennifer brought a real maturity to her first leading role, yet maintained just enough innocent childish behaviour to make her young teen role believable.
6 Reasons You Never Want To Work With "American Hustle" Director David O. Russell
5. The X-Men prequel trilogy (Matthew Vaughn and Bryan Singer, 2011-2016)
Taking over a role that was previously defined by smouldering looks and killer acrobatics, Lawrence took the character of Raven Darkhölme/Mystique to a more nuanced and developed place in the prequels to the original X-Men trilogy. In fact, it's arguably her character arc that has defined the 2011-2016 X-Men movies as she's ultimately the person whose loyalty Xavier and Magneto both desire to win. Her character always keeps us guessing as she seems poised to fall on either side of the battle at a moment's notice, and that takes a true actor to make that balancing act honest and real.
4. The Hunger Games series (Gary Ross and Francis Lawrence, 2012-2015)
When the decision was made to adapt Suzanne Collins' The Hunger Games book trilogy into a film series, it was apparent that above all else that the woman chosen to play the defiant Katniss Everdeen would be the one most responsible for their success or failure. Fully embodying the mind and soul of a young woman who would serve as a symbol for the citizens of Panem to rally behind, it's thanks to these films that we completely understand why Lawrence as Katniss would inspire so many people to stand behind her. Lawrence has the fire to fuel Katniss' fierce loyalty, as well as her melancholic determination to do what's right, despite how bad things get as a result. It's little wonder audiences are eagerly anticipating the final instalment of the series Hunger Games Mockingjay Part 2 which you can see at your local CineWorld.
3. American Hustle (David O. Russell, 2013)
Playing the unstable wife of a con-artist, who alternates between threatening to get him busted to jealousy at the budding relationship between her husband and his business partner, Lawrence's Rosalyn Rosenfeld comes off as the kind of crazy that still manages to pull you in. Dangerous but enticing, her turn in this crime-caper earned her another chance to ascend the stairs to the Oscar's podium thanks to an Academy Award nomination, as well as a BAFTA award for Best Actress in a Supporting Role, both of which were well-deserved.
2. Winter's Bone (Debra Granik, 2010)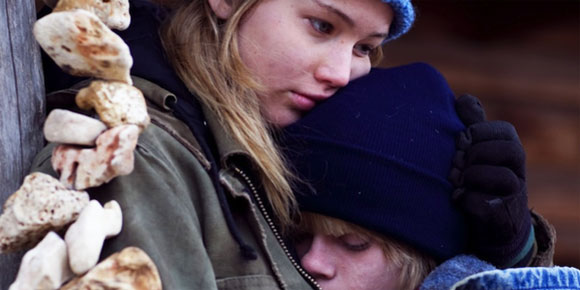 A star-making performance that earned her an Oscar nomination and served as her breakout introduction to most of the world, Ree Dolly was not a character for the weak of heart. A young woman who has spent her life caring for the family her father ignores, she bravely searches for her missing parent in a world of violence and fear. Delivering tenacity and gravitas in spades, Lawrence made us believe in this person whose relying on her ability to be taken seriously as a fierce spirit despite how young she is. In the words of Rolling Stone, Lawrence's performance was more than acting, it was a gathering storm, and that was what made Granik's Winter's Bone one the most surprising films of 2010.
1. Silver Linings Playbook (David O. Russell, 2012)
Her sole role so far that, not only had earned her an Academy Award nomination, but also a trip to the winner's circle in this romantic comedy/drama in which she plays a young widow and an inspiring dancer, who manages to attract both Bradley Cooper and audiences everywhere. A performance that seems to have earned her a permanent place in David O. Russell's acting troop as well, the actress reportedly said that it was her initial lack of understanding of the character that excited her the most about Tiffany Maxwell, yet it was Lawrence's knockout, scene-stealing performance that excited us the most.
That's my top 10, but do you agree? What were your personal favourite Jennifer Lawrence performances?