In the history of film, there have been a litany of memorable lines. With amazing screenwriters like Woody Allen, Robert Towne and James Cameron (just to name but a few) the movie line is something that when done right, stays with you.
There are movies lines that have been revered for almost 100 years and there are some classic movie lines that have been around for no more than perhaps half a decade. There is a movie website I frequent that consists of other movie nerds like me. It also has some members who work in Hollywood and we used a panel of 11 people of all different ages, ethnicities, professions and backgrounds to come up with the 10 best movie lines of all time. We started with a list of 500, got it down to 100 and now for the purpose of this site, here are the ten best movie lines of all time.
10. Here's JOHNNY!
The Shining (1980): Screenplay by Stanley Kubrick and Diane Johnson, based on a novel by Stephen King

Stanley Kubrick had been looking for months for his next project. His wife could hear him in his study, day in and day out, scouring through books. He'd read for 15 minutes and then toss them aside, disgusted. He couldn't find what he was looking for. Then one day, as recounted by his wife, she didn't hear anything out of the room for hours. It turns out that when Kubrick started reading The Shining, he was intrigued with it right from the beginning. Years later, Stephen King would say that this shocked him as "nothing happens for the first 50 pages or so."
Kubrick would go on to write the screenplay for The Shining and what resulted was one of the most loved, revered and lionized horror films in film history. For the role of Jack Torrance, Robert DeNiro, Harrison Ford and Robin Williams all read for the part. Kubrick dismissed all of them because he didn't think they were psychotic enough for the part. The line "Here's Johnny" was ad-libbed by Nicholson as an obvious reference to The Tonight Show with Johnny Carson. Kubrick, who lived in England, didn't know the significance of the reference and almost didn't keep it in the film. In later years, Johnny Carson actually used Nicholson's scene as an intro to his show.
Discover More: Top 10 Films of Stanley Kubrick
9. No. I am your father
The Empire Strikes Back (1980): Screenplay by Lawrence Kasdan and story by George Lucas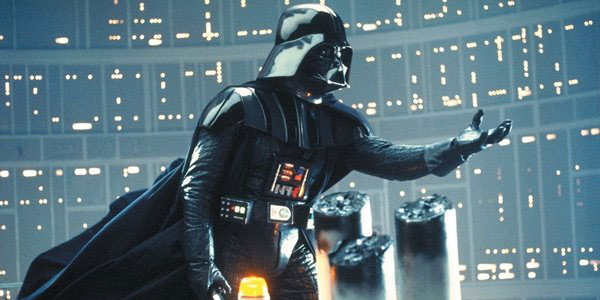 Of the top ten lines of all time, as voted by the panel, 7 of them were unanimously voted on. This is the first one in the top ten to have everyone's vote. This film was originally panned by critics when it first came out. It has gone on to be considered one of the best films ever made and by far the best Star Wars film. Sometimes you just have to let films simmer and over time, they get the praise they deserve. The line that Vader says to Luke, after he cuts his hand off, might be the biggest shock in motion picture history. There was literally a veritable wave of shock that engulfed crowds when they first sat down to watch the film. Back in 1980, there was obviously no social media to spread plot points. So this secret was maintained for much of the film's run. There's a scene in Chinatown and perhaps one in The Sixth Sense that might be able to be spoken about in the same realm as this one, but nothing could surpass it. Darth Vader is the personification of evil. Luke is as good as apple pie and puppy dogs. To have Vader be his father was something so unfathomable that it was not conceivable to many film goers. Return of the Jedi, 3 years later, confirmed this to be true but for that one moment in film, it sent shock waves through and through.
8. We're not in Kansas anymore
The Wizard of Oz (1939) Screenplay by Noel Langley, Florence Ryerson and about a dozen others

This might be the most repeated line in cinematic history. I have nothing to back this up, but this line has grown to mean much more than just Dorothy telling Toto that they are no longer in Kansas. It's a line used by people to express shock or to express confusion. It's the classic way to express that you are the fish out of water. For example, going from high school to college, one might say, "We're not in Kansas anymore". Films like The Matrix have used it and there was even a pilot for the new 90210 television series that used the line as their title. It's a line that has permeated into pop culture, science, politics, geography and everything in between. AFI named it the 4th best movie line of all time. In fact, lines from The Wizard of Oz can be heard in films like Field of Dreams, Titanic, Twister, Spaceballs, Who Framed Roger Rabbit, Avatar and many others.
7. I'll be back
The Terminator (1984) Screenplay by James Cameron and Gale Anne Hurd

Arnold Schwarzenegger in 1984 was still relatively unknown to the general population. While he was a world champion bodybuilder and two years earlier had made his first big splash as the lead in Conan the Barbarian, most people didn't know he existed. That changed when James Cameron cast him as a relentless, monotone, implacable cyborg hunter-killer in his sci-fi thriller The Terminator.
While the role is more of a moving statue than actual character, audiences everywhere experienced the pure presence Arnold brought to the screen. It was a scenario where his limited inflection and acting range at the time was a bonus, because it only reinforced the terror of the Terminator. There was no showboating, no elaboration, this was a guy who had a job and who would accomplish it matter-of-factly, with no concern for collateral damage. This line is a perfect example of the terror and brilliance of the Terminator.
Having tracked Sarah Connor down to a police station, the killer machine attempts to gain access via duplicity, only to be rejected for bureaucratic reasons. The Terminator tells the desk officer simply that he'll be back. Less than a minute later he indeed is back, crashing a car into the station as the kickoff to an unstoppable rampage that leaves tens cops dead or wounded. AFI ranked this line as #37 of all time.
6. Frankly my dear, I don't give a damn
Gone With the Wind (1939) Sidney Howard screenplay.

Some movies are truly larger than life and explode off the screen in every which way and endure in our social consciousness. 1939 was quite likely the first year to have such an experience, in this case having two films of that character: The Wizard of Oz, and this movie. Set in the heartland of Georgia from the antebellum years through a patch of Reconstruction, Gone with the Wind is a story of the destruction of a way of life and the efforts of a selfish, entitled young aristocratic woman to hold onto everything she desires through all the tribulation. As much as it is a chronicle of the death and rebirth of the Deep South it is also a story of a battle of romantic wits between protagonist Scarlett O'Hara and the dashing smuggler turned war hero Rhett Butler as they chase and pursue one another through the years. They are two characters who are so similar yet also so different, since in the end Rhett, for all his cynicism and bluster, is a romantic and faithful man, whereas Scarlett remains purely self-centered. Their battles and struggles come to a head as Rhett finally realizes that Scarlett will never love her as much as himself and he walks out on her. With the rest of her life in shambles even as she has succeeded in wealth and station, Scarlett asks Rhett what she will do without him as well, provoking this response, a powerful sentiment that has echoed with embittered spouses and significant others through the decades. The AFI ranked this as the greatest movie line of all time, because of how it has endured to the present day.
5. I'm gonna make him an offer he can't refuse
The Godfather (1972) Screenplay by Mario Puzo and Francis Ford Coppola

The Godfather has a litany of famous lines, this one is its most revered. Adapted from Mario Puzo's blockbuster pulp novel about an Italian-American crime family's rise to power and its fight to stay on top, The Godfather remains one of the most beloved films in American history due to its vibrant, deep characters and the brilliant performances that shaped them. At the top of that character list is, of course, the title character himself, a man of many layers who can be a caring family man, an honorable, neighborhood protector, and an utterly ruthless businessman and criminal. As we see through the early part of the movie, The Godfather's approach is to first create a potential obstacle like a businessman, reaching out with friendship and mutually beneficial arrangements. If that fails however, he easily turns to the other side of the coin, a terrifying intimidation that shows the target the possible consequences of noncompliance. This line stems from a conversation the Godfather has concerning a Hollywood mogul who is out to ruin the professional career of his godson. The Godfather decides to settle the matter by offering the mogul something he couldn't possibly deny. It is only later, after the initial overture is rejected, that we learn the real meaning of the phrase, as the mogul wakes up to find his most prized possession, a legendary racehorse, decapitated in his bed. The "offer" he can't refuse is not one that will bring him success, but one that will spare him destruction. The AFI ranked this as the #2 movie line of all time.
4. You're going to need a bigger boat
Jaws (1975) Screenplay by Carl Gottlieb and Peter Benchley

First of all: Peter Benchley's original novel, first published in 1974, is not very good, some would say. What it has going for it, however, is one hell of a hook: a man-eating great white shark attacking beach-goers at a small resort town. When Steven Spielberg was brought in to direct the film adaptation, he instantly recognized both of those things, and as a result, his film is a masterpiece of storytelling, one in which nothing is superfluous and not a single second is wasted. Getting there, however, was incredibly difficult, even before we take the infamous mechanical shark into account.
Benchley himself wrote three drafts of the screenplay, changing things that Spielberg suggested (notably, an affair between Ellen Brody and Matt Hooper was thankfully gone at this early stage); after that, at various points, Tony- and Pulitzer Prize-winning playwright Howard Sackler, comedy writer and actor Carl Gottlieb (who largely rewrote the film while it was already shooting and also has a small part in the film), John Milius, Sugarland Express writers Matthew Robbins and Hal Barwood, Spielberg himself and actor Robert Shaw all worked on the final screenplay. (Benchley and Gottlieb are given the official credit in the film).
Yet none of these men was responsible for the one line of the film that ultimately became, by far, the most iconic and celebrated. Perhaps we could actually give the mechanical shark some of the credit for this one: since it didn't work for so long, Spielberg could mostly only suggest its presence for the first 60% or so of the film, and when the beast finally appears in all of its glory, it sends chills down your spine even if you've already seen it a dozen times. When the film came out, the audiences reacted with screaming, and before that, all the way back when the scene was being shot, Roy Scheider came up with one of the most inspired ad-libs in film history. "You're gonna need a bigger boat" became as ingrained in collective consciousness as very few lines before or after it, ending up as a go-to response to virtually any problem that turned out to be bigger and more ominous than originally assumed. The AFI named it the 35th greatest line of all time.
Discover More: Top 10 Films of Steven Spielberg
3. You can't handle the truth
A Few Good Men (1992) Screenplay by Aaron Sorkin

Aaron Sorkin wrote the screenplay and it was based on his own stage play. "You Can't handle the truth" was voted #29 by the AFI. Rob Reiner has said that Jack Nicholson would do this speech tirelessly and perfectly every time he asked him to do it. There were times Reiner required him to do it off camera so that he could just film the reactions from the other cast members.
According to Reiner, Nicholson did it with just as much energy every time. Reiner asked Jack why he put so much passion even into takes that were no being recorded and Jack responded (read this in Jack's voice) "I love to act Rob. I love to act."
An interesting but disturbing piece of information about the film is that the idea is based off an unsolved murder. Lance Corporal David Cox and 9 other marines tied up another marine and took turns beating him for 30 minutes because he "snitched" to the NCIS. He was later honorably discharged and acquitted of any wrong doing. However, he disappeared a short time after and then his bullet riddled body showed up three months later. His murder remains unsolved.
"You can't handle the truth" has become one of the most well known and repeated lines of films made in the last 20 years. And as long and illustrious a career as Jack Nicholson has had, it was this line that might be his best remembered piece of dialogue that he has ever spoken. The screenplay was nominated for a Golden Globe.
2. You talkin' to me?
Taxi Driver (1976) Screenplay by Paul Schrader

As far as cinematic character studies go, Martin Scorsese's Taxi Driver is nearly unbeatable, and as far as film characters go, Travis Bickle remains one of the greatest and most fascinating to ever appear on the screen.
As written by Paul Schrader and performed by Robert De Niro (both of whom received Oscar nominations and deserved actual Oscars for their work), Bickle is a tragic and scary product of his environment – a Vietnam veteran who, after the war, is left for a lost, lonely, sleepless life in the depressed, despair-filled and crime-ridden New York. As both anger and confusion build up in him, his desire to "do something" leads him to purchase several guns, after which he tries to imagine a confrontation that would give him a chance to fire. Travis' iconic monologue in front of the mirror has been emulated and considered "badass" – i.e., completely misunderstood – by a fair share of viewers (one of whom, as is well-known, went as far as to attempt to assassinate Ronald Reagan in order to impress Jodie Foster), but it's much easier to convincingly argue that it's at once the most tragic and disturbing scene in the film. Coming from Bickle, "You talkin' to me?" is undeniably confrontational and indicative of his desire for violence, yet, on a deeper level, it's also a desperate desire for some – any – kind of genuine human connection.
Paul Schrader does not take credit for the line, saying that his script only read, "Travis speaks to himself in the mirror", and that De Niro improvised the dialogue. However, Schrader went on to say that De Niro's performance was inspired by a routine by "an underground New York comedian" whom he had once seen, possibly including his signature line. In his 2009 memoir, saxophonist Clarence Clemons said De Niro explained the line's origins when Clemons coached De Niro to play the saxophone for the movie New York, New York. Clemons says De Niro had seen Bruce Springsteen say it onstage at a concert as fans were screaming his name, and decided to make the line his own.
Taxi Driver won the Palme d'Or at the 1976 Cannes Film Festival and remains one of the most celebrated films ever made, American or otherwise. In 2012, Sight & Sound magazine named it the 31st best film ever created on its critics' poll, and the 5th greatest film ever on its directors' poll. "You talkin' to me?" was voted the 10th greatest line of all time by the AFI.
Discover More: Top 10 Films of Martin Scorsese
1. May the force be with you
Star Wars (1977) Screenplay by George Lucas

The expression has achieved cult status and is symbolic of the Star Wars legacy. In today's world, "May the force be with you" is just part of our vernacular. But in 1977, George Lucas wrote something that sounded foreign to many of his actors. Sir Alec Guiness thought much of the script for A New Hope was hard to say because it was so hokey. Harrison Ford is on record as saying that Lucas wrote a brilliant script but no one but George knew it at the time.
The famous line is first said by General Dodonna after explaining the plan to attack and destroy the Death Star and then again by Han as he says it to Luke before he leaves for the battle. The AFI selected it as the number 8 line of all time. There is even an expression that says, "May the 4th be with you."
The force is originally described by Obi Wan as an energy field that is created by all living things, that surrounds and penetrates all living beings and binds the galaxy together. The force can be used for good but there is also a dark side to it and this is fueled by anger, jealousy, fear, lust and hate. The Jedi are supposed to use the force for peaceful purposes but the Sith obviously doesn't see it that way.
Lucas attributed the origins of the "force" to a 1963 abstract film by Arthur Lipsett which sampled it from many sources. The history of Star Wars is famous as it was delayed for months. Originally it was set for release in December of 1976 but the special effects were not ready. In fact ILM was basically inventing special effects and Lucas and 20th Century Fox had no choice but to delay the film until May of 1977.
In February of 1977 Lucas screened an early cut of the film for Fox executives and several of his director friends. Some of the eventual changes that had not been made yet included David Prowse's voice for Vader, most of the special effects were not finished, hand drawn arrows took the place of laser beams and when the space battles were to take place, Lucas cut to old footage of dog fights in WWII.
The reaction from directors like Brian DePalma, John Milius and Coppola was disappointment. Spielberg seemed to be the only one who enjoyed it and could see what Lucas was going for. But shockingly, the Fox executives loved it. Alan Ladd, Lucas' greatest supporter from the beginning of the film, loved it and Gareth Wigan told Lucas that it was the greatest film he had ever seen and he openly wept as the film ended. This gave Lucas a vote of confidence.
When the film was finally released on May 25th, well, we all know the rest. Vader, Princess Leia, jedis, TIE fighters, lightsabers, wookies and wishing us that the force be with us, all became part of our vernacular and almost 50 years later, it still is. Star Wars isn't just a film, it's part of our culture. "May the force be with you" makes our poll at number 1.
There are literally 100's of movie lines that could have made this list. We chose 500 and these are the top ten. What are some other iconic lines that could have or should have made this list?
Discover more great movie lines as Dan discusses the top 100 here.
Written and Compiled by Dan Grant.