The proverbial iron horse has popped up in many a cowboy movie – and sometimes to great effect. Mark Fraser looks back at a fistful of Westerns in which a train has made a significant contribution to the unfolding drama.
10. The Hunting Party (Don Medford, 1971)
Sadistic cattle baron Brandt Ruger (Gene Hackman) – along with the assistance of some hookers – entertains a group of his rich friends aboard a private decked out train as they embark on a two week hunting trip. Their attention quickly turns from game to a gang of cattle rustlers however, after its leader Frank Calder (Oliver Reed) kidnaps Ruger's wife Melissa (Candice Bergin) so she can teach him to read. To add a bit of spice to the proceedings, the rancher and his cronies use new high powered state-of-the-art long range rifles in the hunt – a strategy which ultimately leads to plenty of violent carnage as members of this self-appointed posse pick off their victims from a comfortable distance.
Discover More: Top 10 Films of Gene Hackman
9. High Noon (Fred Zinnemann, 1952)
Three gunmen (Lee Van Cleef, Sheb Wooley and Robert J Wilkie) – and the rest of the folk in the New Mexican town of Hadleyville – await the arrival by rail, at high noon, of released criminal Frank Miller (Ian MacDonald), who is looking to kill retiring lawman Will Kane (Gary Cooper) for helping put him in gaol. The train itself is not really the centre of attention here, with director Fred Zinnemann instead focusing on the build-up of nervous apprehension in the community as its sullen (and mostly cowardly) members prepare for the inevitable showdown between good and evil. Italian director Sergio Leone paid a marvellous homage to this scene during the opening credits of his seminal 1969 Spaghetti Western Once Upon a Time in the West (see below).
Discover More: Top 10 Unmissable Movie Beginnings feat. Once Upon a Time in the West
8. Butch Cassidy and the Sundance Kid (George Roy Hill, 1969)
A train robbery doesn't go the way the Hole in the Wall gang plan it when they destroy a whole carriage – and disperse its cash contents – after Butch (Paul Newman) uses too much dynamite while trying to blow open a safe. It's at this point that another train arrives on the scene, this one carrying the super posse which has been hired by Union Pacific Railroad to hunt the outlaws down.
7. Geronimo: An American Legend (Walter Hill, 1993)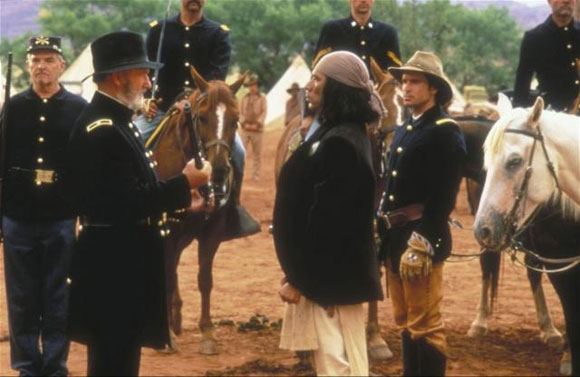 Having capitulated to the US cavalry, Geronimo (Wes Studi) reflects upon losing his power to the "white-eye" as he and a group of captured Apaches are transported by cattle car to their reservation. In what is arguably one of the movie's most poignant moments, the final credits roll as – in a prolonged single shot – their train lumbers off into the desert-scape distance. If anything, this final composition seems to be a nod to the closing seconds of John Ford's 1962 classic Western The Man Who Shot Liberty Valance.
6. (TIE) The Good, the Bad and the Ugly (Sergio Leone, 1966)
It's not until "the Bad" Tuco (Eli Wallach) boards an armed Union train as he is being escorted to the authorities by the vicious Corporal Wallace (Mario Brega) that the audience gets its first real hint of the epic ambitions of this audacious Spaghetti Western. It also helps set up one of the film's most violent moments when Wallace's limp body is dragged along the tracks beneath another passing train as Tuco completes his escape.
Discover More: Top 10 Best Supporting Actors Who Were Completely Snubbed By The Academy Awards feat. Eli Wallach, Clint Eastwood, Robert Ryan & Gary Oldman
6. (TIE) My Name is Nobody (Tonino Valerii, 1973)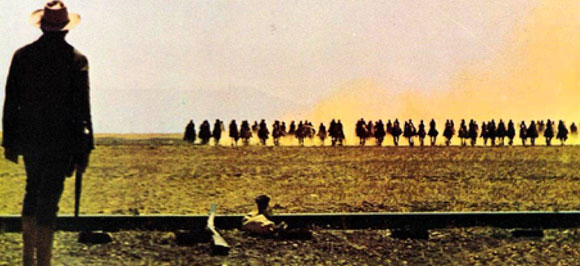 Nobody (Terence Hill) effortlessly steals a steam locomotive and a few carriages so he can force retiring gunfighter Jack Beauregard (Henry Fonda) into carrying out one final legend-making act – that being to single-handedly take on the 150 strong horse riding Wild Bunch in the middle of the desert. A strangely poetic homage-laced moment in what is ultimately a well-executed comedy.
Discover More: Top 10 Performances by Actors Over 60
______________________
Top 10 Movie Train Rides To Avoid
______________________
5. Breakheart Pass (Tom Gries, 1975)
There are all sorts of shenanigans going on aboard an army supply train en route to a military garrison in the mountainous wilderness of California circa the 1870s, including sabotage, murder and a plot to steal some gold. As undercover agent John Deakin, Charles Bronson may ultimately help save the day, but his formidable presence doesn't prevent the spectacularly crushing demise of a group of soldiers after their uncoupled carriages (along with the caboose) hurtle back down the mountain track and crash into a ravine below.
Discover More: Top 10 Films That Prove Charles Bronson Was A Legitimate Character Actor / Top 10 Films That Killed Charles Bronson's Career
4. How the West Was Won – The Outlaws (Henry Hathaway, 1962)
While acts four (The Railroad, directed by George Marshall) and five (The Outlaws) of this sprawling epic Western feature railroads, it's the latter one – set in 1889 – that stands out, effectively ending the movie with a spectacular bang as marshals Zeb Rawlings (George Peppard) and Lou Ramsey (Lee J Cobb) try to stop Charlie Gant (Eli Wallach) and his gang of outlaws from hijacking a freight train and stealing its large shipment of gold.
3. The General (Buster Keaton and Clyde Bruckman, 1926)
According to English academic and author Jeffrey Richards, the core legendary cowboy era was from the end of the American Civil War (1865) until the 1880s. Given this, it could be argued that The General technically doesn't belong on this list. However, with the inclusion of The Good, the Bad and the Ugly (above) – in which the Union-Confederate conflict ends up playing quite an important part in the narrative – a blurring of the guidelines in this instance is wholly justifiable, particularly as this Buster Keaton vehicle is so damn good. From the authentic costumes and Mathew Bradyesque compositions to Keaton's audacious and beautifully timed comic performance (which includes some breathtaking stunt work at the front of the titular locomotive), this is undeniably one of silent Hollywood's true masterpieces.
2. The Wild Bunch (Sam Peckinpah, 1969)
In an effort to make one last score before backing off from its outlaw life, the eponymous bunch pulls off a spectacular arms shipment heist from a military train while being pursued by a group of degenerate bounty hunters and, for a brief moment, the army. One of the true high points in Sam Peckinpah's jagged oeuvre.
Discover More: Top 10 Crime Gone Wrong Films
1. Once Upon a Time in the West (Sergio Leone, 1969)
After French-born composer Edgard Varese (1883-1965) relocated from his home country to the United States during 1916, he marvelled that in Europe railways were built to connect the cities, whereas in the US cities were built as links in the rail chain. In essence, this sums up Leone's Once Upon a Time in the West given it more or less shows how modern civilisation was established across the American continent thanks to the efforts of some ruthless railroad companies. Film writer Danny Peary hit the nail on the head when he said this epic iron horse opera was "beautifully shot, incredibly ambitious, compelling, erotic, humourous, perfectly cast and wonderfully scored".
Written and Compiled by Mark Fraser
You may also like to read: Top 10 Movie Train Rides To Avoid