James Horner passed away as the result of a plane crash, in Southern California, on June 22nd. He was 61. A prolific composer, Horner worked with some of the biggest names in Hollywood throughout his 30+ year career, including James Cameron, Mel Gibson, and Ron Howard.
With such a prolific output, narrowing his work down to the 10 best proved an exceptionally difficult task, particularly because music is possibly even more subjective than cinema in many ways. However, as a tribute to the man's legacy – a legacy which encompasses a generation of film fans, by the way – we've done our best to place the top 10 films to feature a James Horner score. This is, of course, by no means definitive, so please let us know your own selections in the comments below.
10. Jumanji
Although it's sadly dated in terms of its visual effects, this Robin Williams action/adventure film is elevated by Horner's appropriately brassy score.
9. Legends Of The Fall
While I can't say the film itself is all that great, Horner's work here is sublime, as he essays the melodrama and tragic romance of Edward Zwick's tortured emotional wreckage with ease. Although not as "hummable" as many of his other pieces, Horner's ability to encumber the visuals with resolute emotive content cannot be more clear than it is here.
8. The Mask of Zorro
Much like The Rocketeer, Horner's score for The Mask Of Zorro – directed by Martin Campbell – is a blast of Sunday afternoon adventure fun, and I stand by my statement at the time that the film's climactic explosion cue is equal to Horner's famous Aliens motif.
7. The Rocketeer
An early 90's classic, The Rocketeer's adventure-fantasy tone was amplified by Horner's eminently hummable score. While the film didn't do quite as well at the box-office as it would later in home video, Horner's score isn't the film's weakest element – if anything, it's the strongest. As close to an Indiana Jones score from somebody who isn't John Williams.
6. Willow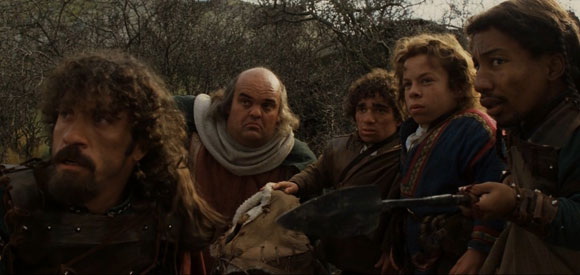 As a kid, I grew up watching Willow on VHS, repeated over and over. Although time hasn't been kind to the film's overall appeal, Horner's score remains the beating heart of Willow's cross-country narrative.
5. Star Trek II: The Wrath of Khan
If it did nothing else, it gave us a reason to follow Horner's career more closely. Pulsating, malevolent, iconic Trek film has a score to match, and the film's success rides equally well on Horner's work as it does the cast and direction.
4. Apollo 13
One of Ron Howard's most exciting films, it's also one of the best works of James Horner, who gives us the terror, the excitement, the nail-biting finale to one of history's most "can't believe it" true stories.
3. Braveheart
I really don't need to say much about that hasn't already been said. Braveheart is possibly Horner's most recognizable work after Titanic. Majestic, inspired, heartbreaking.
2. Aliens
The story of Horner's work on Aliens has become the stuff of Hollywood folklore. With James Cameron still editing the film down as Horner was hired, the timeframe for the film's scoring became so compressed, it was composed from start-to-finish in only five weeks, an astronomically impossible achievement for a major film such as this. And if the score's iconic anvil-clanking finale proved, it would endure in pop-culture forever.
1. Titanic
An exceptionally powerful piece of film composition, Horner captured the romance, heartache and tragedy of this Oscar-winning film. Although the film's title song, "My Heart Will Go On", has become a poster-child for annoying earworm tunes since, the score for the film itself remains an achievement amongst the very best the industry has ever seen. Little wonder it became the highest selling soundtrack of all time, and snagged Horner an Academy Award for his trouble.
****
Honorable mentions to A Beautiful Mind, Krull, Field Of Dreams, Glory, Deep Impact and Apocalypto, all of whom could have had a place here if twenty fit into ten.