Adapted from the Nick Hornby book A Long Way Down, Pascal Chaumeil's film is a lightweight depiction of a heavy subject which manages to warm hearts despite its cold realisation of human fragility…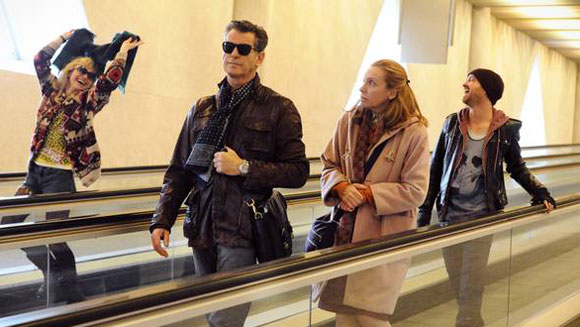 While being wholly implausible Pascal Chaumeil's film adaptation of Nick "High Fidelity" Hornby's 2005 book has a delightful, lightweight charm that satisfyingly glosses over its flimsy, somewhat dismissive depiction of attempted suicide. That such a dark, downbeat subject should be the guiding premise of what turns out to be a feel-good comedy-drama is telling of director Chaumeil's principle reason for making A Long Way Down. This isn't a film about death, it's a film about life.
While there's a nagging feeling such a frivolous approach to a weighty subject belittles the film's emotional relevance, its focus on companionship and sense of hope and happiness is where A Long Way Down scores most of its points. There's also four delightful performances from the cast (made up of Pierce Brosnan, Aaron Paul, Toni Collette and Imogen Poots) whose idiosyncrasies offer a likable group of mismatched lost souls.
A film that will divide audiences because of its subject matter, A Long Way Down nevertheless finds a way to warm hearts in spite of the cold realisation of human fragility.

Directed by: Pascal Chaumeil
Written by: Jack Thorne
Starring: Pierce Brosnan, Toni Collette, Imogen Poots, Aaron Paul
Released: 2014
Genre: Comedy-Drama
Country: UK / IMDB