Bemoaning Hollywood's penchant for remaking films that don't need remaking is a common and fair criticism. But sometimes Tinseltown has made a remake that's better than the original…
10. Invasion of the Body Snatchers (Kaufmann, 1978)
A difficult one as the 1956 version of Invasion of the Body Snatchers has its fans. However, the strong cast (which includes Donald Sutherland, Brooke Adams, Leonard Nemoy, Veronica Cartwright and Jeff Goldblum) and grimy, gritty aesthetic that director Philip Kaufman utilises makes the update slightly more appealing and, importantly, frightening.
9. EdTV (Howard, 1999)
Ron Howard is a crowd-pleaser. He's made a career out of making commercially successful movies that win both audience favour and hearts. EdTV was therefore a bit of a misstep for the director of such hits as Apollo 13, The Da Vinci Code and Rush, falling foul of the critics' wrath and failing to set the box office alight. But it's always been a favourite of mine from the 1990s. It takes the essence of 1994 Canadian French-language film King of the Airwaves and sets star Matthew McConaughey the task of living with a camera crew 24 hours per day. Arriving a year after The Truman Show, and just as reality television was beginning to take off (with the likes of Big Brother beginning in the UK the following year), EdTV was perhaps overshadowed by Jim Carrey's brilliant film but still just as progressive. Both films highlighted pop culture television viewing habits well before they became the norm.
8. Dirty Rotten Scoundrels (Oz, 1988)
Frank Oz updates Ralph Levy's 1964 comedy Bedtime Story with Michael Caine and Steve Martin playing the "scoundrels". The pair deliver delightful performances thanks to a great comedic chemistry in this amusing tale of two con men competing to coax $50,000 out of a ditzy American heiress.
7. True Lies (Cameron, 1994)
James Cameron's lucrative but expensive action-adventure starring Arnold Schwarzenegger is a loose but obvious re-interpretation of French film La Totale. It follows the actions of Secret Agent Harry Tasker who regularly conducts undercover military operations for his government employers while leading a double life as a mild-mannered computer-selling house-husband, his wife and teenage daughter completely unaware of his "license to kill". Fun, funny and action-packed, True Lies is one of the great sequel-begging films that surprisingly never got its Part 2.
6. The Ring (Gore Verbinksi, 2002)
Hollywood's annoying habit of ripping off East Asian horror has delivered more than its fair share of duds but The Ring isn't one of them. The talented Gore Verbinski, whose films are always visually gorgeous, gives the story of the haunted videotape a disturbing grey-skied aesthetic to support a strong turn from desperate mother Naomi Watts.
5. Ocean's Eleven (Soderbergh, 2001)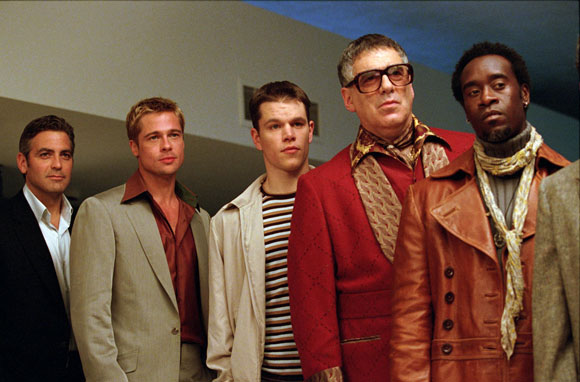 The forgettable Rat Pack original is given a new lease of life by a top-of-his-game Steven Soderbergh who assembles a brilliant cast that includes the sparkling chemistry of George Clooney and Brad Pitt as wise-cracking casino robbers.
4. The Thing (Carpenter, 1982)
Updating Christian Nyby's 1951 film The Thing From Another World, John Carpenter delivers possibly his finest ever work. Taut, thrilling and frightening, Kurt Russell leads the fight against a parasitic alien life form which has the ability to imitate organisms, including human beings, when it comes into contact with them. The isolated Antarctic location offers a suitably spine-chilling backdrop to the ensuing horror, underpinning the group's sense of helplessness and ever-increasing paranoia and distrust. This is on top of some excellent special-effects, strong performances, particularly from Russell, and the inclusion of one of horror cinema's greatest ever scenes: the unforgettable blood test.
3. The Fly (Cronenberg, 1986)
David Cronenberg, in typical David Cronenberg fashion, re-imagines the 1958 sci-fi horror classic from director Kurt Neumann with an almost obsessive focus on Jeff Goldblum's slow, painfully destructive mutation from man to fly. Some great special-effects including make-up and puppetry help 1986's The Fly trump its fifties counterpart.
2. Heat (Mann, 1995)
It isn't often you'll get the chance for a "do-over" in the film industry. A big commercial flop could mean the end of careers and peer isolation. But when you're as talented as Michael Mann, that's not likely to happen. In 1995 he got the chance to remedy his ill-fated TV pilot L.A. Takedown, which was eventually re-worked and released as a standalone film. Heat allowed the director far more creative freedom than L.A. Takedown. His previous effort was hampered by studio interference leaving Mann to disown the project. Heat benefits from its refined action including the iconic street fire fight between Robert De Niro's bank-robbing crew and Al Pacino's determined cop as well as an increased budget allowing for more dynamic set pieces and the inclusion of two of modern cinema's greatest actors.
1. Some Like It Hot (Wilder, 1959)
Billy Wilder's timeless comedy classic Some Like It Hot is a remake of Richard Pottier's 1935 French film Fanfare d'amour ("Fanfare of Love"). Wilder's genius is enough to enhance the story of two musicians forced to disguise themselves as women in order to hide from mafia gangsters having witnessed a mob hit. But it's the fabulous performances of Jack Lemmon and Tony Curtis, as well as the almost blinding radiance of the iconic Marilyn Monroe, that makes Some Like It Hot so entertaining, funny and re-watchable.
Over to you: what are your top 10 movie remakes?