As part of The Breakfast Club's 30th anniversary celebrations Molly Ringwald and Ally Sheedy talk about how the film was both a blessing and a curse.
In interviews celebrating the 30th anniversary of The Breakfast Club, two of the film's stars Molly Ringwald and Ally Sheedy have spoken about why they feel the film has successfully stood the test of time. But their appearance in the film has proven to be both a blessing and a curse.
One of the consequences of the film's success, and of writer-director John Hughes' rise to prominence during the 1980s, was the emergence of the Brat Pack. To be fair to Hughes, he was only partly responsible for the term used to describe a group of celebrated young actors who enjoyed fame at around the same time in the mid-1980s.
The Brat Pack was coined by a 1985 New York magazine cover story that decided to play on the Rat Pack moniker given to Frank Sinatra, Dean Martin, Sammy Davis Jr., et al in the 1950s, to describe a core group of twenty-something actors who appeared in The Breakfast Club and Joel Schumacher's St. Elmo's Fire. Joining John Hughes' stars were Rob Lowe, Andrew McCarthy and Demi Moore, who collectively and individually appeared in many teen-orientated movies of the period.
However, many of the "Brat Pack" have spoken about how the term didn't help their careers, often limiting them in their ability to shed the teen persona and pursue more adult roles. Indeed, only Rob Lowe and Demi Moore enjoyed sustained success outside of the genre, and outside of the 1980s.
In Sheedy's 2015 interview with the Toronto Sun, she still appears bitter at the moniker. "I wanted to become Debra Winger. I kept thinking how was I going to make the shift to adult roles, now that we've been thrown this thing called "the Brat Pack," which basically means young and bratty. It made things a little difficult."
Ringwald is even more damning. "It didn't feel like a positive or fair moniker for sure. I found it objectifying." She adds that the attention attached to the group also became an unfortunate burden. "I think it made it challenging. I also have to take my own personal choices into account. I did leave the country and live in Paris. I think that affected things too. In retrospect, I wanted to have some experiences out of the public eye."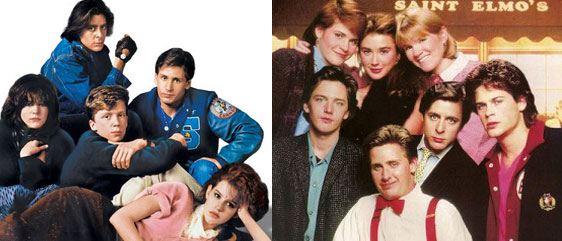 Meanwhile, Sheedy remembers the Brat Pack's fame waning making it harder to branch into different kinds of roles after a brief, initial upturn in movie offers. "After The Breakfast Club, I got to do a whole bunch of things. Then there was a period of time the Brat Pack thing became a backlash. It felt derogatory – these kids had too much too quickly. There was a dip in my career. When you're working this long, things go in cycles."
In some ways, it was even more difficult for Ringwald who had become such a recognisable teen star thanks to her work in so many adolescent dramas of the 1980s including Hughes' Sixteen Candles and the Howard Deutch-directed Pretty in Pink. "For a long time, people thought I was a teenager way beyond when it was clear I was no longer a teenager. [The Breakfast Club] has run so much on television. I think it's hard for people to separate."
Ultimately, however, both actors have such fond memories of the film, I doubt they'd change anything if they could. Sheedy remembers happy memories throughout the shoot, saying she felt "loved and free".
The experience of working with Hughes is also something she'll never forget. "Sometimes when you work with a director, they are up high. [John] was right with us the whole time. I loved that he'd sit by the camera on an apple box, just sit there happily watching away."
"He would get so involved, he'd forget to say cut. We'd keep going, and he'd let us," laughs Ringwald.