After Top 10 Films' Horror Movie Vacations from Hell, Josh Millican decided to take another break from the trials and tribulations of daily life for another vacation with a horrific difference…
Americans are crazy. I'm allowed to say so because I'm one of them. Last October, CNBC released the results of a study claiming unused vacation days are at a 40-year high among us Yanks, with fewer than 77% of us taking full advantage of our Constitutional Right to Relax. Many claim that they're too integral to their company's operations but, ironically, statistics prove employees who utilize all available time-off receive markedly superior performance reviews — so what gives?
Without getting too serious or oversimplifying: 9/11 turned Americans into a society of homebodies. Even when the fear of terror subsided, the establishment of the questionably-effective TSA, combined with an incessantly growing list of requirements and restrictions has made leaving our Motherland a major pain in the ass. Hey, I'm not saying these precautions aren't necessary (and ultimately appreciated), just that they've made the prospects of going overseas daunting.
Perhaps as a reflection of this deep seeded societal anxiety (or a combination of several), the amount of horror movies that center on vacations-gone-bad have increased significantly in the 21st Century, so much so that I've identified a new subgenre, known henceforth as: Holiday Horror (Trademark, Patent Pending, All Rights Reserved, Don't Make Me sue You). The 10 films on this list, presented in no particular order, are excellent examples of this surge. But before you start carping, "What about Hostel, and The Ruins, and Tourista…?" etc. check out my first list of Horror Movie Vacations from Hell
Happy Trails!
Aftershock (2012, Lopez)
As The Green Inferno continues to languish in Distribution Purgatory and Knock Knock makes the rounds on the festival circuit, it's a good time to look back on Eli Roth's horror filmography. Roth didn't direct Aftershock, but he wrote it with director Nicolas Lopez and stars in the film as an American tourist in South America. Obviously, there's an earthquake, followed by an aftershock, but these disasters are only some of the terrors viewers will endure. With tsunamis threatening eminent destruction, frantic hordes claw and tear their way to higher ground. It's a situation that causes a complete and instantaneous social upheaval, as money is suddenly worthless, and only the truly fierce can hope to survive.
And Soon the Darkness (2010, Efron)
How this alarmingly effective Holiday Horror fell between the cracks is a mystery to me. Amber Heard (All the Boys Love Mandy Lane, Zombieland) and Odette Annable (Cloverfield, The Unborn) play a couple of Americans on a bike tour in South America who make the dubious decision to break from their larger group for a more intimate and exciting adventure. Annable excels as one of those carefree party-girls you just want to scream at for all the danger she puts herself in. A night of drunken debauchery in a remote village puts the duo on the radar of some dastardly human traffickers with dollar signs in their eyes.
Come Out and Play (2012, Makinov)
Come Out and Play is so reminiscent of Alfred Hitchcock's The Birds that it almost plays out like a modernization — except instead of swarms of dirty flying vermin, the villains of Makinov's film are children. When vacationing couple Beth (Vinessa Shaw) and Francis (Ebon Moss-Bachrach) sail to a remote tropical island, they think nothing of the local children roaming the streets and beaches. They become concerned, however, when they're unable to locate any adults and the children's behaviors shift from curious to alarming. While it's easy to imagine slashing and killing your way through a swarm of birds, facing off against a horde of children is almost incomprehensible; I mean, what kind of person could kill a child? Did I mention Beth is pregnant?
The Descent (2005, Marshall)
When you're a fan of extreme Holiday adventures like Sarah (Shauna Macdonald), Juno (Natalie Mendoza), and their posse of spirited women, you're prepared for the possibility of a cut or a broken bone. Spelunking an uncharted cave system, however, presents a combination of challenges even the most insightful of explorer could never have predicted. A cave-in stokes claustrophobia and disorientation before the group is set upon by a pack of troglofaunal, cannibalistic humanoids. Another issue to contend with: It's obvious Juno had an affair with Sarah's husband.
Discover More: The Descent has appeared in both our Top 10 Horror Films of the 2000s & Top 10 British Horror Films Of All Time lists.
Harpoon aka Reykjavik Whale Watching Massacre (2009, Kemp)
Reykjavik Whale Watching Massacre, or Harpoon, is a gritty, brutal horror flick out of Iceland. The film is a successful attempt to bring the vibe of the Texas Chainsaw Massacre to freezing arctic waters, making no effort to hide this fact; from the word Massacre in the film's title to a supporting role played by Gunnar Hansen (the original Leatherface), the connection is undeniable. Things do not go as planned (imagine that!) for a group of tourists hoping for an afternoon of majestic whale watching when they cross paths with a disgruntled family of former whalers. But these brutes are hardly the only danger, as tensions lead members of the group to turn upon each other. It's not high art, but it's a very cold and atmospheric film with some excellent writing and a great twist ending.
The Hills Have Eyes (2006, Aja)
Driving across America with an infant, a couple of jaded teens, and the in-laws sounds like Holiday Horror from the get-go! I'm referring to the 2006 Remake since I have never seen Wes Craven's original from 1977 (please forgive me). Writer/director Alexandre Aja's The Hills Have Eyes is about as shocking and brutal as a horror film can be. Based on the legend of Sawney Bean, the semi-mythical leader of a 16th century cannibalistic clan in Scotland, this modern retelling follows a family on an ill-fated road trip through the Nevada desert. While the "mutants" in THHE are definitely cannibals, they're mostly just a bunch of sadistic motherfuckers who are just as likely to rape you, kidnap you, or burn you alive as they are to eat you. Definitely not for the squeamish (or those who have trouble with rape scenes), THHE is simply hard-fucking-core.
The Human Centipede (2009, Six)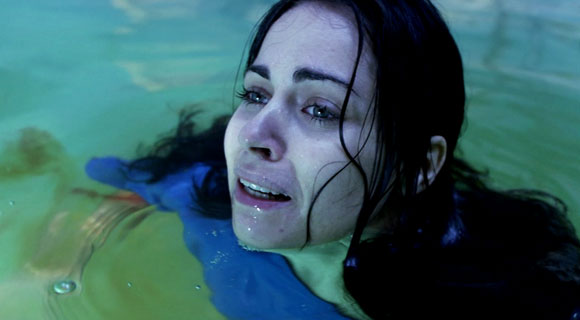 To be clear, I am not a fan of this sick and juvenile one-trick-pony of a franchise; still, if we're discussing Holiday Horror, your European vacation couldn't end much worse than being surgically sewn ass-to-mouth to a couple of other tourists by a demented, Nazi-esque mad scientist. Let's just leave it at that.
Discover More: Why you should avoid The Human Centipede at all costs
Open Water (2003, Kentis)
Open Water, based on true events, tells the story of a scuba diving couple on vacation who emerge from an hour underwater only to discover they've been left behind by their tour. What follows is a gripping, bare-bones story of survival, a two-actor tour-de-force where the abandoned divers battle sharks and the elements while going through the 5 stages of dying. At once triumphant and nihilistic, Open Water puts the viewer right in the thick of the peril for a relentlessly suspenseful experience. Also worth noting: All of the sharks in the movie are real.
Discover More: Top 10 Films list-maker Dan Grant explains why Open Water is one of the scariest films ever made
Shuttle (2008, Anderson)
Shuttle proves that no matter how good your vacation was, it isn't over until you make it all the way home. After a fun filled trip to Mexico, Mel (Peyton List) and Jules (Cameron Goodman) arrive at LAX anxious to unwind. Unfortunately, the driver of their airport shuttle has other plans that don't include letting the women go home — ever. What should have been a short jaunt becomes an unimaginable nightmare of captivity and degradation — but their captor's ultimate intensions are significantly more terrifying than sadism: This is Business.
Wolf Creek (2005, Mclean)
Perhaps the bane of the Australian tourism industry, Wolf Creek makes the Outback seem about as inviting as Downtown Hades! Trivia Time: Mick Taylor, the sadistic fiend of the Outback in Wolf Creek, is based in part on real-life Australian serial killer Ivan Milat. During the 1990's, Milat killed no fewer than seven people, all between the ages of 19 and 22 years; 5 were foreign backpackers who came to Australia on vacation. To prepare for the part of Mick, actor John Jarratt sought to emulate Milat as much as possible; to this end, he subjected himself to long periods of isolation in the Outback and even went weeks without bathing. The sign at the entrance of Mick's lair reads "Navithalim Mining Co"; "Navithalim" spelt backwards reads: Milhat Ivan.
Want more horrific vacations – check out Josh's Top 10 Horror Movie Vacations From Hell
What do you think of the films we've picked? What is your favourite Holiday from Hell movie?
See Also: The Greatest British Horror Films of All Time