James Woods is undisputedly one of America's most electrifying male stars, yet most of the characters he plays are people you probably should avoid. Mark Fraser looks at 10 of his most memorable performances.
10. Chaplin (Richard Attenborough, 1992)
Although it's the smallest of roles in a sometimes overly sentimental, two-and-a-half hour, star heavy biopic about one of early Hollywood's greatest film makers, Woods briefly eats the scenery as Joseph Scott (1867-1958), the red-baiting Los Angeles lawyer who helps Joan Barry (Nancy Travis) nail Charlie Chaplin (Robert Downey Jnr) for child support while dragging the Tramp's reputation through the mud. A great movie courtroom moment which is suitably enhanced by Sven Nykvist's masterful cinematography.
Discover More: Top 10 Charlie Chaplin Films
9. Casino (Martin Scorsese, 1995)
Despite the fact he's a low life conman and former pimp, Lester Diamond (Woods) still managers to hustle ex-prostitute Ginger McKenna (Sharon Stone) and her precocious daughter Amy (Erika von Tagen) away from their husband/father Sam Rothstein (Robert De Niro) and his affluent Las Vegas lifestyle. A totally believable slime ball who somehow manages to evoke a glimmer of pathetic sympathy when Rothstein sets his goons on him.
Discover More: Top 10 Films of Martin Scorsese
8. Videodrome (David Cronenberg, 1983)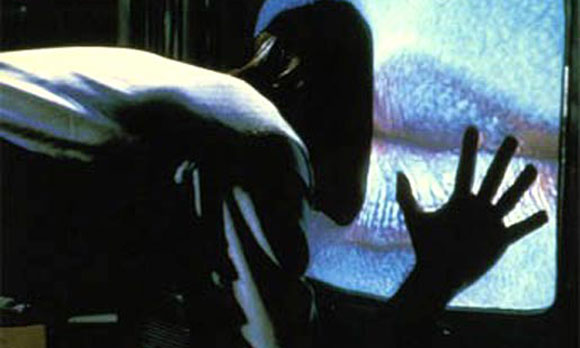 Who else could play a seemingly normal TV producer who gets addicted to a form of snuff porn that is being transmitted from Malaysia, only to find he's unwittingly become a pawn in a larger plot to wean out society's perverts – and convincingly pull it all off? A few actors perhaps, but not too many. As Max Renn, Woods successfully transforms from a quick witted, smooth talking, low rent media executive into a brainwashed, part man-part machine who goes on a killing spree before being painted into a corner and committing suicide.
Discover More: Killer TV: 10 Films Where TV Is The Bad Guy
7. Once Upon a Time in America (Sergio Leone, 1984)
In a strange way Max Bercovicz (Woods) ends up personifying everything that is corrupt about American politics, starting the film as a young Jewish hoodlum in Manhattan's Lower East Side before growing into a bootlegger/gangster and finally morphing into a powerful US secretary after pulling off a switcheroo which results in the death of two of his close partners in crime (James Hayden and William Forsythe) and the 35 year self-imposed exile of his best friend Noodles (Robert De Niro). Unlike with many of his other criminal roles, Woods keeps his character in check – although from time to time he still reveals he is a walking time bomb.
6. Cop (James B Harris, 1988)
One can only wonder if crime writer James Ellroy really had someone as highly strung and slippery as Woods in mind to play Lloyd Hopkins, the senior LA detective sergeant whose namesake trilogy (Blood on the Moon [on which this film is based], Because the Night and Silent Hill) provides a sweeping picture of crime and police corruption in the city of angels since the mid-1960s. At the end of the day it probably didn't matter what the author thought as the actor is in top form as the super-charged, rules-breaking, vigilante lawman – a role he essentially tried to emulate 10 years later in John Carpenter's dire Vampires.
Discover More: Top 10 Films of John Carpenter
5. The Boost (Harold Becker, 1988)
This was Woods' second outing with director Harold Becker after their 1979 collaboration in The Onion Field. It's also a role which could well have been written specifically for him. This time he plays Lenny Brown, a dodgy white collar yuppie whose tax shelter investment scheme collapses, leading him and his wife Linda (Sean Young) into a downward spiral of debt, cocaine abuse and domestic violence. As with Videodrome, Woods' dark portrayal of a man slipping rapidly into insanity is distressingly mesmerising.
4. The Hard Way (John Badham, 1991)
As the manic, take-no-crap New York detective John Moss, Woods is hilarious – there is just no other way to describe him. Easily one of the high points of his acting career, despite the fact the movie itself is pretty silly. Woods is so good in fact that it's arguable he deserved top billing over Michael J Fox who, as actor Nick Lang, proved to be a fairly weak foil during some of their repartee.
Discover More: Top 10 Films of Michael J. Fox
3. Nixon (Oliver Stone, 1995)
Oliver Stone's take on the 37th US President is just as much about Richard Nixon's close relationship with – and ultimate betrayal of – his pragmatic White House chief-of-staff/right hand man/late night confidant HR "Bob" Haldeman (Woods) as it is about the darkness lurking in the soul of the demon-plagued commander-in-chief (Anthony Hopkins). It's a performance that was easily worthy of a best supporting actor Oscar. Oddly, Woods wasn't even nominated.
Discover More: Top 10 Films of Oliver Stone | Top 10 Films In Which Anthony Hopkins Plays Historical Figures
2. Another Day in Paradise (Larry Clark, 1998)
A variation on the road movie in which criminal couple Mel (Woods) and Sid (Melanie Griffith) take on the younger Bobbie (Vincent Kartheiser) and his girlfriend Rosie (Natasha Gregson Wagner) to mentor them in their thieving ways, only to become involved in a nasty comedy of errors that leads to a serious falling out between the two couples. Again Woods plays a drug addict, only this time he's a seemingly more resourceful one than Lester in Casino and not as self-destructive as Brown in The Boost. Unfortunately for the youngsters, he also turns out to be far more dangerous.
Discover More: Top 10 Films editor Daniel Stephens reviews Larry Clark's excellent youth culture drama Bully
1. Salvador (Oliver Stone, 1986)
The film that undeniably put Woods on the map as an acting force to be reckoned with. In it he plays real life journalist (and movie script co-writer) Richard Boyle as a fast talking, drug taking, heavy drinking, opportunistic, lying, repellent, sleazy – but sometimes compassionate – war correspondent who parties quite heavily as he covers the early years of the Reagan administration's military infiltration of El Salvador. Although Stone's direction is sometimes uneven, wallowing in heavy handed melodrama before delving into serious criticism of US foreign policy, Woods keeps the whole thing together in a performance which makes Johnny Depp's take on gonzo journalist Hunter S Thompson in Terry Gilliam's Fear and Loathing in Las Vegas (1998) seem a tad reserved.
Discover More: James Woods' performance in Salvador features in Top 10 Films editor Daniel Stephens' 11 Academy Award Best Actor Nominees Who Should Have Won The Oscar
Written and compiled by Mark Fraser
Over to you: what are the best James Woods films and performances?
See more great actor lists on Top 10 Films: Caine | De Niro | DiCaprio | Downey Jr. | Hanks | Hoffman | Streep | Roberts | Schwarzenegger | Oldman | Gandolfini | Freeman | Ford | Eastwood | Dreyfuss | Keitel | Woods